J. R. Smith Net Worth: How Rich is the Retired NBA Player Actually?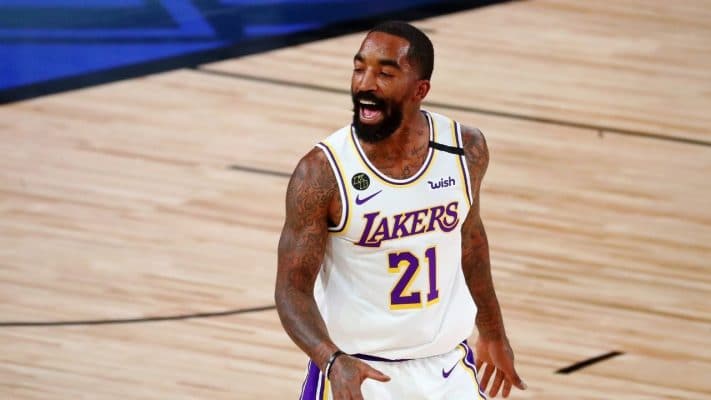 Earl Joseph Smith III, who is better known as J.R. Smith, is an American former professional basketball player. Smith was drafted to the NBA right after completing high school by joining the New Orleans Hornets. As of 2022, J. R. Smith net worth is estimated to be around $35 million.
Over the years, he was able to make significant contributions to Denver Nuggets, New York Knicks, and Zhejiang Golden Bulls. In his career, Smith was able to win two NBA championships with Cleveland Cavaliers and Los Angeles Lakers.
| | |
| --- | --- |
| Full Name | Earl Joseph Smith III |
| Birth Date | September 9, 1985 |
| Birth Place | Freehold Borough, New Jersey |
| Profession | Former Professional Basketball Player |
| Relationship Status | Married |
| Net Worth | $35 million |
Early Life
J.R. Smith grew up in a place called Clarksburg in New Jersey. He would study at different high schools growing up with him first being a part of Steinert High. Later on, he studied at McCorristin Catholic High but would transfer to Lakewood High.
He had two successful seasons playing for them but would again make another transfer, this time to Saint Benedict's Preparatory School. In those high school years, he played football, baseball, and basketball. However, he later focused completely on basketball as he felt this was the best direction to take his career.
Smith was thinking of joining college but after he became the co-MVP during the 2004 McDonald's All-American Game, he decided to be part of the 2004 NBA draft.
J. R. Smith Net Worth and Career
View this post on Instagram
Smith was picked by the New Orleans Hornets and immediately started to show his worth by winning the Western Conference Rookie of the Month three times in his debut season. However, his relationship with the head coach at the time Byron Scott became poor with Scott not being impressed by Smith's work ethic.
This led to him being traded to the Chicago Bulls for another player named Tyson Chandler. But, what would be very weird is that Smith would be traded again within six days to the Denver Nuggets. However, Smith was not able to perform well in his debut season for the Nuggets as he suffered from a knee injury that kept him out of action.
Yet, in the following years, his performance improved with him even being voted in second place for the NBA Sixth Man of the Year Award. That same year, he also participated in the NBA Slam Dunk Contest where he finished in third place.
Over the years, he would play for Zhejiang Golden Bulls and then for the New York Knicks. After a good stint with the Knicks, he played for the Cleveland Cavaliers with whom he won his first NBA Championship. He later won another championship with Los Angeles Lakers in 2020.
Personal Life
J.R. Smith married Jewel Harris in 2016. Together with Jewel, the couple has three children. Smith also has another daughter from a previous relationship.
Though Smith has had a very successful career, he has had trouble by being part of several controversies. He has been arrested several times including driving without a motor license as well as attacking another man.
J. R. Smith Net Worth
As of 2022, J. R. Smith has an estimated net worth of $35 million. Smith has had a very successful career with the last contract he signed in 2016 being worth a total of $57 million.
He is now happily pursuing other interests in life such as going back to complete his studies in 2021 by joining the North Carolina A&T State University with a degree in liberal studies as well as being a part of the golf team there. This was motivated by the fact that Smith skipped college and started to play for the NBA directly after high school.
J.R. Smith News
JR Smith on college docuseries, Knicks, Carmelo Anthony, Cavs, LeBron James Meme, George Karl  Hoops Hype