Reggie Miller Net Worth: How Rich is the Retired NBA Player Actually?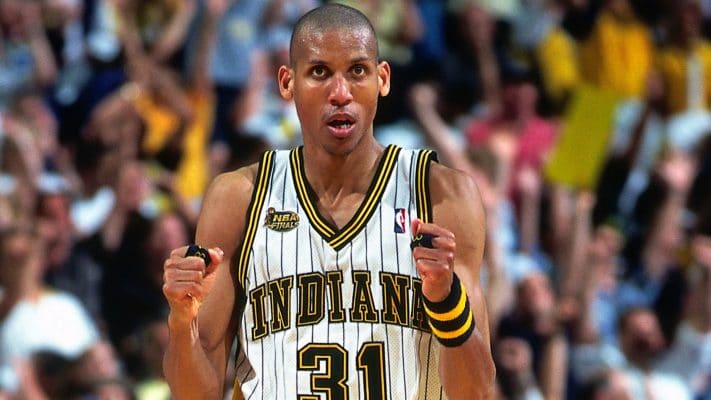 Reginald Wayne Miller, better known as Reggie Miller is a retired American professional basketball player. He is best known for playing in the National Basketball Association (NBA) with the Indiana Pacers for 18 years. Miller holds the most career 3-point field goals. As of 2022, Reggie Miller net worth is estimated to be roughly $80 million.
| | |
| --- | --- |
| Full Name | Reginald Wayne Miller |
| Birth Date | August 24, 1965 |
| Birth Place | Riverside, California, U. S. |
| Profession | Retired basketball player |
| Wife | Laura Laskowski |
| Net Worth | $80 million |
Early life
Reggie Miller was born on the 24th of August, 1965 in Riverside, California, United States. He could not walk properly as a kid as he had a hip deformity from the time he was born. Miller wore braces on both legs for few years which helped his legs to gain some strength. He grew up with five siblings in an athletic family.
Regarding his education detail, he has studied at the Riverside Polytechnic High School. Later, he joined the University of California, Los Angeles (UCLA). Miller came out holding a University degree with majoring in history. He was playing basketball with the University's basketball team, UCLA Bruins in the NCAA season.
Reggie held the most league points, most free throws, and the highest scoring average in the UCLA single season. In 2010, Miller was inducted into the "Pac-12 Conference Hall of Honor", and he retired his Number 31 jersey of UCLA in 2013.
Reggie Miller Net Worth & Professional Career
View this post on Instagram
Miller was picked up by the Indiana Pacers in the 1987 NBA draft. He wore jersey number 31 and entered the basketball court playing for the Indiana Pacers. Initially, he backed up shooting guard, John Long before he started playing as a starter. Miller played an important role for Pacers to become a perennial playoff team. He scored his career-high 57 points on November 28, 1992, while playing against the Charlotte Hornets.
Miller showed a phenomenal shooting performance in the 1994 Eastern Conference Finals where he scored 39 points. His exceptional performance in the game helped the Pacers get the victory with a score of 93-86 at Madison Square Garden.
On May 6, 2000, Miller scored 40 points along with his teammate, Jalen Rose. He scored the points during the Eastern Conference Semifinals. With the score, he and Rose became the highest-scoring pair of teammates in the history of playoffs.
In 2005, he scored nearly 20 points on average in each game during the season. On March 18, 2018, while playing against the Los Angeles Lakers, he scored 39 points. At that time, due to his growing age, the rumor has started circulating all around that he is going to retire soon. However, in January, he angrily shut down the rumors and clarified if he ever decided to retire he would be announcing through his sister, Cheryl.
On April 11, 2005, he passed Jerry West on the NBA's all-time scoring list reaching 12th position. Miller announced his post-retirement plan in August 2005, where he shared he had a plan of joining his sister, Cheryl, and serve as an NBA analyst at TNT. His sister is working as an NBA sideline reporter on the network.
After he retired from his NBA career, he showed up in a comedy role in the 2018 movie "Uncle Drew". In addition to that, he appeared as one of the celebrity athletes in the reality competition TV series "Hell's Kitchen". A documentary made on Miller titled "Winning Time: Reggie Miller vs. The New York Knicks" was premiered on March 14, 2010.
Reggie Miller Personal Life
Reggie Miller was first married to a lady named Marita Stavrou. They shared their wedding vows in 1992. Miller had two kids with his former wife, Marita. In 2001, the pair decided to end their marriage, and after a lengthy trial, their separation was materialized in the year 2001.
After separation, Miller had dated several movie actresses such as Jaimyse Haft and Natana Boudreau. After few years, he married Laura Laskowski. He shares a son with his second wife Laura.
Reggie Miller Net Worth
As of 2022, Reggie Miller's personal wealth is estimated to be around $80 million. He has earned more than $105 million in salary from his NBA career.
Reggie bought a $5.3 million worth house in Malibu, California in 2001. Besides that, he also owns a house in Fishers, Indiana, which is reported to be worth over $7.5 million. Currently, he is living in both houses splitting his time between Fishers and Malibu.
Reggie Miller News
Ray Allen on why Reggie Miller is the GOAT shooter and not Stephen Curry  Basketball Network

Reggie Miller's missed opportunity to avert the infamous Malice at the Palace  Basketball Network

"I'd average 45 points" – Reggie Miller on playing in today's NBA  Basketball Network