Huma Abedin Net Worth: How Rich is Hilary Clinton Aide Actually?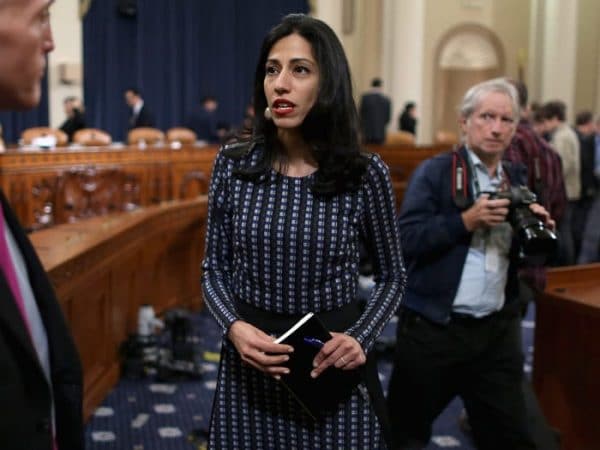 Huma Abedin is a 46 years old American political staffer. She is best known for serving as a vice-chair of Hilary Clinton's 2016 Presidential campaign. Huma has previously served as deputy chief of staff to Hillary Clinton. As of 2022, Huma Abedin net worth is estimated to be around $3 million.
| | |
| --- | --- |
| Full Name | Huma Mahmood Abedin |
| Birth Date | July 28, 1976 |
| Birth Place | Kalamazoo, Michigan, U. S. |
| Profession | Political Staffer |
| Ex-husband | Anthony Weiner |
| Net Worth | $3 million |
Early life
Huma Abedin was born on the 28th of July, 1976 in Kalamazoo, Michigan, United States. She was born to her parents, Syed Zainul and Saleha Mahmood Abedin. Huma grew up with her two siblings; a brother and a sister. When she was two years old, she moved along with her family to Jeddah, Saudi Arabia.
Abedin has studied at a British girls' school. As she grew up into a teenager, she returned back to the United States and attended George Washington University. She came out holding a Bachelor of Arts degree from the University with majoring in journalism. She always wanted to be a journalist when she became a teenager. She was hugely influenced by the journalist, Christiane Amanpour.
Huma Abedin Net Worth & Career
Huma worked as an intern in the White House while she was studying at George Washington University. At that time, she was assigned to then First Lady, Hillary Clinton. In 1996, she started serving as an assistant editor for the Journal of Muslim Minority Affairs. In 2009, she was hired as deputy chief of staff to Hillary Clinton in the State Department.
Abedin, later on, assumed a consultant role as a special Government employee. She was then allowed to work as a consultant for private clients. During her working tenure as a consultant, she worked for a strategic consulting firm, Teneo. She also worked as a paid consultant to the Clinton Foundation.
In 2013, she assumed a new role as a director of the transition team that would help Clinton return to her private life. After two years in 2015, she became a vice-chairperson for Hillary Clinton's 2016 Presidential campaign, where she was responsible to screen and interview the applicants for the key campaign roles.
Personal Life
Huma Abedin's present relationship status is single. She was previously married to then-U. S. Representative, Anthony Weiner. She became a mother of a boy in December 2011. After living together with Anthony for six years, she announced her separation on August 29, 2016. Huma took the decision to separate with Anthony after the new sexting allegations were made against him.
In May 2017, Anthony was proved guilty on the charges, and then she filed for divorce. However, both withdrew their divorce case in January 2018 claiming that they have agreed to settle the divorce privately. Abedin recently appeared on CBS Sunday Morning where she told the host Norah O'Donnell that she has briefly contemplated suicide during the time she was married to her then-husband, Weiner.
She has further revealed many other untold facts about her marriage and former husband in her new memoir titled "Both/And: A Life in Many Word". She has provided detailed information on the moment when the FBI seized her ex-husband's laptop in 2016. Her memoir is scheduled to be released on November 2, 2021.
Huma Abedin Net Worth
As of 2022, Huma Abedin's personal wealth is estimated to be around $3 million. She must have earned a considerable amount from her journalism career and while serving for then-first lady, Hillary Clinton.
Huma Abedin News
Huma Abedin, Tarana Burke Celebrate 10 Years of The Maverick Collective by PSI  Vogue

Extravagant Hamptons wedding attended by Don Lemon, Joy Behar and Huma Abedin had a flash mob, drone show and Debbie Gibson  Page Six

Looks From a Hamptons Dinner Party With Clinton Aide Huma Abedin  The New York Times