Henry Ruggs Net Worth: How Rich is the Raiders Wide Receiver?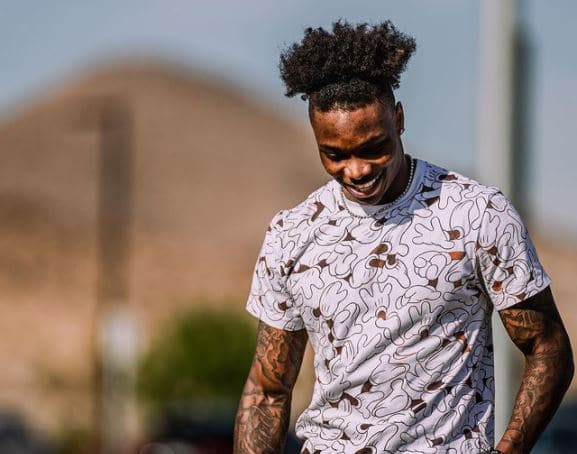 Henry Ruggs III is a 23 years old American football wide receiver. He is best known for playing in NFL for the Las Vegas Raiders. Henry was drafted by the Raiders in the 2020 NFL Draft. As of 2022, Henry Ruggs net worth is estimated to be around $2 million.
| | |
| --- | --- |
| Full Name | Henry Ruggs III |
| Birth Date | January 24, 1999 |
| Birth Place | Montgomery, Alabama, U. S. |
| Profession | Football wide receiver |
| Girlfriend | Kiara Washington |
| Net Worth | $2 million |
Early life
Henry Ruggs III was born on the 24th of January, 1999 in Montgomery, Alabama, United States. Not much is known about his parents and early life. Henry was active in sports since he was a little kid. While studying in the 8th grade, he was promoted to the varsity football game where he played the final 2 games for their season.
Regarding his education detail, he has studied at the Robert E. Lee High School. He started playing high school football when he reached junior year. Henry continued playing football in his senior year, where he received 38 catches for 639 yards and 20 touchdowns in over 9 games.
Ruggs was also active in other sports like basketball and track running. He even broke the Alabama High School Athletic Association's Class 7A record after he ran the track in 10.58 seconds in the 100-meter dash. Though, his best field was football where he was ranked second-best high school football player by 247Sports.com in Alabama in 2017.
Henry Ruggs Net Worth & Career
View this post on Instagram
After completion of high school education, he received scholarship offers from more than 20 colleges to join their football team. In the end, he made a decision and chose the University of Alabama. He had a good game while he played as a freshman at Alabama. Henry made 12 receptions for 229 yards and 6 touchdowns. He continued to show good form as a junior in 2019, where he made 40 receptions for 746 receiving yards and 7 receiving touchdowns.
Henry played as an Alabama team's primary kick returner in the junior season. He made average yards per return of 23.8 during his junior season. Overall, he stood as one of the best football players on Alabama's all-time leader board with his 24 total career receiving touchdowns.
Henry's professional career began when he was selected by the Las Vegas Raiders in the 2020 NFL Draft. He was the second consecutive player to get selected from the University of Alabama by the Raiders. Henry played his first game in NFL on September 13, 2020, against the Carolina Panthers.
In his NFL debut game, he finished with 3 receptions for 55 yards. The Raiders released Henry on Tuesday night after he faced one count of a DUI and one count of reckless driving. He is currently a free agent after being released by the Raiders on November 2, 2021.
Henry Ruggs Personal Life
Henry Ruggs is reportedly dating a lady named Kiara Washington. She was a passenger in his Chevrolet Corvette when it hit a Toyota RAV4 On November 2. As per the sources, Henry was driving in the center lane at a high speed before veering to the right lane.
The Corvette later collided with the Toyota. As soon as the Corvette hit the Toyota RAV4, it was on fire. The firefighters later found the dead body of 23 years old woman inside the Toyota. Henry is currently charged with one count of reckless driving and one count of a DUI. He might face a minimum of two years behind bars if convicted and a maximum of 20 years.
Henry Ruggs Net Worth
As of 2022, Henry Ruggs' personal wealth is estimated to be around $2 million. He signed a 4 year deal with the Raiders at $16,671,626 with a signing bonus of $9,684, 820 on July 21, 2020. He received a guaranteed average salary of over $4 million for the Raiders.
Henry Ruggs News
What happened to Henry Ruggs III after his sentencing?  AL.com

Ex-Raiders WR Henry Ruggs III sentenced 3 to 10 years for fatal DUI – ESPN  ESPN

Ex-Raider Henry Ruggs pleads guilty to driving drunk at 156 mph, causing fatal crash  The Associated Press