Don Gaetz Net Worth: How Rich is Matt Gaetz's Father Actually?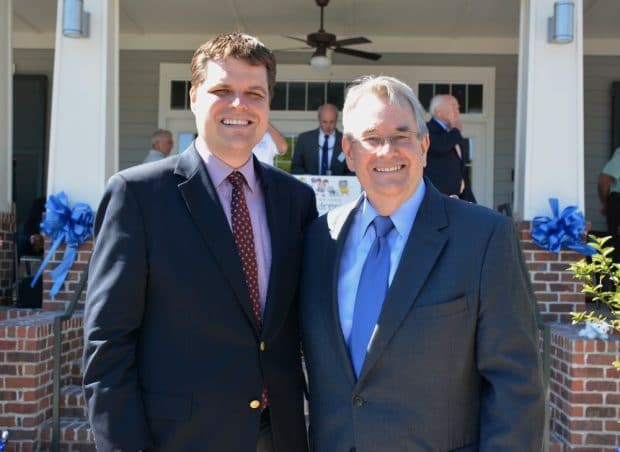 Don Gaetz is an American Republican politician. He represented most parts of Northwest Florida, as a member of the Florida State Senate for a decade from 2006 to 2016. Don has also served as Florida's Senate President. He is probably famous as the father of Congressman Matt Gaetz, who recently fell into the controversy of sex trafficking. As of 2022, Don Gaetz net worth is estimated to be around $30 million.
| | |
| --- | --- |
| Full Name | Donald Jay Gaetz |
| Birth Date | January 22, 1948 |
| Birth Place | Rugby, North Dakota, United States |
| Profession | Republican Politician |
| Wife | Victoria Quertermous |
| Net Worth | $30 million |
Early life
Don Gaetz was born on the 22nd of January, 1948 in Rugby, North Dakota, United States. His father, Jerry Gaetz has served as a mayor of Rugby. He was also a candidate for Lieutenant Governor of North Dakota. During the live TV coverage of the 1964 North Dakota Republic Party event, Jerry died due to a heart attack.
Regarding his education, he has studied at Concordia College. Don held a graduation degree from the college majoring in religion and political science. He later got enrolled at Troy State University where he received Masters's degree in education.
Don Gaetz Net Worth & Political Career
Don's early work experience came as a hospital administrator in one of the populous cities of Florida, Jacksonville. Later in 1983, he founded the VITAS Healthcare Corporation, along with a group of investors. Though, he sold the corporation for half-billion dollars in 2014.
Just a year before selling the corporation, the United States Department of Justice alleged the corporation for committing Medicare Fraud activities since 2002. However, Don denied all the allegations. The case was solved in a confidential settlement in 2018.
Talking about his political career growth, Don received his first victory while running for Okaloosa County School Board. In the general election, he registered the win with getting a vote of 69%. In 1998, he ran for re-election where he defeated Republic candidate, James Campell with 67% vote.
Don in 2000, he ran for Okaloosa County Superintendents of Schools where he defeated Niceville High School's principal David Morgan with a 68% vote.
Don ran for Florida's 4th House District in 2006. Initially, he registered the win for the nomination against Holly Benson, and later he won the general election. Don held the responsibility as Chairman of Senate Education Committee during his 1st term in Florida's Senate.
During that time, he made the headline by attacking Florida Department of Education officials for raising a teacher bonus initiative. Don, later was appointed as President of Florida State in 2012. He served as President for two years till 2014.
Don Gaetz's Wife- Victoria Quertermous
Don Gaetz is married to Victoria Quertermous. His wife, Victoria has served as a pharmacist for over two decades. Don is a father to two kids, from being in conjugal relation with Victoria.
His son, Matt Gaetz is currently working as United States representative for Florida's first Congressional district. Likewise, his daughter Erin has worked as a digital content director during the 2016 presidential campaign for Jeb Bush.
Don's son Matt has recently fallen into a serious controversy, as he was found involved in the sex trafficking of a 17-year-old minor girl in 2019. Justice Department Official is carrying a further investigation on the case.
However, Matt clearly denied the allegation. He further alleged a former Justice Department official David McGee, for seeking $25 million from him. Matt went on to Twitter claiming that he along with his family member were the victim of organized criminal extortion.
Don Gaetz Net Worth
Don Gaetz has amassed a huge fortune of $30 million by 2022. He also owns the big house, which was used in The Truman Show. The house is located in Santa Rosa Beach, Florida which was bought by Don and Victoria in 1991.
Don Gaetz News
Congressman Matt Gaetz calls House speaker ouster constructive chaos  Pensacola News Journal

US Rep. Matt Gaetz's father Don seeks return to Florida Senate chamber he once led as its president  The Associated Press

Rep. Gaetz discusses Trump indictment and Florida politics at packed Jay community event  WEAR