David Faber Net Worth: How Rich is the Financial Journalist Actually?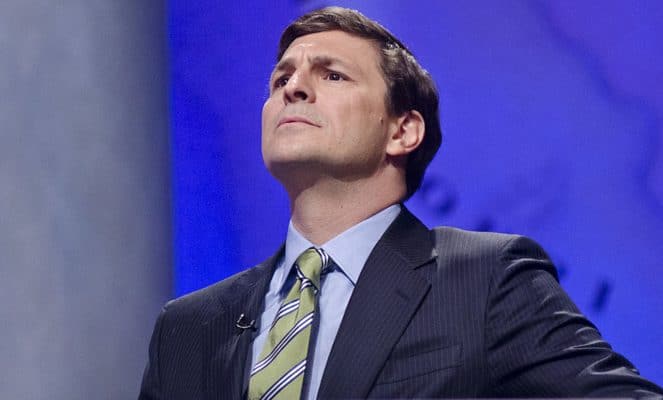 David H. Faber is an American journalist and market news analyst for the popular television network CNBC. He has been working in this industry for more than 20 years and is currently the co-host of the morning show called Squawk on the Street. As of 2022, David Faber net worth is estimated to be around $18 million.
| | |
| --- | --- |
| Full Name | David H. Faber |
| Birth Date | March 10, 1964 |
| Birth Place | New York City, United States |
| Profession | Journalist and Market News Analyst |
| Relationship Status | Married |
| Net Worth | $18 million |
Early Life
David Faber grew up in Queens, New York in a Jewish family. Faber mentions how he was the attention of constant bullying as a child but this has helped him to mold a tough personality as he has gotten older. After completing his high school education, Faber went to Tufts University where he graduated cum laude receiving a Bachelor of Arts degree focused on English in 1985.
David Faber Net Worth and Career
Faber initially worked for a magazine called Institutional Investor for seven years. Then in 1993, he would start working for CNBC. Over the years, Faber would become an integral part of the team that produced the content for CNBC even getting the nickname of "The Brain" within the corporation because of his analytical abilities.
In the 2000s, Faber started to host several documentaries about corporations. His work was especially praised regarding the content that was created about Wal-Mart and eBay.
For the documentary called The Age of Walmart, he even won the 2005 Peabody Award as well as the Alfred I. DuPont-Columbia University Award for Broadcast Journalism. Furthermore, for his work with House of Cards, he also shared the Gerald Loeb Award for Television Enterprise business journalism in 2010.
At the start of 2007, Faber started to host the show called Business Nation which quickly started to grow in popularity. Faber has worked on breaking down the analysis of some of the biggest business stories including the deal by Disney to buy most of the assets owned by Twenty-First Century Fox.
Faber has built a great following himself because of his regular hosting in CNBC. He has over 230k followers on Twitter where he tweets regularly. Over the years, he has also authored several books. His first book was called The Faber Report which was released in 2002. Since then, he has released two other books called And Then the Roof Caved In which was released in 2009, and House of Cards: The Origins of the Collapse which was released in 2010.
Faber is now set to be the guest host of the classic game show called Jeopardy! The show has been airing since 1984 and has produced more than 8000 episodes.
Personal Life
David Faber is married to Jenny Harris who is also in the field of journalism. She identifies herself as a business journalist and a television producer. Jenny is the daughter of Jay Harris who is a lawyer for Hall Dickler Kent Goldstein & Wood and actress Marie Masters.
David Faber Net Worth
As of 2022, David Faber has an estimated net worth of $18 million. He earned a majority of that money as a financial journalist and also investing in several businesses. He has also written several books which might have contributed massively to his net worth.
David Faber News
Hollywood's writers' strike might come to an end soon  The Verge

Disney CEO Bob Iger on Ron DeSantis: The attacks on Disney are 'preposterous and inaccurate'  CNBC

Disney CEO Bob Iger on ESPN: Bullish on sports but open to finding a new strategic partner  CNBC