Dave Portnoy Net Worth: How Rich is the Barstool Sports Founder?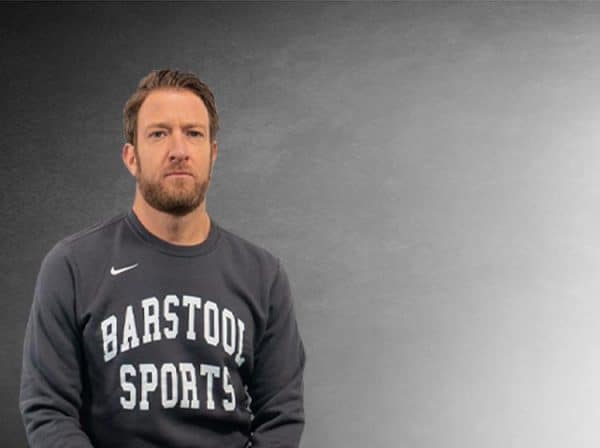 David Portnoy is an American internet entrepreneur, blogger, and sports media figure. He is best known as a founder of the pop culture blog "Barstool Sports". As of 2022, Dave Portnoy net worth is estimated to be around $140 million.
David Portnoy was briefly suspended from Twitter on June 18, 2021. Following the suspension, the hashtag FreeDavePortnoy started trending around Friday evening, 8:30 p. m, and his account was restored at around 9:10 p. m.
| | |
| --- | --- |
| Full Name | David Scott Portnoy |
| Birth Date | March 22, 1977 |
| Birth Place | Swampscott, Massachusetts, U. S. |
| Profession | Internet celebrity, blogger |
| Ex-wife | Renee Satherthwaite |
| Net Worth | $140 million |
Early life
David Portnoy was born on 22nd March 1977 in Swampscott, Massachusetts, United States. He was born to Jewish parents, Michael and Linda. For his study, he joined Swampscott High School. It was the same school, where ESPN's football analyst and commentator Todd McShay studied, and they were in the same class. In 1995, he attended the University of Michigan, where he earned a degree in education.
Dave Portnoy Net Worth & Career
View this post on Instagram
David started working at an IT market research firm, Yankee Group after he graduated in 1999. He served there for four years, and he started working on the idea of starting off the digital media company, Barstool Sports. On January 7, 2016, the CEO of The Chernin Group, Peter Chernin purchased a majority of shares of the company. And soon, after some time, the announcement came as the headquarters of the company would be in New York City.
Later on, in 2020, the operator of racetracks and casinos, Penn National Gaming bought 36% shares of Barstool Sports' founders. However, even after the sale, The Chermin Group maintains around 36% of shares in the company. David was still in charge of the company, while he was retaining creative control over the content of the digital media blog.
David also created an internet show named "One Bite with Davey Pageviews". He started the show with an aim of reviewing every single pizza place in Manhattan in 2017. In the show, along with him, other celebrity guests also showed up reviewing pizza.
David launched an unsuccessful political campaign in 2013, where he stood up for the position of Mayor of Boston. However, he didn't succeed to qualify for the election after failing to submit enough nomination signatures.
Dave Portnoy Personal Life
David Portnoy was married to social media personality, Renee Satherthwaite. He tied the knot with Renee in 2009, and after living nearly 8 years together, they parted ways in January 2017. Renee was often dubbed as the First lady of Barstool Nation, who helped David to expand his international business online.
In April 2021, David's sex tape with an Instagram model, Sydney Raines circulated all over social media. It is still not known how the video was leaked. Later, the Instagram model explained that both are still good friends, and not bothered with the leaked video.
David's official Twitter account was recently suspended for over half-hour on January 18, 2021. The reason why Twitter suspended his account is still not known. However, after people started trending the hashtag FreeDavidPortnoy, his account was restored. In 2019, The National Labor Relations Board conducted an investigation on him, after he posted a tweet threatening to fire his workers if they plan to unionize.
Dave Portnoy Net Worth
As of 2022, Dave Portnoy's personal wealth is estimated to be roughly $140 million. He has earned a vast chunk of money from his digital media company, Barstool Sports. During the COVID-19 pandemic, he gave a donation amount of $500,000 to The Barstool Fund, and as of May 2021, the relief effort campaign has successfully collected over $39 million for 348 businesses.
Dave Portnoy News
'Surviving Barstool' Season 3 Yanked From YouTube After Dave Portnoy Says They Were "Getting Strikes," Citing "Violence"  DeciderDave Portnoy receives huge backlash for putting Barstool Sports' reality TV show behind a […]

Here are 6 pizza shops in South Jersey Barstool's Dave Portnoy visited  Courier Post'Just not feasible': Following stellar review, Slate Belt pizza shop suspends dine-in service  69News WFMZ-TVView Full Coverage on Google […]

Barstool Sports owner Dave Portnoy, 46, reveals reason behind split from model girlfriend Silvana Mojica, 28  Daily MailDave Portnoy's breakup with model girlfriend Silvana Mojica 'probably a me issue'  New York Post […]