Chris Perez Net Worth: How Rich is Selena Quintanilla's Ex-Husband?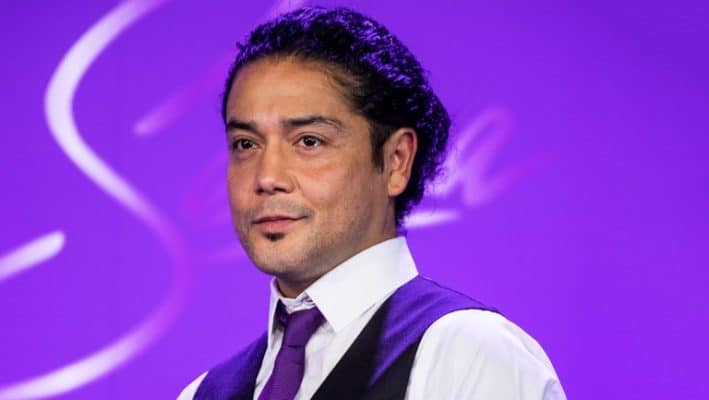 Chris Perez is an American guitarist and songwriter. He is the lead guitarist for the Tejeno band Selena y Los Dinos. As of 2022, Chris Perez net worth is estimated to be around $1 million.
| | |
| --- | --- |
| Full Name | Christopher Gilbert Perez |
| Date of Birth | August 14, 1969 |
| Age | 52 years old |
| Born Place | San Antonio, Texas, United States |
| Profession | Guitarist, Songwriter, Singer, and author |
| Wife | Selena Quintanilla (1992-1995), Venessa Villanueva (2001-2008) |
| Net Worth | $1 million |
Early Life
Chris Perez was born on August 14, 1969, in San Antonio, Texas to Mexican parents. His parents Gilbert Perez and Carmen Medina divorced when he was four years old. His mother then remarried in 1978.
From an early age, Chris was interested in music and learned to play the French horn in middle school. He then decided to learn to play electric guitar by himself by listening to his favorite musicians like Van Halen, Def Leppard, Kiss, the Scorpions, Ozzy Osbourne, and Iron Maiden.
Chris Perez Net Worth & Career in Music
At the age of 17, Chris decided to form his own rock band in Los Angeles. At the same time, he was offered the chance to join Shelly Lares' band by Tony Lares. He decided to join the band due to money problems although he wasn't interested in that kind of music. In 1989, he started writing songs and work as a musical director for Shelly.
In 1989, A.B. Quintanilla was looking for guitarist for the band Selena y Los Dinos. Chris was one of the respected guitarists among Tejano music at that time. Because of his romantic relationship with Selena Quintanilla, he was kicked out of the band by Abraham Quintanilla. He then came back after they were married. Chris worked with the band until his wife passed away in 1995. The band then got dissolved.
After that, Chris formed his own band called Chris Perez and began writing songs for their debut album. Their first album 'Resurrection' was a massive hit and won a Grammy Award for Best Latin Rock or Alternative Album. In 2002, the band disbanded after releasing their second album 'Una Noche Mas'.
Chris has also worked with A.B. Quintanilla III in the musical groups Kumbia Kings and Kumbia All-Starz. In 2010, he formed another band called the Chris Perez Project with Puerto Rican singer Angel Ferrer.
Chris Perez Personal Life
Chris married Selena Quintanilla in 1992. They remained together for three years until Selena died in 1995. In 2012, Perez wrote a book about his personal relationship with Selena, entitled "To Selena, with Love".
Chris then married Venessa Villanueva in 2001. However, their marriage ended in divorce.
Chris Perez Net Worth
As of 2022, Chris Perez's personal wealth is estimated to be $1 million. He has been earning a vast chunk of money as a singer, songwriter, and also as author. Since he is still in the music business, he is likely to earn more money via live performances and album sales.
Chris Perez News
Wife of Jeffco Murder-Suicide Suspect Told Cops He Was Suicidal a Month Before Their Deaths  Westword

Brother of Billy Strings Arrested for Cold-Case Murder of Denver Guitarist  Westword

Colorado Woman Dies in Viral Bahamas Boat Accident, but Not From Drowning  Westword