Cesar Millan Net Worth: How Rich is the Professional Dog Trainer?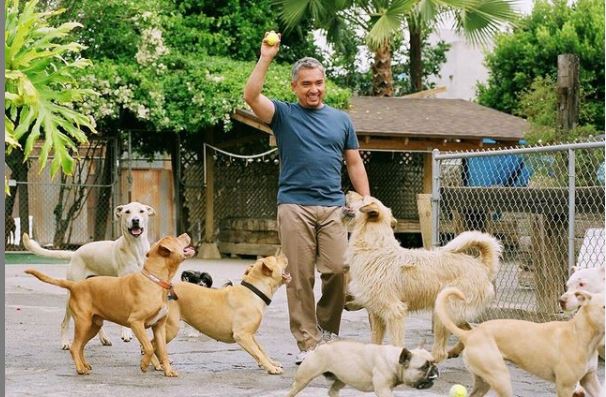 Cesar Millan is a 52 years old Mexican-American dog trainer, who is best known for his appearance on the reality TV series "Dog Whisperer with Cesar Millan". He has more than 25 years of canine experience. As of 2022, Cesar Millan net worth is estimated to be around $30 million.
Millan has recently made a come back on television with his new show called "Cesar Millan: Better Human Better Dog". The TV show started premiering on National Geographic on July 30, 2021.
| | |
| --- | --- |
| Full Name | Cesar Felipe Millan Favela |
| Birth Date | August 27, 1969 |
| Birth Place | Cullacan, Sinaloa, Mexico |
| Profession | Dog trainer |
| Partner | Jahira Dar |
| Net Worth | $30 million |
Early life
Cesar Millan was born on the 27th of August, 1969 in rural Culiacan, Sinaloa, Mexico. He was born to his parents, Maria Teresa Favela, and Felipe Millan Guillen. He spent his childhood days growing up on the farm in Sinaloa. Cesar used to work with animals on the farm helping his grandfather who was a tenant farmer.
He entered the United States crossing the border illegally when he was 21. At that time, he doesn't know English, and he had only US$100. Cesar became a permanent resident of the U. S. in 2000, and he received U. S. Citizenship in 2009.
Cesar learned English after becoming a friend with Jada Pinkett Smith, who helped him meet one of her friends to teach him English. He has even mentioned that because of Jada, he is able to speak English. Millan met Jada first time when he arrived in Los Angeles. With her, he shared his dreams of working with pets on TV.
Cesar Millan Net Worth & Career
Millan got his first job at a dog grooming store. After some struggle, he created the Pacific Point Canine Academy. Jada was one of his first clients and the person who supported him to achieve his dream. Within a short time, he created the Dog Psychology Center in South Los Angeles which was built in a two-acre facility. The center was started with a specialization in treating large breed dogs.
Cesar got a chance to work with MPF Entertainment in 2002. The entertainment company developed a reality TV series called "Dog Whisperer" following Millan's work in the field of dog rehabilitation. The reality series started premiering on the National Geographic Channel on September 13, 2004. During its first season, the show became the Number 1 show of National Geographic Chanel.
After working for eight years on the show, it was ended on September 15, 2012. On January 5, 2013, he started appearing on the documentary TV series called "Cesar Millan's Leader of the Pack" on the Nat Geo Wild Channel. The series ran for two months, and the final episode was premiered on March 26, 2013. In 2014, he came up with the new series called "Cesar 911" on the Nat Geo Wild Channel.
Millan has recently returned back on television with his new show called "Cesar Millan: Better Human Better Dog". The show's first episode was premiered on July 30, 2021, on the National Geographic channel. In the show, Millan is seen helping dogs owner deal with the behavioral issues of their canine such as aggressive tendencies, separation anxiety, and more.
Cesar Millan Personal Life
Cesar Millan was married to a lady named Ilusion Wilson in 1994. He shared two sons with her. His wife filed a divorce with him in June 2010. Before a month when divorce was filed, his dog Daddy died, and after some time, he learned his wife's intention to divorce him. Millan also attempted suicide after getting to know his wife's intention.
Cesar started a new relationship with actress and former stylist, Jahira Dar in August 2010. The pair made an announcement of their engagement in April 2016.
Millan has two dogs; Daddy and Junior who played an integral part in rehabilitating dogs in the TV series "The Dog Whisperer". Daddy died at Age 16 in February 2010, and Junior took his last breath on July 21, 2021. Millan even made a video on his YouTube as a tribute to his late dog, Junior.
Cesar Millan Net Worth
As of 2022, Cesar Millan's personal wealth is estimated to be around $30 million. He has earned a big amount from appearing in various TV series. Cesar bought a $2.8 million worth home in California in April 2017. He also owns and operates a dog training facility, Cesar Millan's Dog Psychology Center.
Cesar Millan News
Cesar Millan to Biden: Please call me  POLITICO