Anna Sorokin Net Worth: How Rich is Anna Sorokin Actually in 2022?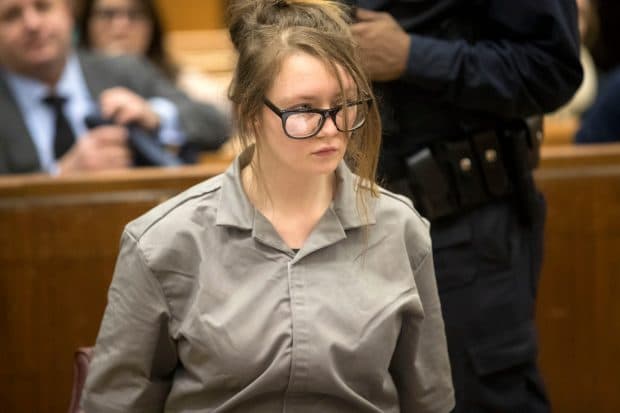 Anna Sorokin is a 31 years old Russian-born German convicted fraudster. She was convicted for pretending to be a rich German heiress, Anna Delvey to defraud banks, hotels, and wealthy persons. In April 2019, Anna was convicted of multiple counts and sent to prison for 12 years. Sorokin was released early from prison in February 2021 due to her good behavior. Anna Sorokin net worth is still under review at the moment.
| | |
| --- | --- |
| Full Name | Anna Sorokin |
| Birth Date | January 23, 1991 |
| Birth Place | Domodedovo, Russia |
| Known for | Convicted fraudster |
| Relationship Status | Single |
| Net Worth | Under Review |
Early life
Anna Sorokin was born on the 23rd of January, 1991 in Domodedovo, Russia. She was born in a working-class family in the southeast of Moscow. Anna's dad was a truck driver, and her mom used to run a small convenience store. In 2007, her family relocated to Germany.
Anna has studied at the gymnasium, and during her stay in Germany, she had a difficulty in speaking the German language. She used to stay quiet due to which her friends in Germany used to call her a quiet girl. In 2011, she earned her high school graduation degree and shifted to London to study at public art school, Central Saint Martins. However, she didn't stay there for long and returned back to Germany.
Anna Sorokin Net Worth & Career
Anna started off her career by working as an intern at public relations company. Then, she moved to Paris where she started her internship for the French fashion, art, and culture magazine Purple. At that time, she adopted the new surname Delvey for the first name. In 2013, she traveled to New York City, where she finds it easier to make friends in comparison to Paris.
Anna decided to stay in New York City, and for a brief time, she transferred to Purple's New York office. However, later, she quit her job at Purple, and build up an idea of starting the private members club and art foundation called "Anna Delvey Foundation".
Then, she reached out to multiple wealthy members. But, after not getting much success from her early plan, she decided to receive the money through alternative means like creating fake bank statements, where she showed she had access to more than €60 million in a Swiss bank account.
Anna also reached to another company, Fortress Investment Group. Though a managing director later became suspicious of her fake loan application due to her paperwork which showed her to be of German heritage, and in her passport, it was clearly written that she was born in Russia.
Anna has also been involved in credit card fraud. In May 2017, she invited three of her friends to Morocco saying to them it was an all-expenses-paid journey. After few days, the hotel staff was unable to charge her credit cards so she asked one of her friends named Rachel DeLoache Williams to pay her to stay bill. Though she promised to return back all expenses to Williams through wire transfer, the promise was never made later.
Anna's fraud activities were finally stopped after she was exposed in a sting operation on October 3, 2017, which was planned by a police officer, Michael McCaffrey. She was caught with the help of her former friend, Rachel Williams who arranged a lunch meeting with her at a restaurant. Anna was sentenced to 4 to 12 years in state prison on May 9, 2019. She was also ordered to pay a fine of $24,000 and restitution of around $199,000.
In February 2021, she was released early from prison due to her good behavior. However, she was taken back into custody by ICE in March 2021 due to her overstaying the visa. Sorokin has recently given an interview to ABC's show 20/20 where she claimed herself not a dumb and greedy person. She also told ABC host, Deborah Roberts, that she now wants to rewrite her story and clear her reputation.
Personal life
Anna Sorokin's present relationship status is single. In February 2021, she wrote on Instagram that she is looking for a boyfriend. After her Instagram post, she received more of a sarcastic comment than a sincere reply due to her fraudulent activities.
Anna Sorokin Net Worth
Anna Sorokin has not disclosed her net worth figure yet. Though she claimed that she holds a $67 million trust fund, it has now proven that it's just a scam. Sorokin was also paid $320,000 by Netflix for her story.
Anna Soroking News
How Anna Sorokin's reinventing herself all over again: Four years after she was jailed for posing as an heires  Daily MailWhere is Anna Sorokin: Fake Heiress On Road To Another Fortune  EVOKEView […]

A Fashion Show at Anna Delvey's House? Is That What It Takes?  The New York Times

'Reinventing' Anna? Anna Delvey's upcoming NYFW show – under house arrest  Style