Carrot Top Net Worth: How Rich is the Comedian Actually?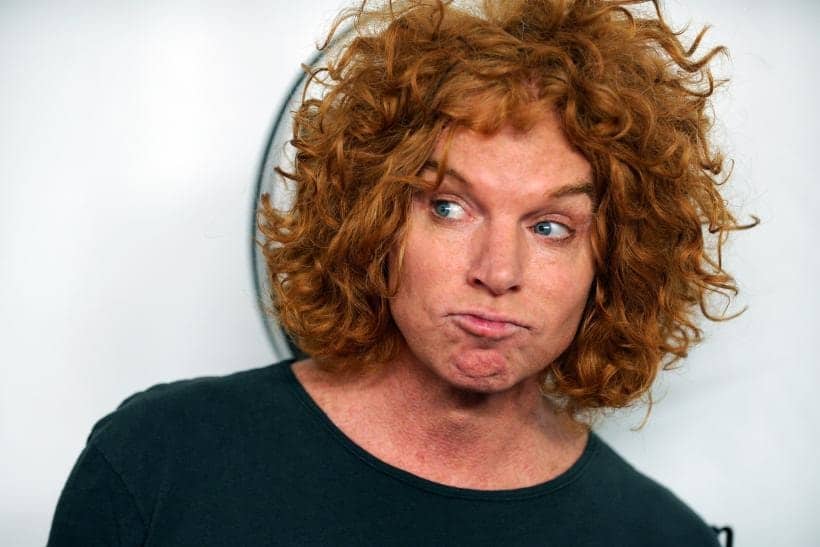 Scott Thompson, who is better known as Carrot Top, is an American stand-up comedian and actor. He has acted in several hit films which includes the Chairman of the Board. As of 2022, Carrot Top net worth is estimated to be around $70 million.
| | |
| --- | --- |
| Full Name | Scott Thompson |
| Birth Date | February 25, 1965 |
| Birth Place | Rockledge, Florida |
| Profession | Stand-Up Comedian and Actor |
| Relationship Status | In a Relationship |
| Net Worth | $70 million |
Early Life
Carrot Top's real name is Scott Thompson and was born on February 25, 1965. Thompson studied at Cocoa High School where he was part of the concert band. He then studied at the Florida Atlantic University where he first saw a live stand-up comedy show as a freshman. One day, his roommate suggested he try doing stand-up comedy too in an open mic where he made his first performance.
Carrot Top Net Worth and Career
View this post on Instagram
Thompson started working at a bank as a courier but was also working on the side to become a comic. However, he eventually quit within his first year because of the frustration of not being able to break into any clubs. He started taking up odd jobs to support himself but later on a club owner asked him to perform in his club by seeing how funny he was.
He would eventually make his first booking in 1990 while in Florida. That started a spiral of opportunities for him as he went on to start getting gigs every weekend. As his popularity grew, he was able to be part of the show called Comic Strip Live. Then in 1992, he would appear in The Tonight Show for the first time. Thompson went on to establish himself through the stage name Carrot Top and started appearing in different TV series and films. Some of these appearances include Gene Simmons Family Jewels, Space Ghost Coast to Coast, and Chairman of the Board among many more.
He has also made appearances in different shows such as Reno 911!, Last Comic Standing, and Carrot Top's AM Mayhem which was his show that ran till 1996. Thompson has won several accolades as a successful comedian. Perhaps his greatest achievement was being the winner of the American Comedy Award for Funniest Male Stand-Up Comic in 1994.
Personal Life
Carrot Top has been in a relationship with Amanda Hogan for some time now. He loves to go to the gym and build his body which is why he has maintained a great physique even as he gets older. He also has several charities among which include the Ronald McDonald House.
Carrot Top Net Worth
As of 2022, Carrot Top has an estimated net worth of $70 million. Carrot Top has established his name as among the top comedians in Las Vegas. He has been associated with Luxor Hotel since 2005 where he regularly performs and has signed a deal with them which will see him continue to perform there until 2025. He used to do more than 200 sell-out concerts every year at his prime and is still very active as a comedian.