Carley Shimkus Net Worth: How Rich is the Fox News Anchor Actually?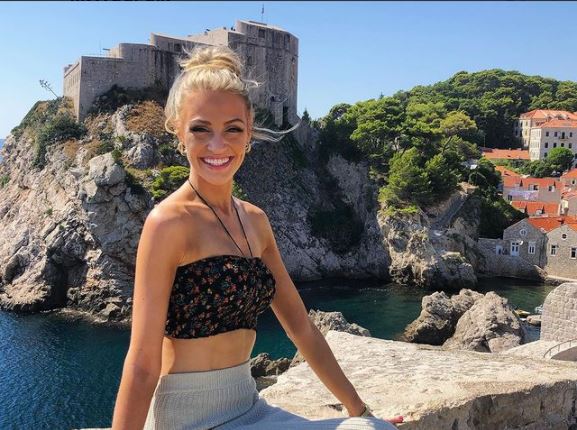 Carley Shimkus is an American news anchor who is best known to be the co-host of the program called Fox Nation. Furthermore, she is also part of well-known programs such as Fox & Friends as well as Fox & Friends First, both of which have very high viewership. As of 2022, Carley Shimkus has an estimated net worth of $500,000.
| | |
| --- | --- |
| Full Name | Carley Noelle Shimkus |
| Birth Date | November 7, 1986 |
| Birth Place | Long Valley, New Jersey |
| Profession | News Anchor |
| Relationship Status | Married |
| Net Worth | $500,000 |
Early Life
Carley grew up in a place called Long Valley in New Jersey through her mother named Zulma and father Edward. Her mother worked as a flight attendant and had met her father in an airplane itself. Carley went to the West Morris Central High School. As per her Twitter post, her mother is originally from Puerto Rico while her father's background is from Lithuania.
Carley has a height of 5 feet, 10 inches because of which she even gave a try to modeling while she was still in high school. Though she did do some projects, over time she felt that this was not the right path for her career. Carley has also mentioned how during her time in high school, she had a phase where she was like a hippie.
Carley then went on to Quinnipiac University where she graduated by specializing in B.A. in 2009.
Carley Shimkus Net Worth and Career
View this post on Instagram
While Carley was still in her senior year, she started to work for Fox News by initially starting out as an intern. She then became a news producer in the same organization after they liked her abilities and saw future prospects from her. In 2012, she would become part of Fox Business Network where she started working for the show Imus in the Morning.
She continued to consistently provide value in these shows and would expand her horizons of work since Carley would also become the headlines reporter for another of their shows called Fox & Friends. A show related to this called Fox & Friends First was also present where she held the same role.
This is a new role that she had initially gotten after Heather Childers had left the company. Now, it has been confirmed that Carley will be continuing to work for Fox & Friends First from 2021 onwards.
Personal Life
Carley had met with a guy named Peter Buchignani during her 23rd birthday. In those early days, they were only friends. It would also be later that they shared their mutual affection towards each other and thus started to date. After two years together, Peter would propose to Carley.
Their marriage thus occurred in 2015 and has been happily married ever since. The couple loves to travel to new places and has had trips to places such as Scotland and Greece. Peter works in Amherst Pierpont Securities which is located in Chicago.
However, Carley's work responsibilities are in New York City. Since both of them are fully dedicated to their work, even though they are married, they have a long-distance relationship. Regardless of this barrier, the couple has found a way to make their relationship work out.
Carley also has a sister named Margot. She has mentioned that Margot is currently a private art instructor. Carley is well-known for her bubbly personality and often posts on social media regarding the updates in her life including all the experiences she is having both at work as well as in her personal life.
Carley Shimkus Net Worth
As of 2022, Carley Shimkus has an estimated net worth of $500,000. Her salary at fox news is expected to be in the range of $60,000 to $80,000 yearly.
Carley Shimkus News
Carley Shimkus and family share favorite Thanksgiving recipes, including her grandma's 50-year-old dessert  Fox NewsView Full Coverage on Google News

Short questions with Dana Perino for Carley Shimkus  Fox News

Carley Shimkus talks 'Cooking with Friends' book, reveals her choice of best cook at Fox News  Fox News