Camille Cosby Net Worth: How Rich is Bill Cosby's Wife Actually?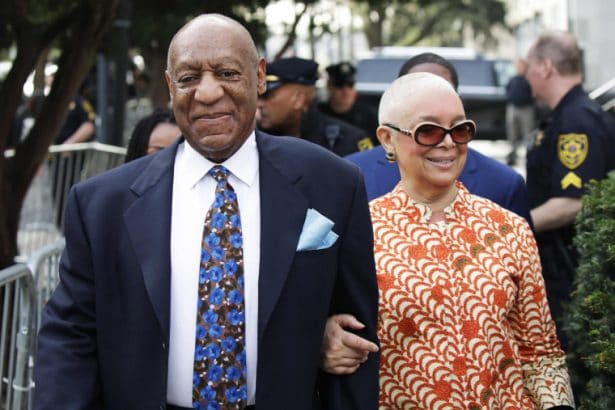 Camille Cosby is an American TV producer, manager, and philanthropist. She is best known as the wife of a retired stand-up comedian, Bill Cosby. Camille has been busy managing her husband's businesses, since he was sentenced to 3 to 10 years in prison during the MeToo movement in September 2018. As of 2022, Camille Cosby net worth is estimated to be around $20 million.
Bill's conviction was overturned on June 30, 2021, by the Pennsylvania Supreme Court, and he was freed from prison on the same day.
| | |
| --- | --- |
| Full Name | Camille Olivia Cosby |
| Birth Date | March 20, 1944 |
| Birth Place | Washington, D. C., United States |
| Profession | TV producer, author, philanthropist |
| Husband | Bill Cosby |
| Net Worth | $20 million |
Early life
Camille Olivia Cosby was born on 20th March 1944 in Washington, D. C., United States. He was born to parents, Guy A. Hanks Sr., and Catherine C. Hanks. Her father, Guy A. used to work at Walter Reed General Hospital. Likewise, her mother has served at the nursery. Camille grew up along with three siblings in Norbeck, Maryland.
Regarding her education, she has studied at private Catholic schools. After completion of high school, she joined the University of Maryland, where she obtained a degree in psychology. She was honored with an honorary doctoral degree, a Doctor of Humane Letters by the Johnetta Cole of Howard University in June 1987.
Cosby further continued her study and attended the University of Massachusetts Amherst. She received a master's degree from the University in 1990. Following two years in 1992, she achieved a Ph. D. from the same University. Cosby earned her master's degree, and Ph. D. while she was in her mid-30s'.
Camille Cosby Net Worth & Career
Camille has mostly stayed away from the media, and publicity. Though, she has been busy serving as a manager for her hubby, Bill Cosby, who calls her a shrewd businesswoman. According to Bill, she is rough to deal with. So, people would rather come to talk to him regarding business matters.
Camille has also helped Bill to develop the materials for his show. In fact, she has a big role in developing the TV sitcom "The Cosby Show". It was actually her suggestion to present the Huxtable family as a middle class rather than working class in the show. In fact, the character from the show named Clair Huxtable was based on her real-life character.
Camille has been a supporter of African-American literature for a long time, and she has penned a foreword for several books. She has in fact written her own book titled "Television's Imageable Influences: The Self-Perception of Young African-Americans" in 1994. In the book, she has presented the derogatory images of African American peoples, that have been shown in the media establishments.
Cosby has co-founded the National Visionary Leadership Project in 2001. The mission of the project is to produce the future generation of leaders through the stories shared by extraordinary African American elders. Cosby has likewise co-produced the Broadway play titled "Having Our Say: The Delany Sister's First 100 years". Later, she took over the rights to the story of the show and worked as an executive producer for the made-for-television movie, which had the same name.
Camille Cosby Personal Life
Camille Cosby is married to Bill Cosby, whom she met at the University of Maryland. During her sophomore year, she went on a blind date with Bill. The couple tied the knot on January 25, 1964. She shares five kids with hubby Bill. One of her sons, Ennis, was killed on January 16, 1997. Likewise, she lost her daughter, Ensa on February 23, 2018, due to renal disease.
Camille's husband Bill Cosby was sentenced to 3 to 10 years in prison after he was found guilty on 3 counts of aggravated indecent assault in September 2018. After spending over two years in State Correctional Institution-Phoenix, the Pennsylvania Supreme Court overturned his conviction on June 30, 2021.
Camille has been defending her husband's accusations from the beginning, and she has even released a statement in 2014 saying that Bill had been victimized for unvetted accusations.
Camille Cosby Net Worth
As of 2022, Camille Cosby's net worth is estimated to be around $20 million. She has been serving as a president of two production companies, C&J Productions, and COC Productions. Camille has likewise involved in various philanthropy activities. In the 1980s, she and Bill donated $100,000 to Central State University, and in November 1988, the Cosbys donated $20 million to Atlanta's Spelman College.
Camille Cosby News
Bill And Camille Cosby In 'Dire' Financial Straits  Black Enterprise

What is Bill Cosby's net worth as of 2023? Exploring his wealth amid rumors of financial crisis and rift with wife  PINKVILLA

Bill Cosby In 'Financial Turmoil' From Sexual Assault Lawsuits  Black Enterprise