Brandon Blackstock Net Worth: How Rich is Kelly Clarkson's Ex-Husband?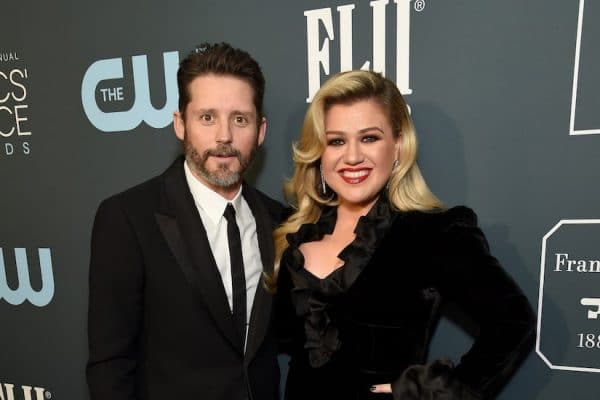 Brandon Blackstock is an American talent manager, who is best known as a former husband of American singer, Kelly Clarkson. He is the CEO of the Starstruck Management Group. Brandon and Kelly separated with divorce in 2020, and recently on July 27, a Los Angeles County Court Judge has ordered Kelly to pay him around $200,000 a month. As of 2022, Brandon Blackstock net worth is estimated to be roughly $10 million.
| | |
| --- | --- |
| Full Name | Brandon Blackstock |
| Birth Date | December 16, 1976 |
| Birth Place | Fort Worth, Texas, U. S. |
| Profession | Talent Manager |
| Ex-wife | Kelly Clarkson |
| Net Worth | $10 million |
Early life
Brandon Blackstock was born on the 16th of December, 1976 in Fort Worth, Texas, United States. His father, Narvel Blackstock is also a talent manager, who was married to country singer, Reba McEntire. Brandon's stepmom, Reba, and his dad have lived together as a married couple for 26 years. Narvel received a huge percentage of Reba's property after he separated from Reba in 2015. He has three siblings, Chassidy, Shelby, and Shawan.
Brandon Blackstock Net Worth & Career
Brandon was working as a tour manager for the country band, Rascal Flatts when he met Kelly for the first time. His dad, Narvel has served as Kelly's talent manager. However, during their first meeting, Kelly was unaware of the fact that Brandon is her longtime manager's son. Kelly has mentioned it was love at first sight for both when they saw each other first time.
After dating a couple of years, Brandon and Kelly became engaged in December 2012. Kelly shared the happy moment of her engagement with Brandon through her WhoSay account, where she wrote "I'm Engaged!!! I wanted y'all to know!! Happiest night of my life last night. I am so lucky and am with the greatest man ever :).".
Just a few months after their engagement, the couple shared the wedding vows on October 20, 2013. Their wedding ceremony took place at Blackberry Farms, which is located in Walland, Tennessee. After living together for seven years, Kelly filed for divorce on 4th June 2020.
After Kelly filed a divorce, Brandon also filed paperwork in December 2020, where he requested $436,000 each month in spousal support. The spousal support amount included $301,00 in spousal support and $135,000 in child support. In addition to that, he also put a demand of $2 million to cover legal expenses.
Brandon was recently ordered to pay $195,601 in spousal support and $45,601 in child support. The order of payment was made on July 27 by a Los Angeles County Court Judge. In the recent hearing, Brandon has mentioned in the document that he would be leaving his career as a talent manager, and he would be pursuing work as a rancher.
Blackson has also served as a talent manager for the country singer, Blake Shelton, who is appearing as one of the coaches in the singing reality show, The Voice. He was supposed to have served as a manager of Kelly Clarkson. Though, she claimed in the legal documents with California Labor Commission that he has defrauded her as a manager for 13 years. Kelly also claimed that Brandon didn't have a license to work as a talent agent.
In response, Brandon's management group, Starstruck Management Group came in support and countered her by clearing out that she was managed and represented by her separate talent agency, CAA. Later, Starstruck also sued Kelly for $1.4 million in owed commissions.
Brandon Blackstock Personal Life
Brandon Blackstock has been married twice. First, he tied the knot with Melissa Ashworth. From his first marriage, he has two kids; Savanna and Seth who were present in their father's second marriage ceremony. After separating from Melissa in 2012, he got married to Kelly Clarkson on October 20, 2013. He shares two sons with Kelly; River Rose and Remington Alexander.
Brandon Blackstock Net Worth
Brandon Blackstock has earned a whopping net worth value of $10 million as of 2022. His net worth would soon be bigger in the next few years after the decision of the recent court hearing. Brandon would be getting nearly $200,000 from his ex-wife, Kelly Clarkson for spousal and child support. On the other hand, his former wife, Kelly Clarkson holds a huge net worth of $50 million.
Brandon Blackstock News
Kelly Clarkson Dishes on Her Dating Life After Brandon Blackstock Divorce: 'I Love Being Single'  Yahoo Entertainment

Kelly Clarkson Says She Doesn't Have a Boyfriend — and She's 'Not Looking': 'I Love Being Single'  PEOPLE

Kelly Clarkson And Reba McEntire Were Once Family. They've Both Weighed In After Their Respective Blackstock Divorces  CinemaBlend