Bob Baffert Net Worth: How Rich is the Racehorse Trainer in 2022?
Bob Baffert is an American racehorse trainer who is best known for guiding both American Pharoah and Justify to Triple Crowns. In addition to that, he has had a record seven horses win the Kentucky Derby. As of 2022, Bob Baffert's net worth is estimated to be $35 million.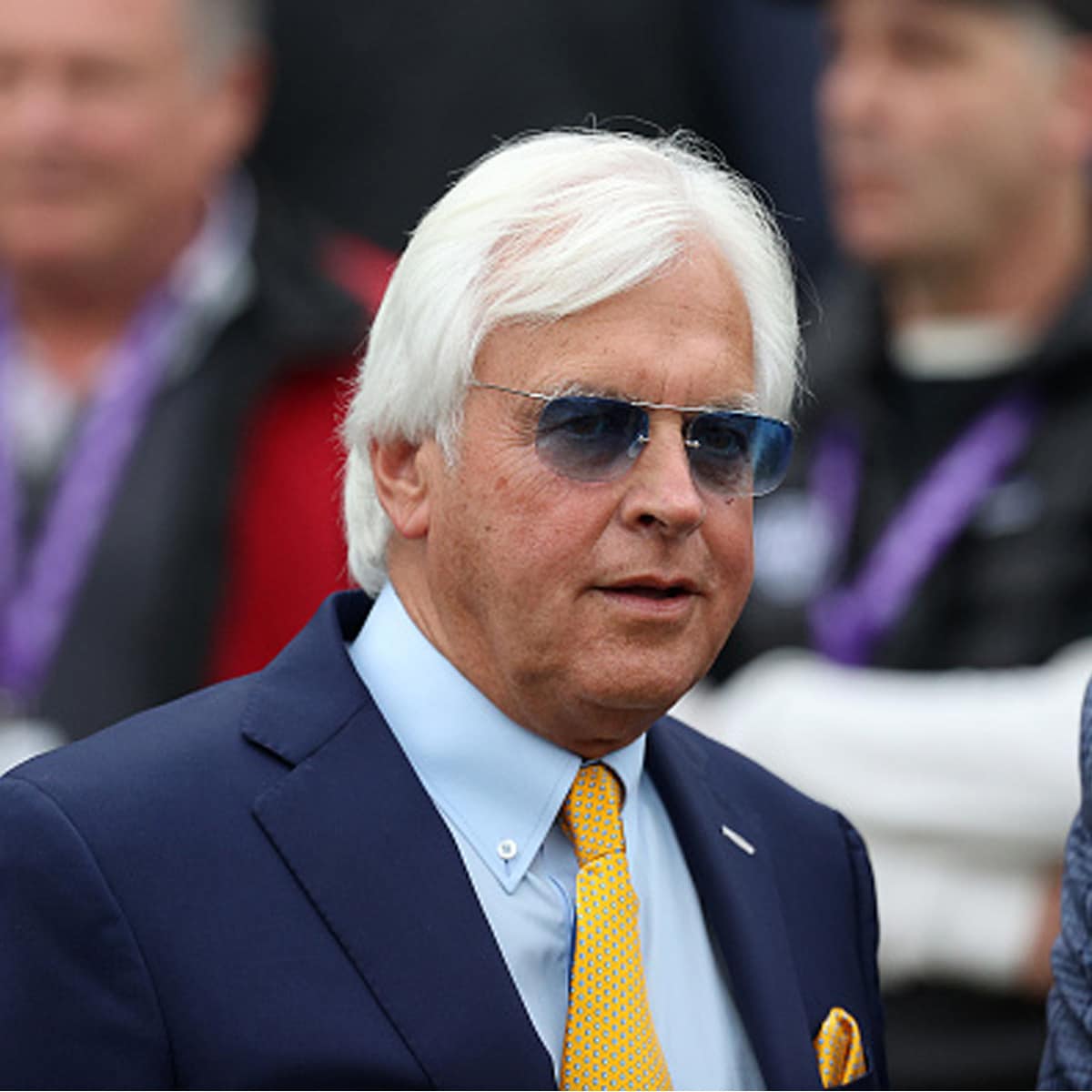 Early Life
| | |
| --- | --- |
| Full Name | Robert A. 'Bob' Baffert |
| Birth Date / Age | January 13, 1953 / 69 Years Old |
| Birth Place | Nogales, Arizona |
| Source of Wealth | Horse Training / Racing |
| Relationship Status | Married To Jill Baffert |
| Height | 5 ft. 7 in. / 170.2 cm. |
| Net Worth | $35 Million |
Robert Baffert was born in January of 1953 in Nogales, Arizona to parents Bill and Elinora. His father headed the family ranch while his mother taught in the Nogales public school system for 40 years. She even served as the principal of A.J. Mitchell School.
Baffert grew up with six siblings on the farm where they raised cattle and chickens. As a teenager, he worked as a jockey for $100 a day in informal Quarter Horse races. He then recorded his first official victory at age 17.
The trainer would attend and graduate from the University of Arizona's Race Track Industry Program. After earning his Bachelor of Science degree, Baffert got married and began training horses full time.
By the time he was 20 years old, Baffert garnered a solid reputation in the horse training community. He was regularly getting hired to by other trainers to run their stables.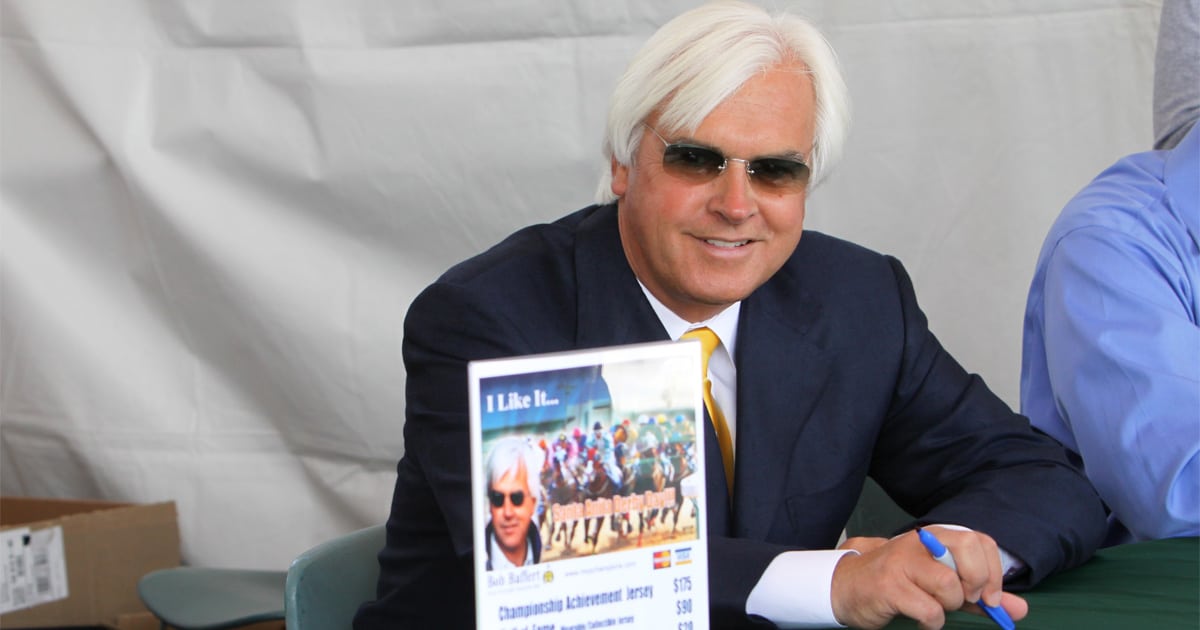 Bob Baffert Net Worth and Career
Baffert won his very first Breeder's Cup race in 1992, just one year after deciding to work with Thoroughbreds. Four years later, the Arizona native began training his horses for the American classic races.
In his first Kentucky Derby bid, Baffert's horse Cavonnier placed second. Then, he reigned victorious the next year at the Derby and at the Preakness Stakes with his horse Silver Charm. After another successful year in 1998, Baffert became the first trainer to win the Derby and Preakness in back-to-back years.
As of January of 2022, Baffert's horses have won seven Kentucky Derbies, seven Preakness Stakes, and three Belmont stakes. Not only that, but he has been the lead trainer of the two most successful horses of the last 40-plus years.
In 2015, his two-year-old colt American Pharoah became the first horse to win the Triple Crown since Affirmed did so in 1978.
In 2018, Baffert trained yet another Triple Crown winner. Justify became the 13th horse to accomplish that feat. Baffert joined Jim Fitzsimmons as the only trainers to ever guide two Triple Crown winners.
As of 2009, Baffert is officially a part of the U.S. Racing Hall of Fame. Also, he was inducted into the National Museum of Racing's Hall of Fame that year. Notably, he was awarded the Eclipse Award as outstanding trainer from 1997 to 1999.
How Much Does Bob Baffert Make?
For starters, as well as a gauge of how much Baffert makes, the 2015 Kentucky Derby winners split a prize of roughly $1.24 million. Meanwhile, Forbes estimates that the 2018 Kentucky Derby purse was a total of $2 million, with the winning team earning an estimated $1.24 million.
Remember, that's just for winning the Kentucky Derby. The Preakness and Belmont winners take home a similar purse. It's unknown exactly how much of that goes to Baffert, but it's assumed he receives a solid chunk of that in addition to his salary as a premier trainer.
Bob Baffert Family
In all, Baffert has been married two times and he has a total of five children. With his first wife Sherry, he has four children by the names of Taylor, Canyon, Forest, and Savannah.
Furthermore, he remarried in 2002 to his second and current wife Jill. Together, they have a son named Bode, who was born in 2004. Currently, the family resides in California.
Controversies
Unfortunately, over 30 of Baffert's horses have failed drug tests at one point or another. His 2021 Kentucky Derby winner Medina Spirit tested positive for betamethasone. Whether or not the horse will be disqualified is still being determined.
Also concerning is the fact that 74 horses have died in Baffert's stables dating back to 2000. It's since been confirmed that not all of the deaths were animals in race training, nor were they necessarily race-related fatalities.
Bob Baffert