Art Laboe Net Worth: How Rich was the American DJ Actually?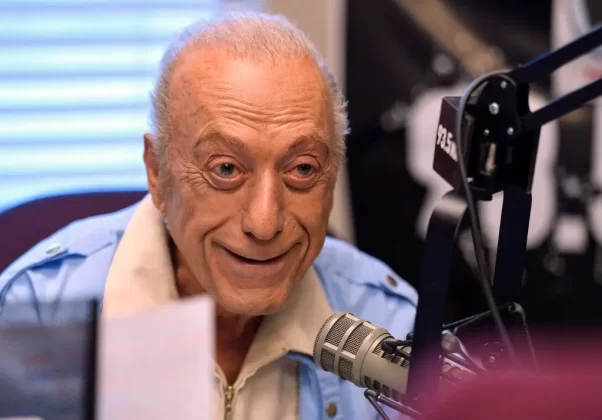 Art Laboe was an American DJ, record producer, and radio station owner. He was best known for helping end segregation in Southern California and for coining the term, Oldies but Goodies. Art Laboe net worth before his death is estimated to be around $7 million.
Laboe is the founder of the record label, Original Sound Records which has produced instrumental hit songs, Teen Beat and Bongo Rock. Laboe died at 97 years of age due to pneumonia on October 7, 2022.
| | |
| --- | --- |
| Real Name | Arthur Egnoian |
| Birthday | August 7, 1925 |
| Birthplace | Murray, Utah |
| Profession | DJ, record producer |
| Relationship Status | Unknown |
| Net Worth | $7 million |
Early Life
Art Laboe was born on August 7, 1925, in Murray, Utah. He was born to John Egnoian and Hosanna (nee Kezerian). His father was from the Ottoman Empire. He was 13 when his parents divorced. Then, he moved to South-Central Los Angeles where he lived with his sister.
Laboe studied at George Washington High School. Following high school graduation, he attended Stanford University. After that, he joined US Navy during World War II. At that time, he was assigned duty at Naval Station Treasure Island.
Art Laboe Net Worth & Career
Laboe started experimenting with amateur radio from his bedroom in 1938. He made his professional radio debut in 1943 when he worked on San Francisco-based station, KSAN. Laboe had a first-class radiotelephone license through which he was able to get a job at a radio station. After then, he took the last name, Laboe from the station manager's secretary's name. Laboe then started working at KCMJ after returning to Southern California.
During that time, he took the nickname, 'As Long as He Lasts' for the publicity stunt that he participated in February 1948. In the publicity stunt, he hosted a 120-hour talkathon for charity. Later, he moved back to Los Angeles and started his time at KPOP. He came up with the idea of taking his show on the road while he was working at KPOP. At the same time, he also decided to broadcast live from the local, Scrivner's Drive-In.
Laboe then made a list of the most frequently requested songs. Additionally, he was joined by people who had just gone through a breakup and would ask for his help by playing love songs to help them get their love back.
Laboe started getting popular and soon found a ballroom and promoter east of Los Angeles. Eventually, after some time, the EL Monte dance hall was formed. Soon he turned that concept into an album, Oldies But Goodies. Laboe eventually trademarked the term. Then, he formed the record label, Original Sound Records in 1959. Through the label, he promoted new musical talent he discovered. The label released two instrumental hit songs, Teen Beat and Bongo Rock.
Laboe then began working for the radio station, KGGI in the 1990s. After a decade in January 2006, he came up with a syndicated request and dedication radio show called The Art Laboe Connection. The radio show started each weeknight on KDE-FM and KOKO-FM. Afterward, he DJ'd on two syndicated radio shows.
Personal Life
Art Laboe was married and divorced twice. However, he has not mentioned any details about his two failed marriages. Neither there are any details on his wife. Laboe died at 97 years of age on Friday after a short bout of pneumonia. His death was confirmed by Joanna Morones who is a spokesperson for Laboe's production company, Dart Entertainment. His last show was produced last week on October 6 and was broadcasted on Sunday night, October 9.
Art Laboe Net Worth
Art Laboe's personal wealth is estimated to be around $7 million as of 2022. He has accumulated a hefty sum from organizing live DJ shows, starting Original Sound Record Inc, and releasing the compilation album, Oldies But Goodies: Vol 1. Laboe's album stayed on Billboard's Top 100 chart for 183 weeks.