Allen Weisselberg Net Worth: How Rich is the Businessman Actually?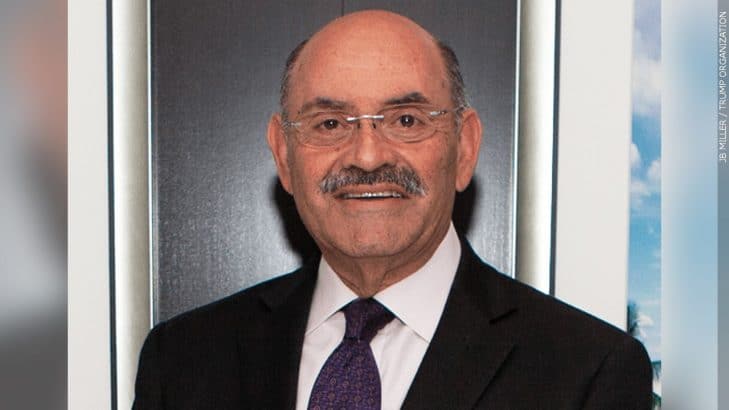 Allen Weisselberg is an American businessman, who is best known as the CFO of the Trump Organization. He has worked as a co-trustee for the former President Donald Trump's trust, which was set up in 2017. Allen has been serving the Trump family since the 1970s. Allen Weisselberg net worth at the moment is under review. However, some source estimates his net worth to be a massive $1 billion.
Allen Weisselberg and the Trump Organization were charged with a 15-year alleged tax scheme by the Manhattan district attorney's office on July 1, 2021. The organization was reportedly helping its executives evade taxes by compensating them with luxury perks and bonuses.
| | |
| --- | --- |
| Full Name | Allen Howard Weisselberg |
| Birth Date | August 15, 1947 |
| Birth Place | Brooklyn, New York |
| Profession | Businessman |
| Wife | Hilary Weisselberg |
| Net Worth | $1 billion (estimated) |
Early life
Allen Weisselberg was born on the 15th of August, 1947 in Brooklyn, New York, United States. He spent his childhood days growing up in the borough's Brownsville neighborhood. For his study, he joined Thomas Jefferson High School. After completing high school graduation, he attended the Pace University, where he earned a Bachelor of Science in Accounting.
Allen started off his career by serving as an accountant for the real estate magnate, Fred Trump in 1973. After serving as an accountant for a decade, he was promoted as a controller of the company in the late 1980s. During that time, he was working under then CFO, Stephen Bollenbach.
His hard work pays off when he was appointed as the Chief Financial Officer of Trump Hotels & Casino Resorts in 2000. By then, he was also serving as a treasurer and board member of the Donald J. Trump Foundation.
Allen Weisselberg Net Worth & Career
Weisselberg had developed a close bond with Trump's family. He was also handling and taking care of all the household expenses of the Trump family. Donald Trump announced on January 11, 2017, that he would be managing the Trump Organization during Trump's presidency, along with Trump's two sons Eric and Donald Trump Jr.
Before the 2016 election, Weisselberg made an arrangement for the Trump Organization to pay Trump's personal lawyer, Michael Cohen, monthly payments of $35,000 as a reimbursement amount that he had paid to an adult film actress, Stormy Daniels. Trump was actually having an affair with the adult actress, which he was trying to keep away from the public before the election took place.
Weisselberg was made subpoenaed in July 2018 to testify on Michael Cohen's investigation before a grand jury. He again got into trouble in 2019, after New York District Attorney, Cyrus Vance Jr. conducted an investigation on him. Vance later issued new subpoenas related to the hush-money payments. Weisselberg was ordered to present Trump's personal and business tax records to Vance by the US Supreme Court in February 2021.
The prosecutors started examining closely the financial records of Weisselberg in March 2021. They later found strong proof when Weisselberg's former daughter-in-law, Jen Weisselberg revealed that the Trump employees have been receiving large compensation in real estate and other items. In May 2021, he fell into big trouble as New York State attorney general started a criminal tax investigation on him.
By June 2021, the grand jury heard all evidence against Weisselberg, and he surrendered to Manhattan District Attorney's office on July 1, 2021. He was allegedly charged with 15 felony counts for evading tax of around $1.76 million in over 15 years.
Allen Weisselberg Personal Life
Allen Weisselberg is married to a lady named Hilary. He shares two sons with her; Jack and Barry Weisselberg. His two sons are well settled in their life. One of his sons, Jack works as a loan organization executive at Ladder Capital, and his other son, Barry has served at the Trump Organization managing the Central Park ice rinks.
Allen Weisselberg Net Worth
His exact net worth might be unknown but sites like Celebpie estimates Allen Weisselberg's personal wealth to be a whopping $1 billion. He has gathered the vast chunk of money through serving the Trump family for over four decades. Allen had bought a modest ranch-style house based in Wantagh, New York, in 1978, which he sold for $468,000 in 2013. Then along with his wife, Hilary, he purchased a vacation house based in Boynton Beach, Florida in 2002.
Allen Weisselberg News
Unmarried to the Mob  The Nation

Eric Trump takes full responsibility for Allen Weisselberg's shady severance package  Courthouse News Service

New York AG demands evidence review after top Trump exec is accused of lying in fraud trial  CNBC