Adam Kinzinger Net Worth: How Rich is the Congressman Actually?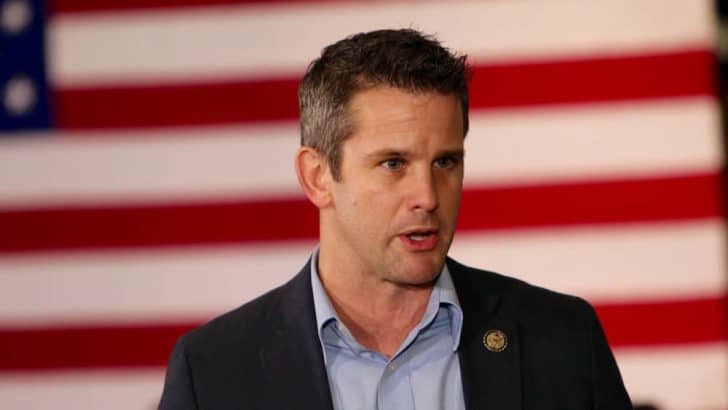 Adam Kinzinger is an American politician and military officer. He is best known for serving as the United States Representative for Illinois's 16th congressional district. Adam is one of the members of the Republic party, who got elected to Congress first time in 2010 from the 11th district. As of 2022, Adam Kinzinger net worth is estimated to be around $1 million.
| | |
| --- | --- |
| Full Name | Adam Daniel Kinzinger |
| Birth Date | February 27, 1978 |
| Birth Place | Kankakee, Illinois, U. S. |
| Profession | Politician |
| Wife | Sofia Boza-Holman |
| Net Worth | $1 million |
Early life
Adam Kinzinger was born on the 27th of February, 1978 in Kankakee, Illinois, United States. He was born to parents, Rus Kinzinger, and Betty Jo. His father, Rus is a CEO of faith-based organizations, and his mother, Betty Jo has worked as an elementary school teacher. Adam has spent his youth days in Jacksonville, Florida.
Regarding his education, he has completed his high school graduation from the Norman Community West High School in 1996. Later, he attended Illinois State University from where he held his Bachelor's degree in 2000.
Adam Kinzinger Net Worth & Career
While studying at Illinois State, he ran for election in McLean County as a county board member. He was just 20 when he won the election and with the victory, he became one of the youngest county board members in the history of McLean County. After serving for five years as a board member, he resigned in 2003. Then, he served as an intern for the former United States Senator, Peter Fitzgerald.
In 2003, Adam joined the United States Air Force, where he became a 2nd Lieutenant in November 2003. He was later awarded his pilot wings. Adam was earlier appointed as a KC-135 Stratotanker pilot, and while doing his duty, he flew in different countries like Guam, Iraq, South America, and Afghanistan. Kinzinger later started flying the RC-26 surveillance aircraft, and as a part of the job, he was stationed in Iraq two times.
After he returned from his 3rd tour in Iraq, he began campaigning full-time for the election of Illinois' 11th congressional district. On February 2, 2020, he got the victory in the five-candidate Republican primary election with a vote of 64%. On November 2, 2010, he defeated the Democratic, U. S. Congressman, Debbie Halvorson with a vote margin of 57 to 43%.
In March 2016, he won the Republican primary election with 100% of the vote. On August 3, 2016, he went completely against Donald Trump where he claimed that he would not be supporting GOP presidential nominee, Trump. In 2018, he defeated the Democratic challenger, Sara Dady by getting 59.1% of the vote. Likewise, in 2020, he defeated the Democrat, Dani Brzozowski with 65% of the vote.
Adam became the Republican House member on February 4, 2021, where all the members were voting to strip, Marjorie Taylor Green out of House Budget Committee assignments, and House Education and Labor Committee. Following one month in March 2021, he joined the 7 other Republicans to join the House majority. The 8 Republicans played a major role in passing the Bipartisan Background Checks Act of 2021.
Kinzinger has also been in the news headlines for being a rare Republican who is criticizing the former U. S. President, Donald Trump, and his first impeachment. On January 7, 2021, he became the first Republican member to call for Trump's removal from office through the 25th Amendment after the storming of the U. S. Capitol. He joined 34 other Republicans on May 19, 2021, to establish the formation of the January 6 commission that was formed to conduct an investigation on the storming of the U. S. Capitol.
Adam Kinzinger Personal Life
Adam Kinzinger is married to Sofia Boza-Holman. He tied the knot with Sofia on February 16, 2020. Sofia was a former aide to the retired politician, John Boehner. Before getting married, he was engaged to Sofia in June 2019. Adam also had a love affair with Air Force Captain named Riki Meyers in 2011. He even became engaged to her in 2011. However, the pair broke their engagement in 2012.
Adam Kinzinger Net Worth
As a U. S. Representative, Adam would be getting an estimated annual salary of around $174,000. Adam has been actively involved as a politician since 2010, and through his over a decade of involvement in U. S. Politics, he must have summed up a noteworthy net worth figure. As of 2022, Adam Kinzinger is reported to have earned the total net worth amount of $1 million.
Adam Kinzinger News
Adam Kinzinger: Why Trump 2.0 Will Be Worse – The Bulwark Podcast  The BulwarkTranscript: Trump closes in on a second term in office  Financial TimesTrump closes in on a second term in […]

Adam Kinzinger on being "shoulder-checked" by Kevin McCarthy  CNN

No one will admit to supporting Trump in 5-10 years, Kinzinger says  NBC News