Yungeen Ace Net Worth: How Rich is the Rapper Actually?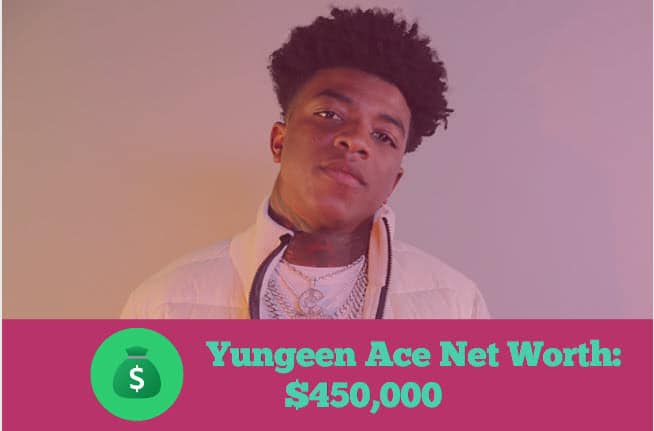 Keyanta Tyrone Bullard known by his rapping moniker as Yungeen Ace is an rapper from Florida. He is best known for his singles like "Pain" and "F*ck That". As of 2022, Yungeen Ace net worth is estimated to be $750,000.
| | |
| --- | --- |
| Real Name | Keyanta Tyrone Bullard |
| Date of Birth | February 12, 1998 |
| Age | 23 years old |
| Born Place | Chicago, Illinois, United States |
| Profession | Rapper |
| Sun Sign | Aquarius |
| Height | 5 feet 10 inches or 178 cm |
| Net Worth | $750,000 |
Tyrone Bullard was born on February 12, 1998, in Chicago, Illinois. He moved with his family to Jacksonville, Florida when he was just 4 years old. He was raised alongside other 11 brothers by his single mother. Life was turning out to be very difficult for his mother as his father was serving time in prison. At the age of 14, he lost his uncle whom he considered to be his father figure. Due to emotional pain, he turned to music and became associated with street gangs. He claimed he took his stage name from another uncle.
Yungeen ace started his music career in 2018 by uploading music to several online platforms. Some of his earliest projects include songs like "No Witness", "Find Myself", and "All In". His popularity began to rise within a couple of months and started to get millions of streams.
Just as his career started to rise, he had a brutal time ahead as his brother, 19-year-old, Trevon Bullard, was dead. His two other friends Royale Smith Jr and Jercoby Groover were also announced dead. Yungeen ace too was in a precarious situation after receiving 8 bullets but he survived. Following, the massacre, he received support from NBA YoungBoy and Mista Cain.
Yungeen Ace then decided to take his musical career seriously. He released his debut album "Life of Betrayal" featuring JayDaYoungan and NBA YoungBoy. The album produced hit singles like "Pain", "F*ck That", and "Jungle". Most of his tracks describe his pain and struggles he felt after losing his brother and friends. The single "Pain" received more than 14 million views in just 2 months on YouTube.
On June 26, 2020, Yungeen Ace released his second album titled "Don Dada". The album consisted of tracks like Recovery, Don Dada, 400 Shots, Murda Talk, Heartbroken, and Promote Violence ft. King Von.
Yungeen Ace has also been involved in some legal trouble. He was once caught on house arrest. He was arrested for going to the mall without the permission of his probation officer. On March 10, 2019, Ace along with his friends were ambushed at a hotel in Georgia. Of the four men, two were shot and badly injured. Ace was reportedly unharmed.
Yungeen Ace Net Worth: $750,000
Yungeen Ace News
Yungeen Ace Begs Fans To Stop 'Signing Him Up For The Army' After His SSN Leaks  HipHopDX

Yungeen Ace shows paperwork after 1090 Jake & Foolio say he snitched  HipHopCanada

Jacksonville's gang war crosses into North Carolina with sentencing of rapper ATK Ybeezzzy  FirstCoastNews.com WTLV-WJXX