Yung Baby Tate Net Worth: How Rich is the Singer Actually?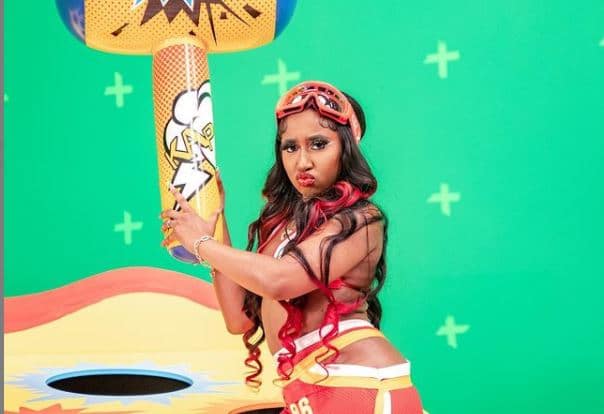 Tate Sequoya Farris, better known as Yung Baby Tate is an American rapper, singer, songwriter, and record producer. She is best known for her several hit songs "Bob", "Bad Girl", and "That Girl". Tate is also known for combining the music of trap beats with a pop influence. As of 2022, Yung Baby Tate net worth is estimated to be roughly $300 thousand.
| | |
| --- | --- |
| Real Name | Tate Sequoya Farris |
| Birth Date | May 13, 1996 |
| Birth Place | Decatur, Georgia, U. S. |
| Profession | Rapper, Singer |
| Relationship Status | Single |
| Net Worth | $300 thousand |
Early Life
Yung Baby Tate was born Tate Sequoya Farris on 13th May 1996 in Decatur, Georgia, United States. Her father, David Ryan Harris is a musician/producer, and her mother, Dionne Farris is a soul singer. She has been more close to her mother while growing up and had little contact with her father.
Yung Baby Tate Net Worth & Career
Tate was interested in singing and dancing since she was a kid. She started tap dancing at 6 years of age and started playing piano at the very young age of 10. By reaching 13, she came up with her own beats. She has even sung songs in her local church choir. Likewise, she used to take part in singing or dancing events at school.
Tate released her first EP titled "ROYGBIV" on November 10, 2015. The EP includes seven tracks, where each song represents a rainbow color; Red, Orange, Yellow, Green, Blue, Indigo, and Violet. After a year, she came up with her second EP titled "YBTXMAS", which was released in December 2016.
Tate's first full-length album titled "Girls" was released in February 2019. The album received positive reviews, and it was named as one of the best hip-hop projects of 2019 by hip-hop magazine, XXL. Tate received further recognition after she released a cover on Nicki Minaj's song "Megatron" in July 2019.
By reaching 2020, she signed a recording contract deal with Issa Rae's record label, Radio. With the recording company, she released 2 singles from the soundtrack of the comedy-drama series "Insecure". She released a song titled "Damn Daniel" on April 30, 2020, in a collaboration with the British rapper, Bree Runway.
Tate released her 6th EP titled "After the Rain" on December 4, 2020. The album contains seven singles including the hit songs "Rainbow Cadillac", and "I Am". Most of her songs are known for conveying positive sexual messages. Surprisingly, she writes and produces all songs in her music project.
Yung Baby Tate Personal Life
Yung Baby Tate's present relationship status is assumed to be single. She has not yet been linked up with anyone. However, in July 2020, through Twitter Tate mentioned that her boyfriend would break up with her if she makes an OnlyFans. Her tweet gave a hint that she is possibly dating someone around in 2020, however, she never claimed anyone of her boyfriend openly in public.
Yung Baby Tate Net Worth
Yung Baby Tate has amassed an approximate net worth figure of $300 thousand by 2022. She has earned all the money from her music sales. Tate must also be earning a hefty sum from her self-titled YouTube account, where she has 68.2 subscribers and over 10 million views.
Yung Baby Tate News
Baby Tate Talks Visual EP & Success of Women in R&B: "It's About Damn Time"  Billboard

Hot thrills from João Dall'Stella and a sexy musical with Baby Tate  Xtra Magazine

EXCLUSIVE INTERVIEW: Baby Tate Explores Her Favorite Hip Hop Moments and Unveils Upcoming EP 'Sexploration: The Musical' At The Hip Hop Museum Tour In Atlanta  The Knockturnal