Winston Marshall Net Worth: How Rich Winston Marshall Actually?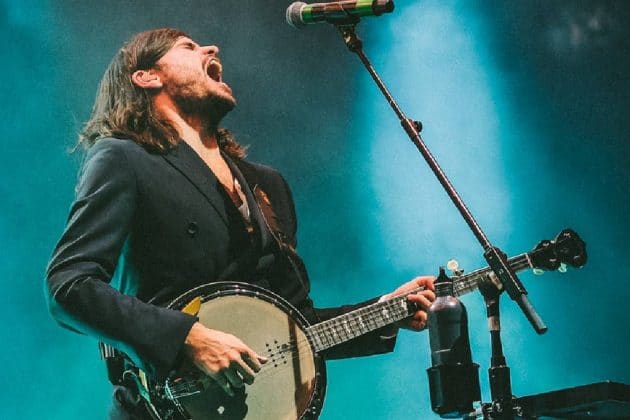 Winston Marshall is a British musician, who is best recognized as a former member of the British fork rock band, Mumford & Sons. He was the lead guitarist and banjoist of the rock band. As of 2022, Winston Marshall net worth is estimated to be over $14 million.
Winston recently quits with the band on June 24, 2021, after he received criticism for his tweet, where he appreciated the far-right-wing writer, Andy Ngo's book "Unmasked". Winston mentioned that he doesn't want his band member to suffer from the consequences.
| | |
| --- | --- |
| Full Name | Winston Aubrey Aladar Marshall |
| Birth Date | December 20, 1987 |
| Birth Place | Wandsworth, London, England |
| Profession | Musician |
| Ex-wife | Dianna Agron |
| Net Worth | $14 million |
Early life
Winston Marshall was born on 20th December 1987 in Wandsworth, London, England. His father, Sir Paul Marshall is an investor, who has co-founded the Marshall Wace hedge fund. He grew up with one sister. For his study, he joined the independent school, St Paul's School.
Winston started playing guitar when he was 13. He also started a ZZ Top cover group. Later, he became interested in playing the banjo after watching the crime drama movie "O Brother, Where Art Thou?". He became so deeply involved in music that he decided not to join the University and made up his mind that he would pursue a career in music.
Winston Marshall Net Worth & Career
Marshall, at first became a member of a rap band, Captain Kick and the Cowboy Ramblers. With the band, he performed on the hit singles like "Country London", and "Jesse the Gay". Later, he happened to meet Marcus Mumford, who was struggling at that time. Winston motivated him to join his band on-stage. Though, both had known each other from earlier, while they were playing worship music at Church retreat group.
The founding members of the band; Marshall, Mumford, Lovett, and Dwane earlier gave performances at the jam nights. Marshall was a multi-talented member of the band, where he would play the bass guitar, banjo, electric guitar, dobro, and acoustic guitar. He would also provide backing vocals for the rock band.
The rock band, Mumford & Sons, received immense popularity through their second album titled "Babel", which was released in 2012. The album was sold for almost 600,000 copies in just its first week. With that, it became one of the fastest-selling albums in 2012 in U. S. Likewise, in 2018, the band sold more than 230,000 copies of their fourth studio album "Delta". The band also received the Grammy Award for their album "Babel" in the category of Album of the Year.
Winston was on a break since March 2021, after facing a lot of criticism for appreciating the right-wing writer and activist, Andy Ngo's book "Unmasked: Inside Antifa's Radical Plan to Destroy Democracy". However, he later announced that he would be taking a break from the band to find his blindspots.
Recently on June 23, 2021, he announced that he would be parting ways with the band, Mumford & Sons so that he could exercise free speech about political extremism without involving his band members.
Winston Marshall Personal Life
Winston Marshall was married to American actress, Dianna Agron. He tied the knot with Dianna on October 15, 2016, in Morocco. They kept their relationship private, although they had started dating in July 2015. After living blissful moments together for four years, they split in 2019. The pair officially parted ways in August 2020. They have even unfollowed each other on Instagram.
Winston Marshall Net Worth
Winston Marshall has accumulated a huge net worth value of over $14 million as of 2022. He has amassed the gigantic figure from being one of the crucial members of the rock band, Mumford & Sons. Winston also purchased a 2000 square feet Nolita Loft with 3 bedrooms in downtown New York for $3.2 million in 2015.
Winston Marshall News
Winston Marshall to wed again | Entertainment | advocateanddemocrat.com  Advocateanddemocrat

Winston Marshall to wed again | Entertainment | northwestgeorgianews.com  Northwest Georgia News

Winston Marshall to wed again | Lifestyles | news-shield.com  News-shield