Vivek Ramaswamy Net Worth: How Rich is the Businessman Actually?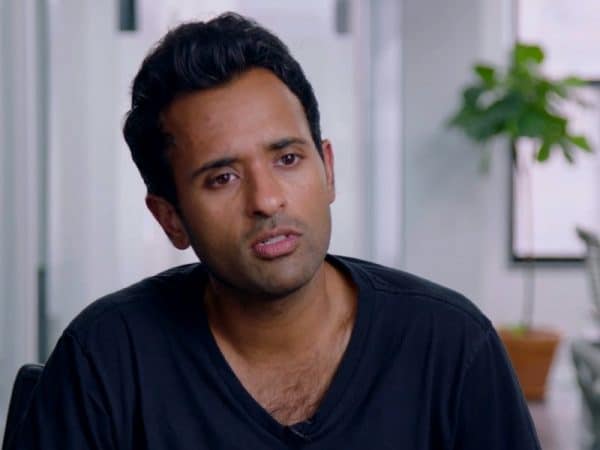 Vivek Ramaswamy is a 36 years old former American entrepreneur, author, and pundit. He is best known as the founder of the biopharmaceutical company "Roivant Sciences". As of 2022, Vivek Ramaswamy net worth is estimated to be roughly $500 million.
Ramaswamy is recently devoting more to writing, and he is openly speaking against the Critical Race Theory. His upcoming book "Woke, Inc." hits retailers on August 17, and he recently appeared on Fox News special talking about a woke takeover of the American corporate system.
| | |
| --- | --- |
| Full Name | Vivek Ramaswamy |
| Birth Date | August 9, 1985 |
| Birth Place | Cincinnati, Ohio, U. S. |
| Profession | Former entrepreneur, author |
| Wife | Apoorva Ramaswamy |
| Net Worth | $500 million |
Early life
Vivek Ramaswamy was born on the 9th of August, 1985 in Cincinnati, Ohio, United States. He was born to his parents, Vivek Ganapathy, and Geetha Ramaswamy. His dad used to work at General Electric Company, and his mom is a geriatric psychiatrist. He has two younger brothers.
Regarding his education detail, he has studied at St. Xavier High School. He came out holding a high school graduation degree in 2003. Then, he attended Harvard College from where he earned a Bachelor of Arts degree in biology. Vivek has also earned a J. D. from Yale Law School.
Vivek Ramaswamy Net Worth & Career
Vivek co-founded the technology company named Campus Venture Network in 2007. He was working as the President of the company. At the same time, he also served at QVT Financial, where he was responsible for managing the firm's biotech portfolio. He was also a partner of the technology company.
In 2014, he founded a pharmaceutical company named Roivant Sciences. He worked as the CEO of the company until January 2021, and then he became executive chairman of the company. His founded company, Roivant is mainly focused on applying technology to drug development. To date, the company has built many subsidiary healthcare technologies and biotech companies. Several of the subsidiary companies are publicly listed.
In 2015, the subsidiary company, Axovant raised $360 million through the initial public offering. His mother and two younger brothers have served as senior-level employees of the subsidiary company, Axovant. On the other hand, Ramaswamy has been one of the board of directors for another subsidiary of Roivant, Myvoant Sciences, which focused mainly on the treatment of women's health diseases.
Likewise, Ramaswamy also works as one of the board of directors in Sumitovant Biopharma. Besides his entrepreneurial venture, he has been actively dedicating his time to writing articles for several newspapers and magazines like New York Times, Wall Street Journal, Harvard Business Review, The Dispatch, Newsweek, and National Review. Ramaswamy's new book titled "Woke, Inc." is expected to release on August 17, 2021.
Ramaswamy has most recently appeared on the Fox News Special, where he criticized the woke takeover of the corporate system. In the show, he provided detailed insight into how China is taking advantage of the Woke movement in the United States.
Vivek Ramaswamy Personal Life
Vivek Ramaswamy is a married man who tied the knot with an otolaryngologist, Apoorva Tewari Ramaswamy. He shares a son with his wife, Apoorva. In 2020, his wife rejoined her work as frontline healthcare after 4 weeks of maternity leave.
Vivek Ramaswamy Net Worth
As of 2022, Vivek Ramaswamy's personal wealth is estimated to be roughly $500 million. He has gathered a gigantic amount from his entrepreneurial venture. His founded company, Roivant's subsidiary companies, Axovant raised $360 from IPO in 2015, and Myovant Sciences raised $218 from IPO in 2016.
Vivek Ramaswamy News
RAW: IA: VIVEK RAMASWAMY GARNER TOWN HALL (WALK UP)  The Citizen

Ramaswamy in town for annual Holiday Stroll | News, Sports, Jobs  Nashua Telegraph

Why Is Vivek Ramaswamy-Founded Roivant Sciences (ROIV) Stock Trading Lower Today? – Roivant Sciences (NAS  Benzinga