Udonis Haslem Net Worth: How Rich is the Miami Heat Player Actually?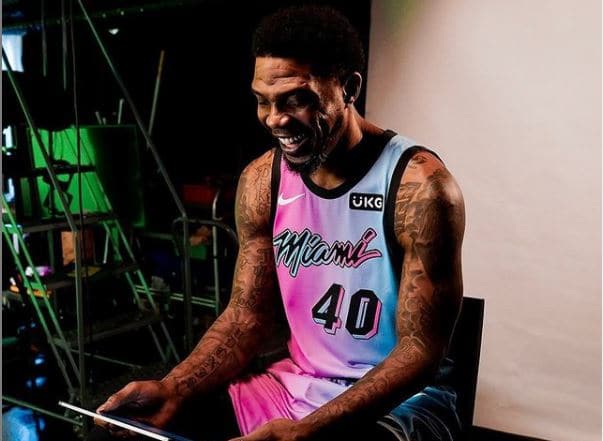 Udonis Haslem is a 42 years old American professional basketball player. He is best known for playing in the National Basketball Association (NBA) with the Miami Heat. Haslem has won 3 NBA Championships with Miami Heat. As of 2022, Udonis Haslem net worth is estimated to be roughly $20 million.
Udonis Haslem made an official come back with the Miami Heat again on August 15, 2021, after he re-signed a one-year contract deal worth $2.8 million for the 19th season.
| | |
| --- | --- |
| Full Name | Udonis Johneal Haslem |
| Birth Date | June 9, 1980 |
| Birth Place | Miami, Florida, U. S. |
| Profession | Basketball Player |
| Wife | Faith Rein-Haslem |
| Net Worth | $20 million |
Early life
Udonis Haslem was born on the 9th of June, 1980 in Miami, Florida, United States. He was born to his parents, John and Debra. His father, John has played college basketball for the college basketball team, Stetson Hatters.
Regarding his education detail, he has studied at Wolfson High School and Miami Senior High School. For two years in 1997 and 1998, he helped his high school basketball team to get state titles. However, Miami High was removed from its 1998 title because of the violation of the rules of the Florida High School Athletic Association.
Haslem attended the University of Florida after he earned an athletic scholarship. He started playing for the University team in 1998 under the coach, Billy Donovan. In his sophomore year, he helped his team to get through the NCAA Men's Division I Basketball Championship game. In his college career, he made an average of 13.7 points, and 6.7 rebounds in each game.
Udonis Haslem Net Worth & Career
View this post on Instagram
Udonis was undrafted in the 2002 NBA draft because of the size requirements. He was measured at 6 ft 6 inches at the NBA pre-draft camp. After some time, he joined the basketball team, Atlanta Hawks. However, he was released by the Hawks before the 2002-03 NBA season. Then, he was signed by the French basketball team, Chalon-Sur-Saone. In one season he played with the French team, he scored an average point of 16.1 and made 9.4 rebounds in each game.
Haslem was signed by his hometown team, Miami Heat on August 6, 2003. He appeared in all 80 games during the 2004-05 season, and during the season, he made an average point of 10.9, 9.1 rebounds, and made 1.4 assists in 33.4 minutes in each game. In August 2005, he was re-signed by the Miami Heat, and he played a major role to get the team their first NBA Championship in the NBA Finals.
Udonis was signed by the Miami Heat in July 2010 for five years. He had to miss the regular season after he sustained a torn ligament on his foot. In May 2011, he made a comeback, and in June 2011, he played in the 2011 NBA Finals. However, his team was defeated in all six games in the Finals. In 2012, he helped his team to get the second championship in the NBA Finals.
Haslem made up his mind that the 2018-19 season would be his final season with the Heat. Though, he never had an intention to get retire. He reversed his decision on August 6, 2019, and again signed a one-year deal with Heat. He became the 30th basketball player in the league history to play basketball after crossing 40 years of age. Haslem was re-signed by the Miami Heat on August 15, 2021, for one year.
Udonis Haslem Personal Life
Udonis Haslem is a married man, who tied the knot to a sports broadcaster, Faith Rein-Haslem in 1999. He dated her for 14 years before getting married. Haslem met his wife, Faith for the first time while studying at the University of Florida. She was one of the members of the Florida Gators track and field team. He shares three kids with his wife, Faith.
Udonis Haslem Net Worth
As of 2022, Udonis Haslem's personal wealth is estimated to be around $20 million. He has earned over $55 million in salary from his NBA career. Haslem has been playing with Miami Heat since 2003, and he signed a $20 million worth contract deal with the Miami Heat in July 2010. He was recently re-signed by the Miami Heat for $2.8 million on August 15, 2021.
Udonis Haslem News
The Heat's Udonis Haslem is speaking up for Florida and Floridians in opposition to Governor Ron DeSantis's opinions  The Boston GlobeUdonis Haslem slams Ron DeSantis for ruining Florida's reputation  SB NationHeat's Udonis […]

Heat Notes: Robinson, Vincent, Strus, Love, Haslem  hoopsrumors.com

What is 'Heat Culture'? The truth about Miami's identity, according to those who live it  The Athletic