Terrence Williams Net Worth: How Rich is the former NBA Player?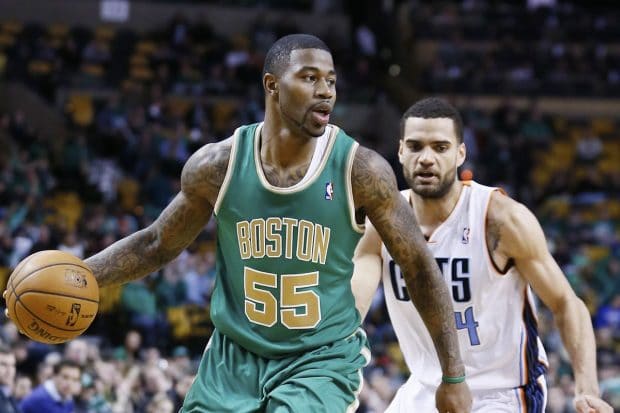 Terrence Williams is a 34 years old retired American professional basketball player. He is best known for playing in the National Basketball Association (NBA). Williams was selected in the 2009 NBA draft by the professional basketball team, New Jersey Nets. As of 2022, Terrence Williams net worth is estimated to be around $5 million.
Terrence Williams, along with 18 former NBA players were indicted on October 7, 2021, for submitting false invoices for the medical expenses to the league's healthcare fund. The prosecutors accused him of being the alleged ringleader of the healthcare fraud.
| | |
| --- | --- |
| Full Name | Terrence Deshon Williams |
| Birth Date | June 28, 1987 |
| Birth Place | Seattle, Washington, U. S. |
| Profession | Former basketball Player |
| Relationship Status | Unknown |
| Net Worth | $5 million |
Early life
Terrence Williams was born on the 28th of June, 1987 in Seattle, Washington, United States. Nothing is much known about his early life and parents. For his study, he attended Rainier Beach High School. Following high school graduation, he joined the University of Louisville.
Williams played as a starter for four years on the high school team. During that time, he also helped his team to win a state title. Williams continued his good form while playing for the University of Louisville men's basketball team, Louisville. In the Cardinal's season-opening game against Hartford, he scored 14 points, made 13 assists and 12 rebounds.
Terrence Williams Net Worth & Career
View this post on Instagram
Terrence began his professional basketball career after being selected by the New Jersey Nets in the 2009 NBA draft. For the New Jersey Nets, he registered his first career triple-double against the Chicago Bulls on April 9, 2010. In December 2010, he was traded to the Houston Rockets. He played for the Rockets until March 16, 2012, and after that, he was waived by the Rockets.
Williams then signed a 10-day contract with the California-based professional basketball team, Sacramento Kings on March 21, 2012. The team later considered him for other games, and he subsequently signed a deal with Kings for the remainder of the season on 31st March 2012.
Williams then joined the training camp of the Detroit Pistons in October 2012. He was with the Pistons for around three weeks, and then he was waived by the Pistons. Williams was later signed by the Guangdong Southern Tigers of China in November 2012. He played with the Tigers for around three months until February 2013.
Terrence signed a 10-day contract with Boston based professional basketball team, Boston Celtics on February 20, 2013. Following one year in March 2013, he re-signed a multi-year contract with the Celtics. However, he was waived by the Boston Celtics on June 30, 2013. Then, he played for many professional basketball teams such as Los Angeles D-Fenders, Meralco Bolts, Reales de La Vega, Fuerza Regia, and Vaqueros de Bayamon.
Williams was signed with the Venezuela-based professional basketball team, Guaiqueries de Margarita in April 2015. The team signed him to play for the rest of the 2015 LPB season. In October 2015, he was about to play in the semi-pro basketball league, AmeriLeague. However, the league was later folded after the founder of the league was revealed as a con artist.
Personal Life
Terrence Williams has not shared enough detail regarding his personal life. However, sources have revealed that he is raising a son named Jaraye Williams. According to various outlets, his son, Jaraye Williams is considered a 4-star football prospect in the class of 2021.
On October 7, 2021, Terrence Williams was arrested along with 18 other former NBA players for defrauding the NBA's health plan. The US Attorney, Audrey Strauss arrested Williams and others on fraudulent claims of around $4 million. Williams is referred to as the leader of the conspiracy, where he was alleged for obtaining fraudulent medical and dental invoices and sending them to his co-conspirators.
Terrence Williams Net Worth
As of 2022, Terrence Williams' personal wealth is estimated to be around $5 million. Williams has earned $12,897,035 on his professional NBA career. However, his recent indictment on the charge of health care and wire fraud has created doubt on the real source of his income. Williams and other 18 former NBA players have reportedly pocketed around $2.5 million illegally by defrauding the league's health and welfare benefit plan.
Terrence Williams News
Ex-NBA player Terrence Williams pleads guilty in fraud case  NBA.com