Roy Halston Net Worth: How Rich was the Fashion Designer Actually?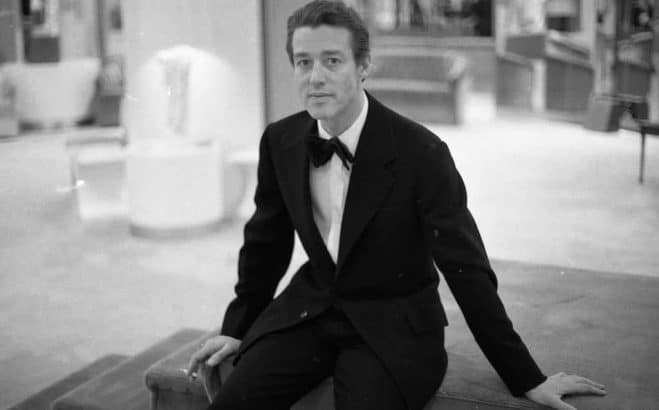 Roy Halston was a renowned American fashion designer. He claimed international fame during the 1970s for his iconic design. Halston was the first designer to license himself as a brand who brought his products to an international market. As of 2022, Roy Halston net worth was estimated to be roughly $100 million before he died on March 26, 1990.
Halston's biopic is recently presented as a television miniseries on Netflix. The streaming miniseries started premiering on May 14, 2021.
| | |
| --- | --- |
| Full Name | Roy Halston Frowick |
| Birth Date | April 23, 1932 |
| Birth Place | Des Moines, Iowa, United States |
| Died | March 26, 1990 |
| Profession | Fashion Designer |
| Boyfriend | Victor Hugo |
| Net Worth | $100 million |
Early life
Roy Halston was born on April 23, 1932, in Des Moines, Iowa, United States. He was born to parents, James Edward Frowick and Hallie Mae. His father, James Edward was a Norwegian-American accountant, and his mother Hallie was a housewife. Halston became interested in sewing after seeing his grandmother working on her clothes.
Earlier, he created some hats and even made clothes for his mom and sister. Roy attended Benjamin Bosse High School from where he earned his graduate degree in 1950. Later, he joined Indiana University where he studied for a while. His interest in art made him join the School of the Art Institute of Chicago.
Roy Halston Net Worth & Career
Halston started a store named the Boulevard Salon in 1957, which was located on North Michigan Avenue. In late 1957, he shifted to New York City and started working for a milliner, Lilly Dache. In just a year, he was promoted as a co-designer at Dache. However, after some time, he left Dache's studio and started working as a head milliner for the department store, Bergdorf Goodman.
Roy received early recognition after designing a pillbox hat in 1961. The hat was worn by John F. Kennedy's wife Jacqueline Kennedy at her husband's presidential inauguration. Halston started making designs for clothes after the trend of hats went out of fashion. He started his first boutique in 1968, which was based on Madison Avenue.
Soon after a year in 1969, he came up with his first ready-to-wear fashion line, Halston Limited. His simple, sophisticated, and glamorous design became very famous in a short time. He mostly used soft and luxurious fabric for his design. Halston was successful to draw the attention of celebrity artists, Babe Paley, Greta Garbo, Gene Tierney, Elizabeth Taylor, Margaux Hemingway, and Blanca Jagger. He was able to collect a whopping sum of $30 million from 1968 to 1973.
Halston expanded his business line to menswear, handbags, luggage, bedding, and lingerie during the 1970s. He had few favorite models like, Pat Cleveland, Anjelica Huston, Elsa Peretti, Alva Chinn, Beverly Johnson, Karen Bjornson, who were dubbed as "The Halstonettes' by Andre Leon Talley.
Halston was contracted to design a look new look for Braniff International Airways flight attendants in 1977. He gave a unique design for them, designing distinctive H logos on muted brown uniforms.
Roy was later signed by the retail chain, J. C. Penny in 1983 for a six-year licensing deal. The deal was reported to be worth $1 billion. With that, he launched a new line, which consists of affordable clothing, cosmetics, accessories, and perfumes. He tried to provide his fashion products at a cheap price ranging from $24 to $200. But, it had an opposite reaction on his image among high-end fashion retailers.
The line, Halston III was devastating for his career as it was poorly received. The line even got discontinued, and later on his company, Halston Limited was acquired by Esmark Inc. In 1983. Halston started losing control of the company. By reaching 1984, he was completely banned from designing unique creations for Halston Enterprises.
The enterprise was later acquired by Revlon in 1986, and he remained still a part of the company. However, he was stopped working on designing clothes for the company.
Roy Halston Personal Life
Roy Halston was in an on and off relationship with a Venezuelan-born artist, Victor Hugo. When they met the first time, both were working as makeup artists. Halston even hired Hugo as his window dresser, and both were living in Halston's house. They were in a relationship for more than 10 years. Later, he was rumored to be in a relationship with fashion designer, Luis Estevez.
Halston died on March 26, 1990, due to AIDS-defining illness. He was tested positive for HIV in 1988 before and had his last breath at Pacific Presbyterian Medical Center.
Roy Halston Net Worth
Roy Halston had earned an estimated net worth value of $100 million before his death. He gathered a huge fortune from his unique and iconic designed clothing lines.
Roy Halston News
MISTER HALSTON at Theatre Row Studio Theatre  BroadwayWorld

Tour a Luxurious, Halston–esque Mid-century West Side Co-op  Curbed

Halston reboots under veteran retailer Ken Downing's direction  Fashion Network US