Ron DeSantis Net Worth: How Rich is Governor of Florida Actually?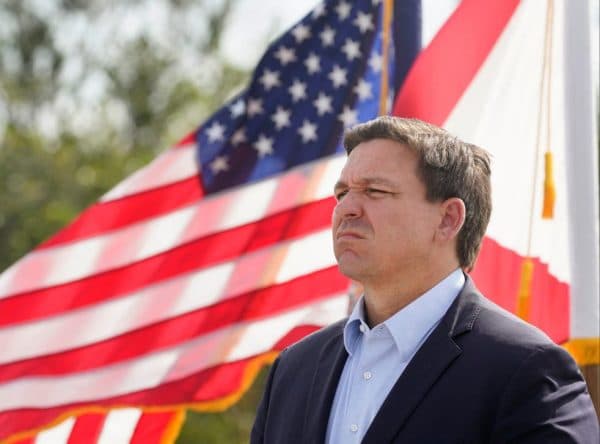 Ronald Dion DeSantis is an American politician and attorney. He is serving as the current Governor of the state of Florida after his victory in the elections in 2019. He has also represented Florida's 6th congressional district in the House of Representatives until 2018 as a part of the Republican Party. As of 2022, Ron DeSantis net worth is estimated to be around $500,000.
| | |
| --- | --- |
| Full Name | Ronald Dion DeSantis |
| Birth Date | September 14, 1978 |
| Birth Place | Jacksonville, Florida, U.S |
| Profession | Politician and Attorney |
| Relationship Status | Married |
| Net Worth | $500,000 |
Early Life
As a kid, Ron was active in different sports and was even a part of the Little League and participated in their World Series as well. He studied at Dunedin High School from where he graduated in 1997 after which he joined Yale University.
He was again an active sports player there and was the captain of the varsity baseball team. His studies focused on history and he would graduate with a B.A. in 2001. He started to teach history at a school for a short time after which he decided to join Harvard Law School where he got his JD in 2005.
Ron DeSantis Net Worth and Career
View this post on Instagram
Ron became part of the Reserve Naval officer's commission and served for the U.S. Naval Reserve Center with his assignment being based in Texas. After completing Naval Justice School, he started to work as a prosecutor and would later be promoted to lieutenant in 2006.
He was later transferred to California where he became part of the SEAL Team One and started to serve in Iraq since this was the need of the time. After returning to the U.S. in 2008, he became an assistant U.S. attorney based in Florida.
For his service, he won several accolades including the Advocate General's Corps of the US Navy Reserve as well as the Iraq Campaign Medal. In 2012, Ron would make the bold decision to run in the Republican Primary in Florida in it's 6th congressional district.
Having had a patriotic past, he was liked by many voters through whom he won with 39% of votes. Over the years, he also became the chairman of the Subcommittee on National Security. Among some of the legislations that he passed, there was the Faithful Execution of the Law Act of 2014 which was made to clarify the reporting of the Department of Justice to the Congress.
Ron has had a stern stance on several topics. In 2013, he mentioned that he would vow against any legislation on global warming that would raise taxes. He has also clearly mentioned that he is against abortion and any legislation that promotes it.
Furthermore, his actions have supported the implementation of the medical marijuana program based in Florida. However, he has made it clear that he is against the legalization of recreational marijuana.
During the pandemic that started in 2020, Ron was criticized for some of his decisions including not needing proof of vaccination in the businesses, schools, and other entities. However, he has mentioned that no forced vaccination would be accepted in his state.
Personal Life
Ron is married to Casey Black who has worked as a television host before. They currently live in Palm Coast and have three children.
Ron DeSantis Net Worth
As of 2022, Ron DeSantis has an estimated net worth of $500,000. Ron last made public about his assets in December of 2020 with his salary of that year being $134,181. As per the breakdown of his assets, he has around $235,000 in one of his accounts while he also has more than $100,000 in a government thrift savings plan.
Ron DeSantis News
Disney Admits Heavy Financial Losses Due to 'Woke' Content, DeSantis Lawsuit – Inside the Magic  Inside the Magic

Florida students walk out in support of staff who flouted DeSantis trans ban  The Guardian US

Newsom vs. DeSantis debate: A battle between 2 Disney governors  MDJOnline.com