Rick Carlisle Net Worth: How Rich is the Indiana Pacers Coach?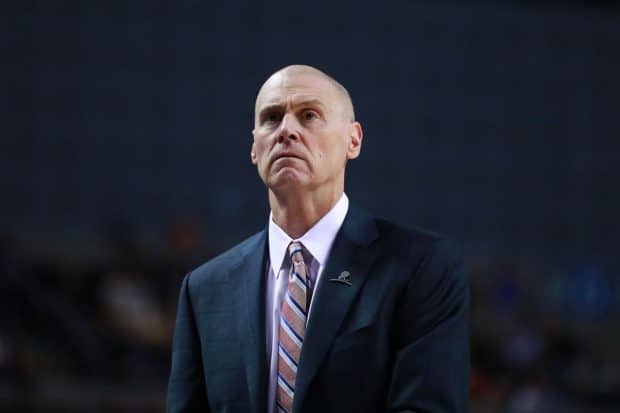 Richard Carlisle is an American basketball coach who is currently coaching Indiana Pacers. He previously coached Detroit Pistons as well as the Dallas Mavericks having led the latter to be NBA champions. As of 2022, Rick Carlisle net worth is estimated to be around $8 million.
| | |
| --- | --- |
| Full Name | Richard Preston Carlisle |
| Birth Date | October 27, 1959 |
| Birth Place | Ogdensburg, New York |
| Profession | Basketball Coach |
| Relationship Status | Married |
| Net Worth | $8 million |
Early Life
Rick was born on October 27, 1959, in Ogdensburg, New York. He studied at Lisbon Central High School. He then attended the University of Maine in 1979 where he was an active college basketball player. Rick then transfer to the University of Virginia where he was even the co-captain during the 1983-84 season.
Rick Carlisle Net Worth and Career
After graduation, Rick would be picked by Boston Celtics during the 1984 NBA draft. He had a very successful time with them as he would win the 1986 NBA championship and came close to winning two more championships having reached the final in 1985 and 1987. He then went on to play for Albany Patroons in the CBA as well as the New York Knicks and New Jersey Nets.
After his career came to a close, he would work with the Nets as an assistant coach along with Bill Fitch who previously coached him as a player. After 5 years there, Rick became part of the coaching team with the Portland Trail Brazers with whom he would be associated for 3 years. He then helped the Indiana Pacers to improve their performance in the NBA by even leading them to the Eastern Conference Finals.
It would be in the 2001-02 season where Rick would start to work as a head coach for the Detroit Pistons. Rick had a very successful time with them even winning the Coach of the Year award in the year 2002. However, he would later be fired citing team ownership concerns.
Yet, he had the most successful spell with Mark Cuban's Dallas Mavericks with whom he signed in 2008. The 2010-11 season is arguably the highlight of his career as he was able to lead the Dallas Mavericks to victory as NBA Champions. The success led to him being signing a contract extension in 2012.
He also had a successful season in 2014 where he led them to the NBA finals but couldn't win the championship. Further contract extensions in 2015 led to Rick being part of the Dallas Mavericks until 2021 when he decided to step down as manager.
Now, Rick Carlisle is looking for a fresh start as the head coach of the Indiana Pacers after signing a contract with them on June 24, 2021.
Personal Life
Rick is married to Donna Carlisle and together they have a daughter as well. When he is not strategizing for basketball games, Rick loves to play the piano and is even a private pilot who flies a single-engine light aircraft called the Cirrus SR22T.
Rick Carlisle Net Worth
As of 2022, Rick Carlisle has an estimated net worth of $8 million. Rick is one of the most experienced coaches in the NBA today and is estimated to currently take home a salary of around $4 million per year.
Rick Carlisle News
Pacers coach Rick Carlisle willing to sit players for better defense  IndyStar

Trail Blazers 114-110 Pacers (Nov 27, 2023) Game Recap  ESPN

Detroit Pistons pounded by Pacers in 4Q, 136-113, lose 13th straight  Detroit Free Press