Richard Trumka Net Worth: How Rich was the AFL-CIO Chief Actually?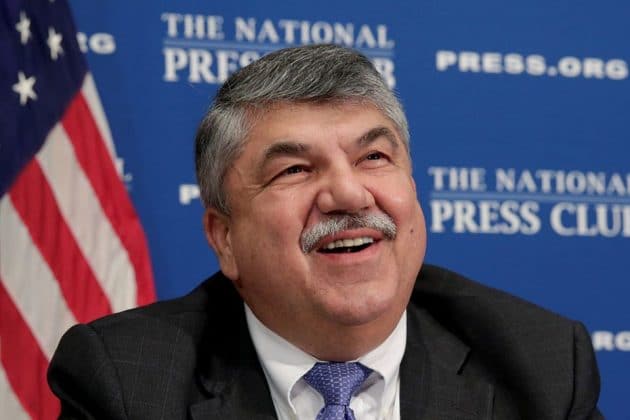 Richard Trumka was an American attorney, who has served as the President of the largest federation of unions in U. S., AFL-CIO. He was also an organized labor leader who worked as a President of the North American labor union, United Mine Workers. Richard Trumka net worth at the time of his death is estimated to be around $6 million.
Richard died at the age of 72 due to a heart attack on 5th August 2021.
| | |
| --- | --- |
| Full Name | Richard Louis Trumka |
| Birth Date | July 24, 1949 |
| Birth Place | Nemacolin, Pennsylvania, U. S. |
| Profession | Attorney |
| Wife | Barbara Vidovich |
| Net Worth | $6 million |
Early life
Richard Trumka was born on the 24th of July, 1949 in Nemacolin, Pennsylvania, United States. His father, Frank Richard Trumka was a Polish American, and his mother, Eola Elizabeth was an Italian American. Richard's dad used to work as a coal miner, and in 1968, he joined his dad to help in working in the mines.
Regarding his education detail, he has studied at the Pennsylvania State University from where he earned a graduate degree in 1971. Later, he attended the Villanova University School of Law. He came out holding a Juris Doctor degree from Law School in 1974.
Richard Trumka Net Worth & Career
Trumka started working as a staff attorney in 1974 along with the United Mine Workers of America (UNWA). After serving five years there, he was chosen as one of the board of directors of the UMWA District 4 in the year 1981. It took him just one year to get promoted as President of the UMWA.
In 1989, he raised his voice and went for a 9 months strike against Pittston Coal Company, which was refusing to pay the retirement fund and industry-wide health to the workers.
Trumka became a secretary-treasurer of the AFL-CIO in 1995. As a secretary-treasurer, he created investment programs for the benefit funds and pension of the labor movement. He also led the AFL-CIO Industrial Union Council where he played a major role in solving the issues of health care, trade, and reforming the labor law.
In 2009, he was selected as the new President of the AFL-CIO after then-president John Sweeney took a retirement. In May 2010, he became the president of the Trade Union Advisory Committee to the OECD.
Trumka has always worked for the benefit of labor and labor rights. In March 2013, he initiated an important step towards working on the benefit of workers after he confirmed that the organized labor would be making an effort to aid the immigrant workers, who were getting minimum wage and unfair employment in the restaurant industry.
Richard Trumka Personal Life
Richard Trumka was a married man who tied the knot with a lady named Barbara in 1982. He shares a son together with his wife Barbara. His son, Richard Jr. is a 2006 graduate of Cornell University School of Industrial Relations. Later, he joined the law school like his father and came out as a graduate of the Georgetown University Law School in 2009.
Trumka was announced dead on August 5, 2021, by the majority leader and senator, Chuck Schumer on the Senate floor. The reason for his death is revealed as an apparent heart attack.
Richard Trumka Net Worth
Richard Trumka has accumulated the approximate net worth amount of around $6 million before he died on August 5, 2021. As a President of AFL-CIO, his estimated gross salary was around $286,229.
Trumka was honored with the World Peace Prize on February 4, 2018, for his labor leadership and dedication to the cause of labor and labor rights.
Richard Trumpka News
Booker, Menendez Announce the Introduction of the Richard L. Trumka PRO Act of 2023 to Protect Workers' Right to Organize  Senator Cory Booker

Biden Official Defends His Gas-Stove-Ban Comments, Calls Backlash 'Misdirected'  National Review

Meet the man who unwittingly triggered the war over gas stoves  The Washington Post