Neil deGrasse Tyson Net Worth: How Rich Is the Astrophysicist in 2022?
Tyson is an American astrophysicist, planetary scientist, and author known for hosting television shows and publishing books. The Neil deGrasse Tyson net worth figure is $5 million.
Early Life and Bio
| | |
| --- | --- |
| Full Name | Neil deGrasse Tyson |
| Birth Date / Age | October 5, 1958 / 63 Years Old |
| Birth Place | New York City, New York, USA |
| Source of Wealth | Astrophysicist / Science |
| Relationship Status | Married To Alice Young |
| Height | 6 ft. 2 in. / 188 cm. |
| Net Worth | $5 Million |
Neil deGrasse Tyson was born in October 1958 in the New York City borough of Manhattan.
His parents' names are Cyril and Sunchita Maria (née Feliciano). Notably, his father was a sociologist, human resource commissioner for New York City mayor John Lindsay, and the first Director of Harlem Youth Opportunities Unlimited.
Meanwhile, his mother worked as a gerontologist for the U.S. Department of Health, Education, and Welfare.
As far as education goes, Tyson attended The Bronx High School of Science where he was the captain of the wrestling team. He diligently studied astronomy as a teenager.
Then, he earned a BA degree in physics at Harvard College before earning his MA degree in astronomy from the University of Texas at Austin. Lastly, Tyson attained an MPhil degree in astrophysics from Columbia University.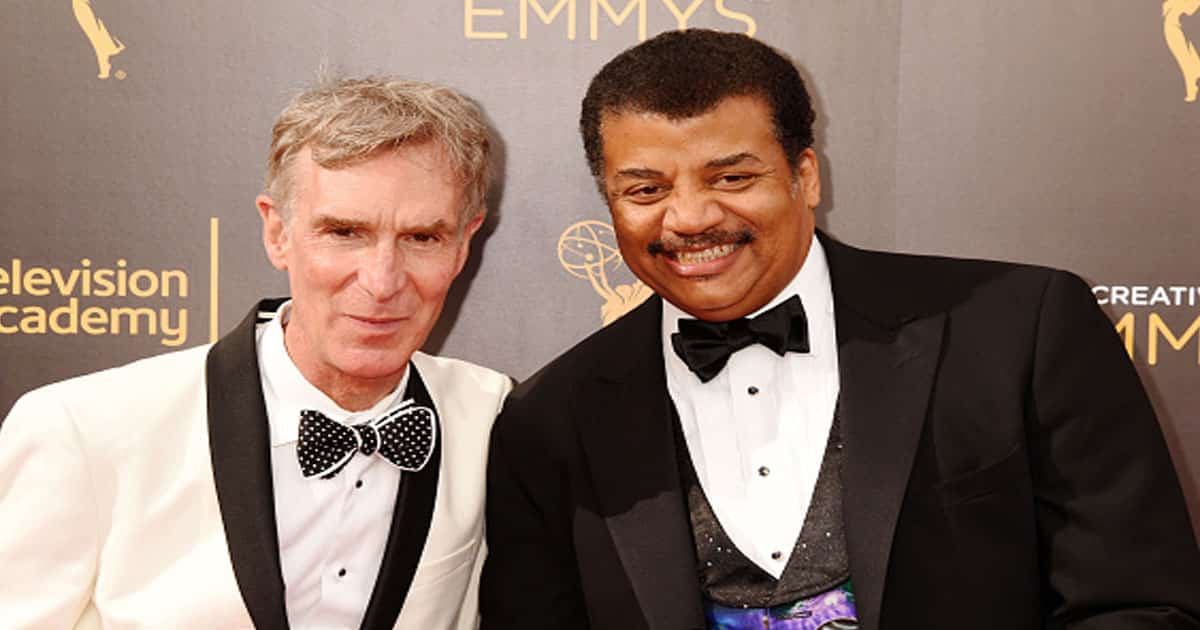 Neil deGrasse Tyson Net Worth and Career
Originally, Tyson made a name for himself as a lecturer, author, and overseer at the Hayden Planetarium. Eventually, he entered the mainstream light through television and podcast appearances.
Over the years, Tyson has hosted NOVA ScienceNow and Cosmos: A Spacetime Odyssey on PBS as well as Star Talk and Cosmos: Possible Worlds on National Geographic.
Overall the scientist has released 17 different published books. His most notable are: Death by Black Hole, The Pluto Files, Space Chronicles, and Welcome to the Universe.
Now a popular figure in pop culture, Tyson has popped up in television shows like The Big Bang Theory, Brooklyn Nine-Nine, Family Guy, The Jim Gaffigan Show, and The Simpsons.
Meanwhile, he has appeared in films such as Zoolander 2, Batman v Superman: Dawn of Justice, Ice Age: Collision Course, and Lazer Team.
Lastly, his 2017 book titled Astrophysics for People in a Hurry spent a year on the New York Times bestseller list, selling over one million copies according to Celebrity Net Worth.
Neil deGrasse Tyson Instagram and Twitter
Currently, the astrophysicist possesses 1.7 million Instagram followers. To go along with that, Tyson has another 14.7 million followers on his Twitter account as of July 2022.
Personal Life
Tyson married his wife Alice Young in 1988 after meeting her in a physics class at the University of Texas at Austin. Together, they have two kids named Miranda and Travis.
Furthermore, Tyson is an avid wine drinker. In fact, he was even featured in the May 2000 issue of the Wine Spectator along with the Spring 2005 issue of The World of Fine Wine.
Neil deGrasse Tyson Net Worth
The Neil deGrasse Tyson net worth figure of $5 million has been amassed since he attained his MPhil degree in 1989. Over that span, the astrophysicist has yielded profits from hosting television shows, acting, podcasting, and releasing several top-selling publications.
Neil deGrasse Tyson FAQ
Where was Neil deGrasse Tyson born?

Tyson is from the New York City borough of The Bronx. His family lived there after he was born in Manhattan.
How old is Neil deGrasse Tyson?

The astrophysicist celebrates his birthday every year on October 5th. Being born in 1958, Tyson will be 64 years old in the fall of 2022.
Neil deGrasse Tyson News