Mike Lindell Net Worth: How Rich is the My Pillow CEO Actually?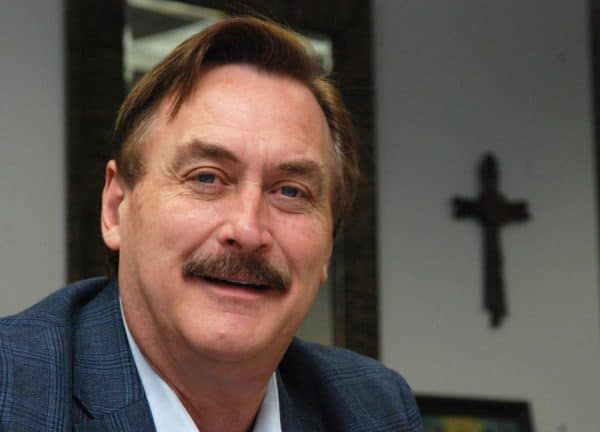 Michael James Lindell is an American entrepreneur who is best known for founding the company called My Pillow which manufactures pillow, bedding, and slipper products. As of 2022, Mike Lindell net worth is estimated to be around $100 million.
Lindell is an avid supporter of Donald Trump and has also founded a non-profit foundation meant to help drug addicts called Lindell Foundation.
| | |
| --- | --- |
| Full Name | Michael James Lindell |
| Birth Date | June 28, 1961 |
| Birth Place | Mankato, Minnesota |
| Profession | Entrepreneur |
| Relationship Status | Single |
| Net Worth | $100 million |
Early Life
Mike was born on June 28, 1961, in Minnesota in a place called Carver. In his teenage years, Lindell developed an addiction to drugs that would affect his life as he grows older more and more.
Regarding his education, he went to the University of Minnesota but would drop out within a couple of months of his studies. After this, Lindell decided to focus on his entrepreneurial ventures.
Mike Lindell Net Worth and Career
Lindell started to work on different small businesses which included providing the services of carpet cleaning as well as the creation of lunch wagons. He even worked in some bars and restaurants too. However, his addiction to different drugs disrupted his progress during his 20's. Yet, he would later create a product called the My Pillow which was an innovative and patented pillow he started in 2004.
The pillow is different because of its open-cell and poly foam design. He started the company with only five employees but over time has grown the business leaps and bounds with more than 1500 people working for him today. His son Darren is currently looking after the operations of the business with Lindell now focusing his attention on political ambitions as well.
Lindell has also been working on a different type of social media platform which he mentioned to the press would be a cross between Youtube and Twitter. This product was named Frank and launched in April of 2021. However, the launch was not smooth as the platform faced a lot of technical errors which Lindell mentioned was because of massive attacks it had received.
Personal Life
Lindell has been married and divorced twice with his first marriage being with Karen Dickey. His second marriage was with Dallas Yocum in 2013 but the marriage would not last even a year. Lindell has four children from his marriages. He has also made generous donations to other organizations such as the Salvation Army as well as the Union Gospel Mission.
Lindell suffered a lot of addiction throughout his 20's which was mostly because of cocaine. He also incurred a lot of gambling debts during this time which even led to the foreclosure of his house. Yet, he was finally able to achieve sobriety through prayer in 2009. Today, he has founded the Lindell Foundation which is a non-profit that helps people to deal with drug addiction.
Mike Lindell Net Worth
As of 2022, Mike Lindell has an estimated net worth of $100 million. It is estimated that Lindell's company has been able to sell more than 30 million pillows over the years which has helped Lindell to establish such a high net worth.
Mike Lindell News
Mike Lindell's conspiracy-fueled pillow company fights to survive his election obsession  Minnesota Reformer

Mike Lindell Promises to 'Expose Everything' After Huge Ruling From Judge  Newsweek

Mike Lindell Cheers Judge's 'Historic' Ruling as Vindication  Newsweek