Michael Boulos Net Worth: How Rich is Tiffany Trump's Boyfriend?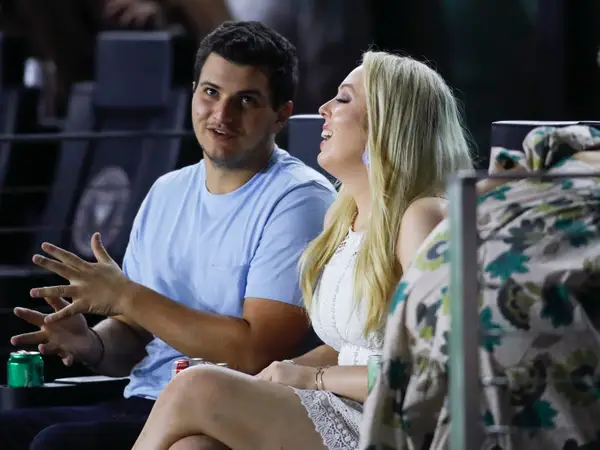 Michael Boulos is a Lebanese-American businessman and investor. He is the owner of Boulos Enterprises and SCOA Nigeria. Boulos is best known for being in a relationship with Donald Trump's daughter, Tiffany Trump. As of 2022, Michael Boulos net worth is roughly around $20 million.
| | |
| --- | --- |
| Full Name | Michael Boulos |
| Birthday | August 27, 1997 |
| Birthplace | Kfaraakka, Lebanon |
| Profession | Businessman |
| Girlfriend/Fiance | Tiffany Trump |
| Net Worth | $20 million |
Early Life
Michael Boulos was born on August 27, 1997, in Kfaraakka, Lebanon. He was born to parents, Missad and Sarah Boulos. Michael moved from Lebanon to Lagos, Nigeria, and grew up there. Boulos completed his graduation from the prestigious American International School of Lagos. Then, he studied global business management at Regent's University London.
Michael Boulos Net Worth & Career
View this post on Instagram
Boulos' family has a well-settled family business, Boulos Enterprises. His father, Massad is the owner of the company. In addition, his dad also owns SCOA Nigeria in Nigeria. Similarly, his mom, Sarah is also a businesswoman who is the founder of SPAN. Michael has a brother named Fares Boulos.
Boulos was 19 years old when he was named the associate director of SOCA Nigeria. The company is based in Nigeria and is involved in furniture production and interior design, power generation, automobile assembly and distribution, retailing, and trade. Boulos is currently looking after the business dividing his time between the United States and London. Michael has also worked as a business development manager at Royalton Investment. Similarly, he has worked as a director at Fadoul Group.
Personal Life
Michael Boulos was caught first time with Tiffany Trump in London's upscale Knightsbridge neighborhood in January 2018. Then, after two months, they were caught together at the Taoray Wang fashion show in Manhattan. It is reported that the two met at Linday Lohan's infamous beach club while partying over the summer. They instantly hit off and developed feelings for each other. Tiffany's relationship with Boulos became official after she invited him to Thanksgiving with her family at Mar-a-Lago.
Boulos and Tiffany made their romance official on Instagram in January 2019. Their relationship became official after Tiffany posted pictures of them posing inside the White House's Red Room in front of a Christmas tree. The pair also spent Christmas together at the White House with their parents in December 2019.
Michael put a proposal to Tiffany in the White House Rose Garden in January 2021. He gave her an engagement ring worth $1.2 million which has a massive 13-carat emerald-cut diamond. The pair officially got engaged on January 17, 2021. After that, they went on a romantic trip to Phi Phi Island and Greece. According to the sources, Tiffany is preparing to tie the knot with her fiance, Michael.
Boulos has been spending plenty of quality time with his fiance's family. He shared a picture of him and his lady love smiling behind Trump in the Oval Office in December 2020. Michael has also become close to Tiffany's mom, an actress, Marla Maples. Boulos and Tiffany have reportedly been spending time socializing in Miami after she graduated from Georgetown Law School in May 2020.
According to a source, the pair picked Miami as they thought the city is so multicultural. In October 2021, the sources also revealed that the couple wants to marry in Greece and might have a ceremony there with another one here in the States. However, the sources revealed that Tiffany would like to marry around Mykonos as she loves the place even if she has another celebration in the U. S., hinting at Mar-a-Lago.
Michael Boulos Net Worth
Michael Boulos' net worth is estimated to be around $20 million as of 2022. He has earned a huge amount from running his family businesses. Additionally, he also works as the associate director of the Canadian investment group, Callian Capital Group. In 2020, he was reportedly involved in a $532 million deal with the Greek luxury jewelry brand, Folli Follie.