Mia Thornton Net Worth: How Rich is RHOP Star Actually in 2022?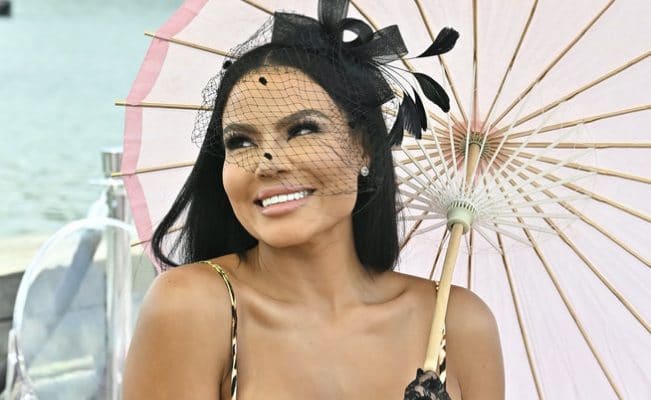 Mia Nicole Fields, better known as Mia Thornton is an American entrepreneur and reality TV personality. She is best known for appearing as one of the main cast members on the 6th season of Bravo TV's reality series "The Real Housewives of Potomac (RHOP)". As of 2022, Mia Thornton net worth is estimated to be around $5 million.
| | |
| --- | --- |
| Full Name | Mia Nicole Fields |
| Birth Date | November 25, 1984 |
| Birth Place | United States |
| Profession | Entrepreneur, Reality star |
| Husband | Gordon Thornton |
| Net Worth | $5 million |
Early life
Mia Thornton was born Mia Nicole Fields on the 25th of November, 1984 in the United States. She grew up in Dallas, Texas. Mia was adopted by Daryl Lynem and Robin Elaine Lynem. Before she was adopted, she spent her childhood days in Foster Care. She lost her adoptive mom, Robin, in December 2018. She was raised by her adoptive parents with three kids Candis N, Daryl E, Jr., And Brianna R Lynem.
Mia Thornton Net Worth & Career
View this post on Instagram
Mia came into notice after she appeared as a new housewife on Bravo's 6th season "The Real Housewives Potomac". The sixth season of the reality series was premiered on July 11, 2021. Besides being known as a reality star, she has worked as a franchise manager for join Chiropractic Doctor Offices.
Mia recently had a dramatic fight with one of the housewives, Candiace Dillard Bassett on Sunday, October 3's episode. The two have been through some issues for the past few weeks. Mia has been pretty impressive in the show. Her presence in the show has created a lot of drama in the reality show.
Personal Life
Mia Thornton is married to Gordon Thornton. Her hubby, Gordon owns several McDonald's franchises and he is also the owner of Giselle Executive Management DBA. In 2017, Gordon established Thornton Investment GRP.
Apart from his own business ventures, he is also helping Mia on operating The Joint Chiropractic which helps people to heal from neck and back pain in the most affordable, convenient, and accessible way.
Mia and Gordon have an age gap of 32 years. Despite the big age gap, the pair have been happily married for 9 years. They also share two kids together. Both have been previously married to someone else. Gordon has a daughter from his previous relationship. Likewise, Mia was also in a relationship with someone in the past. From her past relationship, she also has a son.
Though the pair has been sharing strong connecting for a long time, the audiences got to witness the negative side of Gordon on the recent episode of RHOP. On Sunday's episode of RHOP, Gordon and Mia arrived at the Chesapeake Bay vacation house along with other ladies and their husbands.
As they were enjoying in the Bay house, Gordon went on to consume a large amount of drink. Then, at some point, Gordon told Mia to shut the f—up in front of others. Though Mia seemed completely unaffected by his behavior, other members like Wendy and Candiace were concerned about the matter.
Mia Thornton Net Worth
As of 2022, Mia Thornton's personal wealth is estimated to be around $5 million. She must have earned the hefty sum through her entrepreneurial venture, and from appearing in the reality series RHOP. On the other hand, her husband, Gordon Thornton holds a huge net worth of around $100 million.
Mia Thornton News
Mia and Gordon Thornton Spent Thanksgiving Together Amid Their Split: Details  Bravo

'RHOP' Has the Worst New Casting Additions  Collider

The Real Housewives of Potomac 8, episode 2 recap: From Mia Thornton and Karen Huger's tension-filled feud to Nneka Ihim's introduction  PINKVILLA