Mark Eaton Net Worth: How Rich was NBA Player Mark Eaton Actually?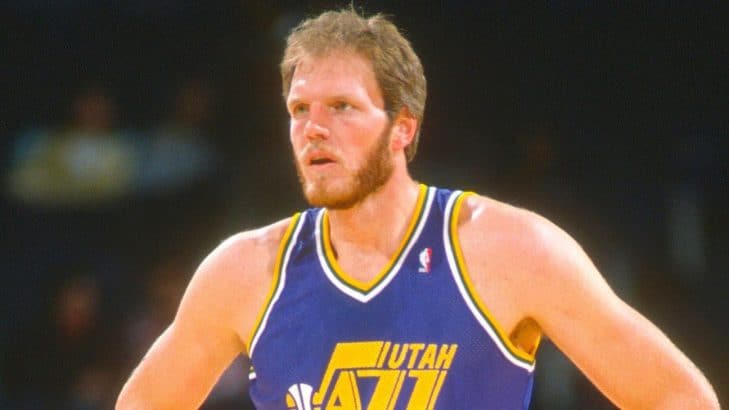 Mark Eaton was an American professional basketball player. He is best known for playing on the National Basketball Association (NBA) with the professional basketball team, Utah Jazz. Eaton is also popular as blocking king, who received two "NBA Defensive Player of the Year" awards. He was found dead on May 28, 2021, after his bicycle crash in Park City, Utah. Mark Eaton net worth before his death is estimated to be roughly $6 million.
| | |
| --- | --- |
| Full Name | Mark E. Eaton |
| Birth Date | January 24, 1957 |
| Birth Place | Inglewood, California, U. S. |
| Profession | Basketball Player |
| Wife | Teri |
| Net Worth | $6 million |
| Death | May 28, 2021 |
Early life & Amateur Career
Mark Eaton was born on 24th January 1957 in Inglewood, California, United States. He spent his childhood days growing up in Southern California. Eaton was earlier more interested in playing water polo. For his study, he attended Westminster High School. Then, he joined the Arizona Automotive Institute, from where he came out as a service technician.
Mark was earlier working as an auto mechanic. In fact, he spent his 3 years working as an auto mechanic, until he was discovered by the assistant basketball coach, Tom Lubin. Tom found Eaton while he was repairing cars in Anaheim. He encouraged him to try luck in basketball. Tom also helped him to get enrolled at the community college.
Eaton showed a great game while he was a junior college player. In two seasons, he scored an average point of 14.3 in each game. He also led his school to get victory over the California State Title. Mark was drafted in the 1979 NBA draft by the Phoenix Suns. Though Eaton was eligible to be drafted, he chose to return to college basketball.
Mark later played for the University of California, Los Angeles (UCLA)'s basketball team, the Bruins. However, he was not in his best form during his two seasons. Mark played just for 42 total minutes in his senior season with an average point of 1.3, and 2.0 rebounds. He completely failed to show his ability as a Division I Collegiate player.
Mark Eaton Net Worth & Professional Career
Eaton had a hard time in selection as very few NBA teams showed interest in Eaton after his worst form with UCLA. He eventually picked up by the Utah Jazz in the 1982 NBA draft. Eaton showed his best game with Utah. By the end of the rookie season, he blocked 275 shots in a total of 81 games. He was even ranked 3rd in the NBA, after blocking 3.4 blocks in each game.
Mark continued to perform better in the second season, where he blocked 351 shots in total 82 games. His strong defense even helped Jazz to make an entry in their first-ever playoff. Eaton was unstoppable in the third season, where he blocked 456 shots. With that, he held the record for the most blocked shots in a single season. Eaton was even honored as NBA's Defensive Player of the Year. He was also included in the NBA All-Defensive First Team.
Eaton played with full passion and dedication in other games for Utah Jazz. His best form later got him in the top list of NBA leaders in blocked shots. Eaton was honored as NBA Defensive Player of the Year again in 1988-89. Moreover, he was named to NBA All-Defensive First Time for the 3rd time in his NBA career.
In the last seasons he played for Utah Jazz, he had several knee and back injuries. Despite the injuries, he continued to make a presence for Utah, though the injuries slowed down his defensive ability. He was limited to play 64 games during the 1992-93 season due to his knee and back injury. Eaton even missed the 1993-93 season, and in the end, he made an announcement of his retirement in September 1994.
Mark Eaton Personal Life
Mark Eaton was married to a lady named Teri. The couple is believed to have shared their wedding vows before 1992. They already had 2 young sons between 1992 and 1993. After playing his last game for Utah Jazz, he spent all his time with his family in Park City, Utah. Sources revealed that Mark and Teri also share 3 daughters.
Mark was recently found dead in Park City, Utah. He was reportedly found unresponsive near Park City by a passerby. According to police, he had a bike crash in Summit County, Utah, after he was found unresponsive in the road. He was immediately taken to the hospital, though he didn't survive, and left the world at 64 years of age.
Mark Eaton Net Worth
Mark Eaton had earned a total net worth value of $6 million before he died on May 28, 2021. He has earned a total salary of $5,999,000 for playing with the Utah Jazz. Eaton has also served as a color commentator for KJZZ-TV. Likewise, he was a co-partner of the restaurant, Tuscany located in Salt Lake City.
Mark Eaton News
An error has occurred, which probably means the feed is down. Try again later.