Luis Miguel Net Worth: How Rich is the Mexican Singer Actually?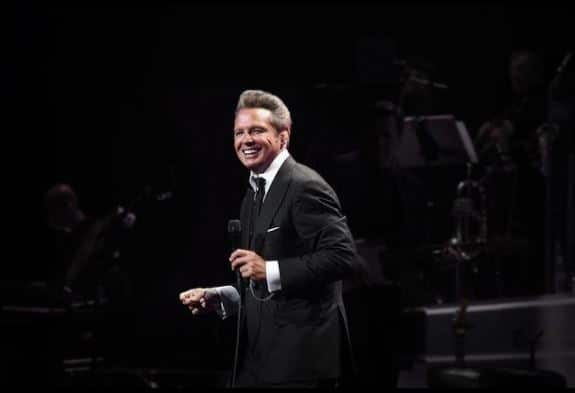 Luis Miguel, who is also known as El Sol de Mexico (The Sun of Mexico) is a 52 years old Mexican singer. He is the youngest music artist who won a Grammy at 14 years of age. Luis is best known for his hit songs "Ahora te Puedes Marchar", "No Se Tu", "La Incondicional", and "La Media Vuelta." As of 2022, Luis Miguel net worth is estimated to be around $180 million.
| | |
| --- | --- |
| Full Name | Luis Miguel Gallego Basteri |
| Birth Date | 19 April 1970 |
| Birth Place | San Juan, Puerto Rico, U. S. |
| Profession | Singer |
| Relationship Status | Single |
| Net Worth | $180 million |
Early life
Luis Miguel was born on the 19th of April, 1970 in San Juan, Puerto Rico, United States. He was born to a Spanish singer, Luis Gallego Sanchez. His father is popularly known as Luisito Rey. Likewise, his mother, Marcela Basteri was an Italian actress, who disappeared mysteriously in 1986. His dad was a heavy drinker who later fell into depression and eventually died on December 9, 1992, in Spain.
Miguel's father played a huge in his success. He was the one who took him to Mexico at a young age and marketed him and guided him to reach a Mexican audience. He was made to watch every recording and concert performance of late American singer, Elvis Presley during his childhood years.
Luis Miguel Net Worth & Career
View this post on Instagram
Luis came up with his first studio album titled "Un Sol" in 1982. He was just 11 years old by the time when the album was released. Luis later adopted a Spanish rock-pop style and acclaimed international fame with the release of his fourth studio album "Palabra de Honor" in 1984. He participated at the Sanremo Music Festival at 15 years of age in 1985. Luis was able to finish in second place at the Music Festival.
In 1987, he eventually fired his father due to poor financial decisions and mismanagement. He was later signed with Warner Records, and then he started working with Juan Carlos Calderon. Luis claimed to new heights of success with the release of his fifth studio album "Soy Como Quiero Ser", which was sold more than 2.5 million records in May 1987. He later transitioned to an adult showman in 1990 releasing his seventh studio album "20 Anos".
Luis went on to climb further recognition after he released his eighth studio album "Romance" in 1991. After three years in 1994, he dropped a sequel to his previous album Romance, which was titled "Segundo Romance". Luis dropped his ninth studio album "Amarte Es Un Placer" in 1999. The album later earned him two Latin Grammys in 2000.
On September 14, 2010, he released his self-titled 19th studio album. After the release of the album, he went on a tour that covered the United States and other countries such as South America, Span, and Mexico. Miguel became the most expensive artist in the history of the Vina del Mar International Song Festival when he performed on February 22, 2012.
On April 22, 2018, the self-titled series on Luis Miguel started airing on Netflix and Telemundo. The first season has 13 episodes and was aired until July 15, 2018. On April 18, 2021, the second season of the series started airing on Netflix, which aired until May 30, 2021. The third season started airing on Netflix on October 28, 2021. It is the final season of Netflix's Spanish language series "Luis Miguel: The Series", which explores his life from the year 1995 to 2017.
Personal Life
Luis Miguel's present relationship status is single. However, it doesn't mean that he has not dated anyone. He was in a relationship with Mexican singer, Stephanie Salas with whom he has a daughter named Michelle. Likewise, he was in a relationship with Mexican model and actress, Aracely Arambula. Luis is a father to two kids named Miguel, and Daniel from his love affair with former girlfriend, Aracely Arambula.
Luis has also dated Mexican singer and songwriter, Mariah Carey. His past love affair with Carey was shown in the final version of the Netflix series "Luis Miguel: The Series.". He met her first time in 1998 in Colorado. The two reportedly set up a blind date while Carey was in a process of divorcing of former life partner, Tommy Mottola.
He went on a date with Carey from 1998 to 2001. Carey has all good words to say about Miguel. In her autobiography released which was released the previous year, she called Miguel an authentic, over-the-top Latin Lover.
Luis Miguel Net Worth
As of 2022, Luis Miguel's personal wealth is estimated to be around $180 million. He has earned the gigantic net worth value from his successful music career, music album sales, and tour concert performances.
Luis Miguel News
Multiple Grammy Award-Winning Artist Luis Miguel Partners with Alignment Health to Champion Living with Confidence  Yahoo Finance

Luis Miguel Tour 2023/2024: How to Get Tickets and Remaining Tour Dates  American Songwriter

Everything we saw as Luis Miguel and fans shared a magical night in San Antonio  San Antonio Current