Lloyd Austin Net Worth: Height, Age, Wife, Career & More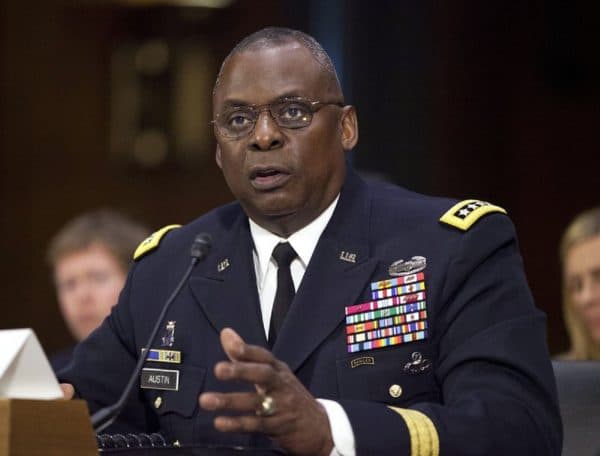 Lloyd Austin is a current United States secretary of defense. He became the first African-American who was appointed as U. S. secretary of defense. Before that, he held the responsibility as the commander of United States Central Command (CENTCOM). As of 2022, Lloyd Austin net worth is reported around $6 million.
| | |
| --- | --- |
| Full Name | Lloyd James Austin III |
| Birth Date | August 8, 1953 |
| Birth Place | Mobile, Alabama, United States |
| Position | U. S. Secretary of Defense |
| Wife | Charlene Denise Banner Austin |
| Net Worth | $6 million (estimated) |
Early life
Lloyd Austin was born on 8th August 1953 in Mobile, Alabama, United States. He grew up in Thomasville, Georgia. Lloyd completed his graduation from United States Military Academy majoring in Science. Later he attended Auburn University and completed a Master of Arts degree majoring in counselor education.
In 1989, he earned a Master's degree in business management from Webster University. Lloyd later received Infantry Officer Basic and Advanced Courses from the Army War College and Army Command and General Staff College.
Lloyd Austin Net Worth and Career
Soon after graduation from Military Academy based at West Point, he was appointed as the second lieutenant. He got his first assignment in Germany to the 3rd Infantry Division. Austin has served a different position while studying at Army Command and General Staff College. He served as an Executive officer, Director, and operation officer for different departments.
In 2006, he reached the position of Lieutenant-general resuming the work for XVIII Airborne Corps. After two years, he took over the command of the Iraq-based Multi-National Corps. He was the 2nd highest-ranking commander of the mission in Iraq.
Austin was promoted as the Director of the Joint Staff in August 2009. After a year, he takes over the command of United States Forces-Iraq as Commanding General. On January 31, 2012, he was given a responsibility as Vice Chief of Staff of the United States Army. During this time, he took important steps to reduce suicidal incidents in Army ranks.
In March 2013 he took over the new role as a Commander of United States Central Command (CENTCOM). While working there, Austin developed and executed the military campaign plan to check ISIL based in Syria and Iraq. He took his retirement from CENTCOM on April 5, 2016.
Current U. S. President, Joe Biden nominated Lloyd as a Secretary of Defense. He was confirmed for the position by the Senate on January 22, 2021, with a huge vote margin of 93 to 2. As soon he took over the responsibility, he removed former U. S. President Donald Trump's appointees from the advisory boards of the Pentagon.
Lloyd Austin Height (How Tall is Lloyd Austin Actually?)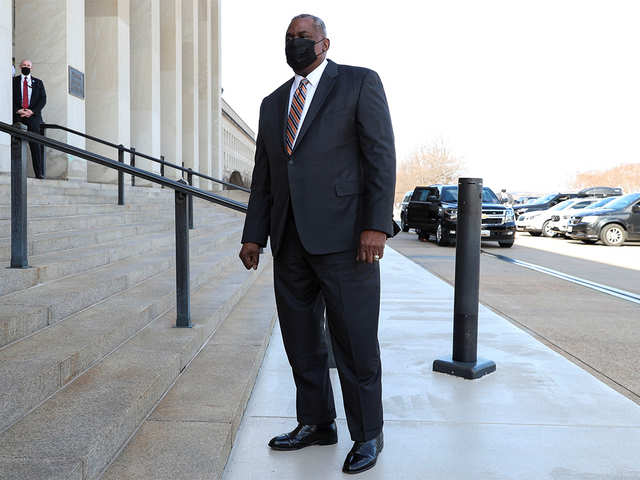 Lloyd Austin currently stands at a height of 6 feet 1 inches or 1.85 m tall and weighs approximately 95 kg or 200 pounds. His body stats like chest size, waist size, and arms size are not known at the moment. Meanwhile, his hair color and eye color are both black.
Lloyd Austin's Wife- Charlene Denise Banner Austin
Austin is married to Charlene Denise Banner Austin, who has served as a board member of Purdue University's Military Family Research Institute. Lloyd has two stepsons; Reginald and Christopher Hill.
Lloyd Austin Net Worth
Lloyd Austin's personal fortune is estimated to be around $6 million by 2022. He has gathered an enormous amount from his work experiences at U. S. Army. Austin is currently earning a salary of $221,400 as a U. S. Secretary of Defense.
Lloyd Austin News
Troop Calls  Department of Defense

Lloyd Austin: Hamas meeting with Russia is 'chilling'  POLITICO

US Defense Secretary Austin makes surprise visit to Kyiv to reemphasize support for Ukraine  CNNView Full Coverage on Google News