Juelz Santana Net Worth: How Rich is the Rapper Actually in 2022?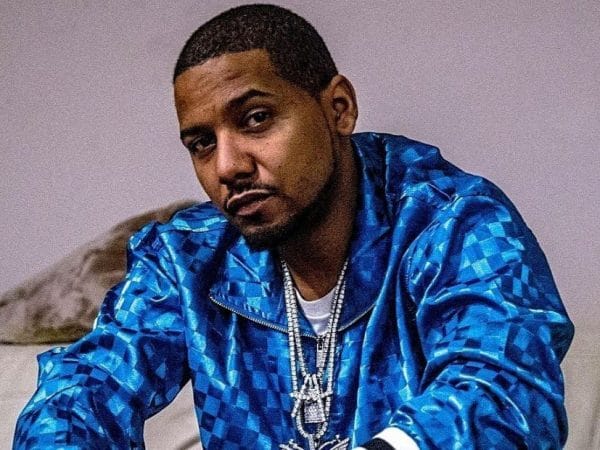 LaRon Louis James, better known as Juelz Santana is a 40 years old American rapper. He is best known as one of the members of the East Coast hip hop group "The Diplomats". Juelz is likewise known for singing along with Cam'ron on his 2002 released songs "Hey Ma", and "Oh Boy". As of 2022, Juelz Santana net worth is estimated to be around $3 million.
| | |
| --- | --- |
| Full Name | LaRon Louis James |
| Birth Date | February 18, 1982 |
| Birth Place | New York City, New York, U. S. |
| Profession | Rapper |
| Wife | Kimbella Vanderhee |
| Net Worth | $3 million |
Early life
Juelz Santana was born LaRon Louis James on the 18th of February, 1982 in New York, United States. He was born to a Dominican father and an African-American mother. Juelz has spent his early days growing up in the Harlem section of Manhattan. He has decided that he would follow his musical dream since he was a small kid.. In fact, he started rapping when he was just 5 years old.
As he grew old, his passion for hip hop and rap became stronger. As a result, he went on to form a rap duo named Draftpick along with his neighborhood friend, Malik. The duo started performing all around in New York City. While performing at the Apollo Theater, they won continuously for two weeks. The duo signed their first recording deal with Priority Records, and came up with the single titled "Play Ruff".
Juelz Santana Net Worth & Career
Juelz took over the stage name as Juelz Santana when he met Cam'ron in 1998 and started performing as a member of the hip hop collective "The Diplomats". He started getting famous after collaborating on the various songs of the rapper, Cam'ron.
Juelz received high appreciation for his contribution to Cam'ron's songs "Hey Ma", and "Oh Boy". He even earned a Grammy nomination at the 2003 Grammy Awards in the category of Best Rap Performance by a Duo or Group.
Juelz dropped his first studio album titled "From Me to U' on August 19, 2003. The album became a big hit that peaked at the 8th spot on the Billboard 200. After that, he continued his success journey by releasing a song titled "Mic Check" on December 23, 2004, from his sophomore album.
In 2005, he released a single titled "There It Go (The Whistle Song)" after signing a deal with a record label, Def Jam. The song became his highest-charting song which peaked at the 6th spot on the Hot 100.
Juelz released his second album titled "What the Game's Been Missing!" on November 22, 2005. The album was a massive hit that was certified Gold by the RIAA. He was all prepared to release his third studio album titled "Born to Lose, Built to Win", however, the album never got released. Santana came up with his first solo mixtape titled "God Will's" on January 14, 2013. His mixtape was named as the 9th best mixtape of the year.
Juelz Santana Personal Life
Juelz Santana is married to the video vixen and urban model, Kimbella Vanderee. He put a marriage proposal to her while performing at the Apollo Theater on November 23, 2018. Despite having an on-and-off relationship since 2009, they finally shared the wedding vows on January 10, 2019. He shares three kids together with his wife, Kimbella named Juelz James, Santana James, and Bella Monroe James. He is also a father of a son from his previous relationship.
Juelz was arrested by the police on February 2, 2011, on the charge of possession of a firearm, handgun without a permit, and a controlled dangerous substance. He was also going to distribute controlled substances from 1000 feet of a school. Likewise, he was accused and charged with making terrorist threats and disorderly conduct in November 2011.
Santana was sent to prison for 27 months on December 18 after he carried luggage that had a loaded .38-caliber handgun and eight oxycodone pills. Before he was sent to prison, he was ordered to remain on house arrest after his mother posts the bail amount of $500,000 by putting her house up. Santana was freed from the federal prison, FCI Petersburg on August 5, 2020, after serving 17 months sentence.
Juelz Santana Net Worth
As of 2022, Juelz Santana's net worth is estimated to be around $3 million. His contribution as a member of the hip hop "The Diplomats", and release of numerous hit songs and albums have helped him to grab the big amount. Santana's net worth would have been much bigger if he would not have been in legal issues multiple times.
Juelz Santana News
Juelz Santana Dubs Bringing Gun to Airport as the 'Dumbest Thing' He's Ever Done  Complex

Cam'ron on How He Forced Juelz Santana to Make Hit Songs, Explains Why Dipset Rapper Never Reached His Full Potential  Complex

Throwback – The BET Hip Hop Awards 2008 Cypher – BET Hip Hop Awards 2023  BET