Joel Osteen Net Worth: How Rich is the American Pastor Actually?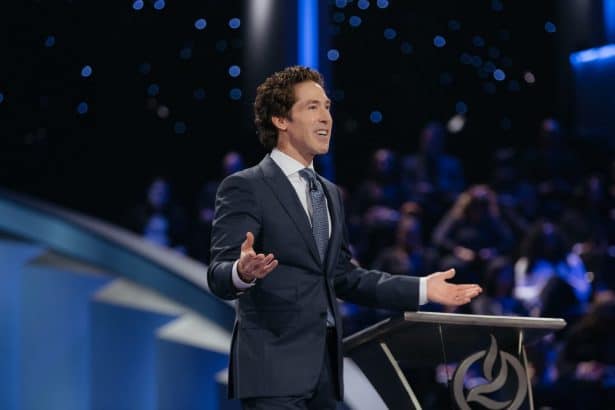 Joel Scott Osteen is an American pastor, televangelist, and author. Osteen's televised sermons are watched by more than seven million viewers across over 100 countries weekly. He is also the best-selling author of numerous books. As of 2022, Joel Osteen net worth is estimated to be around $110 million.
| | |
| --- | --- |
| Full Name | Joel Scott Osteen |
| Birth Date | March 5, 1963 |
| Birth Place | Houston, Texas |
| Profession | Pastor, Televangelist, and Author |
| Relationship Status | Married |
| Net Worth | $110 million |
Early Life
Joel Osteen was born on March 5, 1963, in Houston, Texas. He is the son of John Osteen who was a former Southern Baptist pastor who had started Lakewood Church.
Osteen studied at Humble High School and would later study at Oral Roberts University where he majored in radio and television communications. However, he did not graduate. Yet, Osteen would apply what he learned by producing his father's televised sermons starting in 1982.
Joel Osteen Net Worth and Career
Osteen worked behind the scenes in television production for 17 years through his father had consistently recommended him to preach as well. Finally, he decided to preach for the first time in 1999. Soon, his father would pass away after which he started to preach regularly and was made the new senior pastor there that same year. Over the years, the televised sermons have become very popular worldwide with the Lakewood Church growing in attendance from 5000 to 43,000 by 2014.
The reason for this massive growth can be attributed to the acquisition of the Compaq Center by Lakewood Church in 2003 with total renovation costing coming to $105 million. With the growth in viewership of the Lakewood Church's weekly service TV program, Joel Osteen has become a well-known preacher not only in the U.S. but throughout the world today.
He was even included in the 10 Most Fascinating People of 2006. Osteen has written several books over the years with his first book being Your Best Life Now: 7 Steps to Living at Your Full Potential which was released in 2004. The book managed to reach the number one spot in the New York Times Best Seller List.
Personal Life
View this post on Instagram
Joel Osteen married Victoria Osteen on April 4, 1987. Victoria would later become co-pastor of Lakewood Church and regularly preaches today. The couple has two children together.
Joel Osteen Net Worth
As of 2022, Joel Osteen has an estimated net worth of $110 million. Osteen has mentioned that though the church has an annual budget of $70 million, he doesn't take any salary. He rather relies on income through his book sales. Osteen paid $10.5 million for his home in Houston in 2010 which is built on 17,000 square feet.
Furthermore, his second book Become a Better You sold more than 4 million copies and earned him close to $13 million. Osteen shared his views on wealth mentioning how people should not feel guilt for acquiring a lot of material wealth but mentioned that it is very important to live an obedient life and thank God for the blessings you have received.
Joel Osteen News
Virginians are turned off by Joel Osteen's feel good message | Cheryl E Preston  NewsBreak Original

Readers sound off on re-electing Biden, being woke and Joel Osteen's animal sermons  New York Daily News

Joel Osteen CBD Gummies Reviews [CBD Hemp Gummies] Does It Effective or Not?  mid-day.com