Joe Schilling Net Worth: How Rich is the MMA Fighter Actually?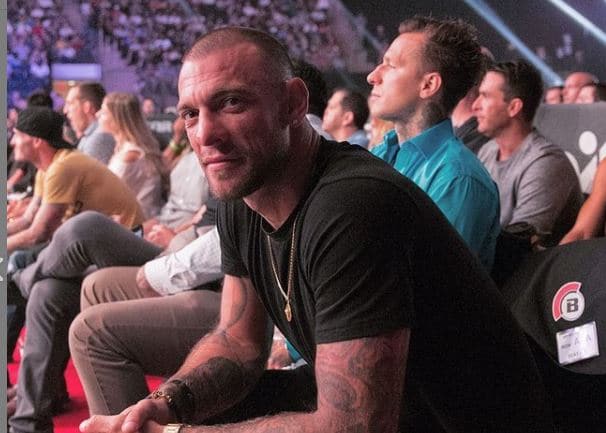 Joseph Francis Schilling, better known as Joe Schilling is an American professional mixed martial artist and MuayThai kickboxer. He is nicknamed "Stitch 'em U", since he is known for using elbows to cut opponents. Joe was ranked #7 middleweight kickboxer in the world in 2018 by Combat Press. As of 2022, Joe Schilling net worth is estimated to be around $2 million.
Joe Schilling knocked down a guy named Justin Balboa on June 26, 2021, at a bar based in Fort Lauderdale. He could face a misdemeanor charge of simple battery for knocking down Balboa.
| | |
| --- | --- |
| Full Name | Joseph Francis Schilling |
| Birth Date | January 13, 1984 |
| Birth Place | Dayton, Ohio, United States |
| Profession | Mixed martial artist |
| Girlfriend/Fiance | Cina Brown |
| Net Worth | $2 million |
Early life
Joe Schilling was born on the 13th of January, 1984 in Dayton, Ohio, United States. He was raised by a single mother along with his two siblings. Joe had a troublesome childhood since he changed to four different schools after getting expelled from each school. At 15, he started learning Muay Thai. He was kicked out of his house when he reached 17.
Joe earlier survived by doing odd jobs. He used to live in a small property that was owned by his grandmother. In a difficult situation, he thought of starting his fighting carer in local Toughman Contests. He moved to Los Angeles after his grandmother died, and there, he got a job at YMCA as a personal trainer.
While working as a personal trainer, he got to meet Mark Komuro, with whom, he started a spartan gym. The gym was opened in the dilapidated structure, which used to be the Lincoln Heights city jail. The duo, Joe, and Mark later started a Muay Thai gym in Lincoln Heights in 2007.
Joe Schilling Net Worth & Professional Career
Joe started fighting as a professional fighter on 30th September 2006, where he faced the tough opponent Lawson Baker. He had a tough fight with him. Joe was sure that he would lose the fight, but in the end, he found a weapon, which was his powerful elbows, that helped him to get victory on his first-ever professional Muay Thai match.
Since his first fight, he remains undefeated for next year. On November 29, 2007, he fought with Denis Grachev for the United States Super Middleweight Muay Thai Championship. However, he lost the fight with Grachev with a 47-second K. O. in the first round.
In 2008, he kept his focus on mixed martial arts and made a debut as a professional boxer on 20th December 2008. His first opponent was Orlando Brizzio, whom he knocked out in just 5 seconds. Joe's 5 seconds knockout became the fastest knockout in American combat sports history. Joe was signed with Bellator MMA on October 3, 2014. He faced his first opponent in Bellator MMA with fellow kickboxer, Melvin Manhoef on 15th November 2014.
Joe faced the promotional newcomer, Hisaki Kato on June 26, 2015, at Bellator 139. However, he didn't get the victory against Hisaki, where he lost to him in the second round via knockout. It was the first time when Joe was knocked out in a mixed martial arts fight. He was then scheduled to fight Curtis Millender on October 15, 2020, at Bellator 249. However, due to Joe's license was denied by the athletic commission, the bout was scrapped.
Joe Schilling Personal Life
He currently dating his longtime girlfriend, Cina Brown, He is yet to get married to Cina, though he has also already got engaged to her. Joe is raising 2 sons named Joe and Jax with his fiancee, Cina Brown.
Joe has recently knocked out a guy named Justin Balboa. He shared the video of knocking down a man on his own Instagram account. The video was later taken down, but it went viral on Twitter raising too many questions why he knocked down the guy.
According to the manager of the bar, Balboa was extremely intoxicated, and he had possibly made an improper comment on his girlfriend which led him to strike him out. Though, Joe doesn't seem to be getting into big trouble with that, which he calls self-defense. He might get out of the issue with one misdemeanor charge of simple battery.
Joe Schilling Net Worth
Joe Schilling has amassed a whopping net worth value of around $2 million through his mixed martial arts, and Muay Thai kickboxing career. As per the source, Joe Schilling was one of the top-earning kickboxers at Bellator Kickboxing 7, who earned around $50,000 payday for his TKO win against Najib Idali.
Joe Schilling News
Joe Schilling uses Florida's Stand Your Ground law, free of lawsuit from viral knockout  MMA Fighting