Jesse Jackson Net Worth: How Rich is the Baptist Minister Actually?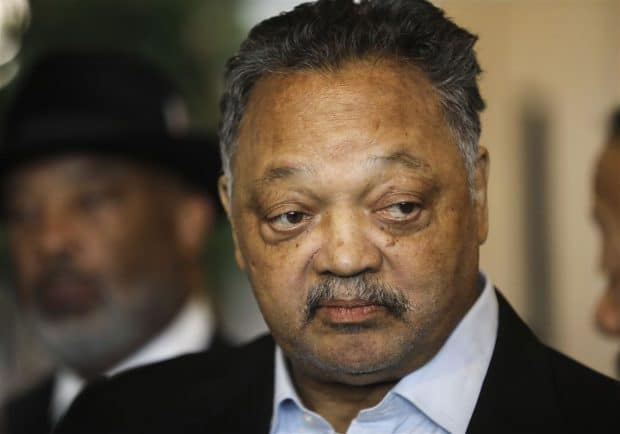 Jesse Louis Jackson is an American political activist, Baptist minister, and politician. Jackson served as a shadow U.S. Senator for the District of Columbia until 1997. He is also the founder of the organization called Rainbow/PUSH and ran for the Democratic presidential nomination during the elections in 1984 and 1988. As of 2022, Jesse Jackson net worth is estimated to be around $9 million.
| | |
| --- | --- |
| Full Name | Jesse Louis Jackson |
| Birth Date | October 8, 1941 |
| Birth Place | Greenville, South Carolina, U.S. |
| Profession | Political Activist, Baptist Minister, and Politician |
| Relationship Status | Married |
| Net Worth | $9 million |
Early Life
Jesse Jackson grew up living under Jim Crow segregation laws because of which he had to the back of the bus as well as use separate water fountains. Furthermore, he studied at Sterling High School where there was racial segregation. Such experiences would become the seed that would later fuel his ambitions as a political activist.
Jackson was good in school and was even elected as the student class president as well as being active in different sports such as football and basketball. He then joined the University of Illinois through a football scholarship.
However, he later decided to transfer to North Carolina A&T with him mentioning that among the reasons for this transfer was that the racial prejudice meant he had a hard time playing at the quarterback position. It is during his time in college that Jackson became active in civil rights protests.
In 1964, Jackson graduated with a B.S. in sociology and went on to study at the Chicago Theological Seminary through a scholarship. But by this time, he was very active in social movements and made the bold decision to drop out with only three classes remaining.
Jesse Jackson Net Worth and Career
Among his early involvements in protests included being part of the sit-in at Greenville Public Library which was only allowed for white people at the time. Their group was arrested for this event but that would fuel even more demonstrations over the years.
Jackson started gaining a lot of public attention when he started to work for Martin Luther King Jr. King was impressed with the drive that Jackson had and this led to him receiving the role of the Southern Christian Leadership Conference (SCLC).
He would later be promoted to the national director in 1967. Among the key campaigns that Jackson had an important role in was in encouraging the boycott by black consumers for white-owned businesses. This campaign was aimed at making sure that businesses hired black people too.
After the assassination of King in 1968, Jackson became even more active in protests as according to Jackson, he was close to King when he died and even mentioned that King said the last words of his life to Jackson. He then held the position of a shadow senator for the District of Columbia in 1991 and continued working there for the next 6 years. Though he was not successful in his presidential election campaigns, Jackson continued working and protesting for contemporary causes.
Personal Life
Jesse Jackson is married to Jacqueline Lavinia Brown. The couple has five children together. In 1999, Jackson had a daughter named Ashley with a staffer named Karin Stanford. It was later found out that his organization Rainbow Push Coalition had paid Karin $15,000 in moving expenses as well as a future contracting work worth $40,000.
Because of this Jackson even withdrew from activism for some time and was paying $4000 every month in child support. In 2017, Jackson was diagnosed with Parkinson's disease and was diagnosed in 2021 for COVID-19.
Jesse Jackson Net Worth
As of 2022, Jesse Jackson has an estimated net worth of $9 million.
Jesse Jackson News
Clarence Avant Honored by Rev. Jesse Jackson, Bill Clinton, Jay-Z's Roc Nation, Sony Publishing's Jon Platt, Diddy and More  Variety

Rev. Jesse Jackson stepping down as president of Rainbow PUSH  Chicago Sun-Times