Jayson Williams Net Worth: How Rich is the Retired NBA Player?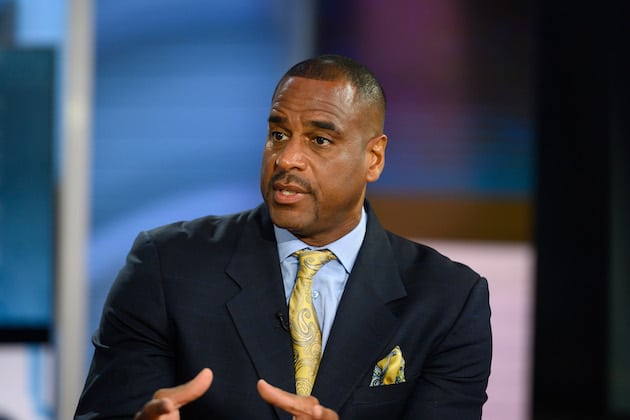 Jayson Williams is an American retired professional basketball player. He is best recognized for playing in the NBA for 11 seasons. Williams was drafted in the 1990 NBA draft and played his first 3 seasons with the Philadelphia 76ers. As of 2022, Jayson Williams net worth is roughly around $40 million.
Jayson Williams' daughters have recently denounced St. John's University for making a decision to induct Williams into the school's Athletic Hall of Fame. They denounced the University's decision due to accusations of neglect in their lives after his role in the 2002 fatal shooting of a limousine driver.
| | |
| --- | --- |
| Full Name | Jayson Williams |
| Date of Birth | February 22, 1968 |
| Birthplace | Ritter, South Carolina |
| Profession | Retired professional basketball player |
| Ex-wife | Tanya Young |
| Net Worth | $40 million |
Early life
Jayson Williams was born on February 22, 1968, in Ritter, South Carolina. He was born to Barbara and Elijah Joshua Williams. Williams lost his father due to a stroke at 76 years of age in November 2009. His mom served at Gouverneur skilled nursing facility for years. Williams studied at the Christ The King Regional High School. Then, he attended St. John's University, where he played on the basketball team.
Jayson Williams Net Worth & Career
View this post on Instagram
Williams' professional career began after he was selected in the 1990 NBA draft by the Phoenix Suns. Soon, he was traded to the Philadelphia 76ers by the Suns for a 1993 first-round draft choice. However, he stayed on the bench with the 76ers for two seasons. Then, he was traded to the New Jersey Nets for the conditional draft choices in October 1992. In his first 3 seasons, he earned 12 starts with the Nets.
Jayson earned a full-time starting position for the Nets in the 1996-97 season. After that, he set a franchise record with the Nets in October 1997 by recording 17 offensive rebounds over the Indiana Pacers. In the same season, he led the league in offensive rebounds and finished the season in the top 5 in total rebounds. Likewise, he received an All-Star game selection after he played in the 1998 NBA All-Star Game.
Jayson's NBA career came to end in April 1999 after he collided with Stephon Marbury and broke his leg. He immediately went career-ending surgery the following day where five screws and a plate were inserted into his leg. Due to surgery, he sat out the entire 1999-2000 season. On June 28, 2000, he officially announced his retirement after playing 1 season. However, he briefly came out of retirement in 2005 and played for the Idaho Stampede of the Continental Basketball Association.
Personal Life and Conviction
Jayson Williams initially dated a model, Cynthia Bailey in 1996. He proposed to her during halftime of a national television basketball game. However, the pair parted ways later. In December 1999, he tied the knot with Kellie Batiste. Nevertheless, the couple ended their relationship soon after with a divorce. Then, he exchanged wedding vows with Tanya Young in 2000. They share two daughters together named Triumph and Whizdom. The pair stayed together until 2011 and separated through a divorce.
Willaims was convicted on 4 counts of trying to cover the shoot of his 55-year-old limousine driver, Costas Gus Christofi in 2004. He was reportedly playing with a shotgun while giving a tour of his house when suddenly the weapon fired and killed Christofi. The limousine driver was shot and killed at his estate in Alexandria Township, New Jersey in February 2022. Jayson pleaded guilty to aggravated assault in January 2010 and was sentenced to 5 years in prison in February 2010.
Williams served 8 months at Rikers Island and was eventually released from custody in April 2012. On October 21, 2022, his two daughters, Tryumph and Whizdom wrote open letters to The Associated Press for St. John's University's decision to induct Williams into the school's Athletics Hall of Fame. His two daughters also planned to send letters to St. Johns saying that the school should be ashamed of Williams' induction to the class during Saturday's homecoming weekend.
Jayson Williams Net Worth
Jayson Williams' net worth is estimated to be around $40 million as of 2022. He has earned total career earnings of $3,183,600 from his professional NBA career. Jayson was just one year into a 6 year, $86 million contract with the Nets at the time of his retirement. Besides his contract with the Nets, he earned $35 million from his previous NBA contracts.
Williams is also an author who has published three books. He published his first book, Loose Balls in 2001. Then, he published his second book, Humbled Letters From Prison in 2012. In December 2018, he published his third book, Crashing: A Memoir.