Ime Udoka Net Worth: How Rich is the Former NBA Player?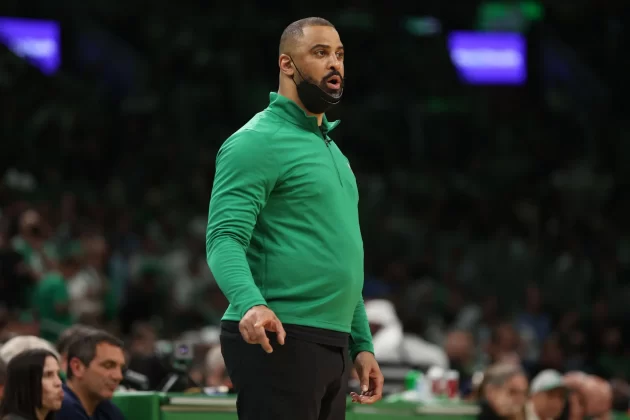 Ime Udoka is a Nigerian-American retired basketball player and a professional basketball coach. He is best known for being the head coach of the NBA team, the Boston Celtics. Udoka was suspended for the 2022-23 season after he admitted to having an intimate relationship with a female staffer. Ime Udoka net worth is estimated to be around $6 million as of 2022.
| | |
| --- | --- |
| Full Name | Ime Sunday Udoka |
| Birthday | August 9, 1977 |
| Birthplace | Portland, Oregon |
| Profession | Professional basketball head coach |
| Fiance | Nia Long |
| Net Worth | $6 million |
Early Life
Ime Udoka was born on August 9, 1977, in Oregon. He was born to Vitalis Udoka. He qualified for Nigerian citizenship as his dad was of Nigerian descent. Udoka's mom was an American, who died in late 2011. Ime has a sister named Mfon Sunday Udoka.
Udoka is a graduate of Portland's Jefferson High School. Then, he attended two Universities, Utah State University and the University of San Francisco. Udoka was later transferred to Portland State University. There, he starred for Portland State Vikings.
Ime Udoka Net Worth & Career
Udoka's professional basketball career began after he was selected in the 2002 NBDL Draft by the Charleston Lowgators. In January 2004, the Los Angeles Lakers called him to play up with them. However, he was later waived from the team. Thereafter, he briefly played for some time in Europe. But, later he came back to the U. S. and was again drafted in NBDL. Udoka was drafted third overall in his second NBDL Draft by the Fort Worth Flyers.
Udoka recorded 17.1 points and made 6.2 rebounds in each game with the Fort Worth Flyers. After playing for a year with the Flyers, he was signed by the New York Knicks in April 2006. However, he played with the Knicks for several months and was waived by the team on September 11, 2006.
Udoka played in 12 NBA games in his career. In the 2006-07 season, he started in 75 games and recorded an average of 8.4 points, 0.9 steals, and 3.7 rebounds. Then, he was signed by the San Antonio Spurs in 2007. With the Spurs, he played in 73 games. After that, he played in 67 games in his second season with the Spurs. Udoka remained a free agent after the 2009 season until he was signed by the Sacramento Kings in November 2009.
Ime began his coaching career by joining as an assistant coach for the San Antonio Spurs head coach, Gregg Popovich. Then, he was selected as an assistant coach for the Philadelphia 76ers in June 2019. Following that, he worked as an assistant coach for the Brooklyn Nets in October 2020.
Udoka was hired as a head coach by the Boston Celtics on June 28, 2021. He was the fifth head coach of African origin for the Celtics. At the beginning of the season as head coach, he led the Celtis to a 51-31 record. Under his coaching, the Celtics made it into their first ever NBA Finals since 2010. However, the team lost to Golden State Warriors in the finals.
Ime was suspended by the Celtics for the entire 2022-23 season for violating the team policies on September 22. He was accused of getting into an improper intimate relationship with one of the female Celtics staffers. The female staff also accused Udoka that he made unwanted comments toward her even though, their relationship was believed to be consensual. Following his suspension, the assistant coach, Joe Mazzulla became an interim head coach for the Celtics.
Personal Life
Ime Udoka has been in a relationship with an actress, Nia Long since November 2011. He became engaged to Nia in May 2015. Both shares a 10-year-old son named Kez Sunday Oduka. Udoka met Nia through a mutual friend and the couple became official in 2010. Nia discovered that she was pregnant with Ime's first child in 2011. Udoka's fiance, Nia Long broke her silence about his alleged affair on September 23, 2022.
Long shared that the outpouring of love and support from friends, family, and the community during difficult times means so much to her. In addition, she revealed that she wants her privacy to be respected as she processes the events, above all she is a mother and will continue to focus on her children.
Ime Udoka Net Worth
Ime Udoka's net worth is reported to be around $6 million as of 2022. He was getting an annual salary of around $2 million as a head coach of the Boston Celtics. Udoka has earned estimated total career earnings under $4 million during his NBA career. He earned the highest career earning of $1 million in 2007-2008 and 2008-2009.