George P Bush Net Worth: How Rich is Jeb Bush's Son Actually?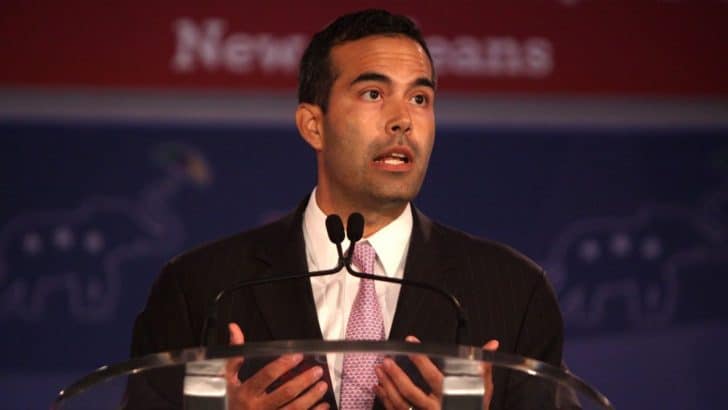 George Prescott Bush is an American politician and the commissioner of the Texas General Land Office. He is the grandson of former president George H.W. Bush and son of Jeb Bush. As of 2022, George P Bush net worth is estimated to be around $5 million.
| | |
| --- | --- |
| Full Name | George Prescott Bush |
| Birth Date | April 24, 1976 |
| Birth Place | Houston, Texas |
| Profession | Politician and Attorney |
| Relationship Status | Married |
| Net Worth | $5 million |
Early Life
George P Bush was born on April 24, 1976. George grew up in Florida as his father Jeb was serving as the governor there. He then went on to study at Rice University where he majored in history. He was acting in playing different sports there such as baseball and football. George then completed his JD from the University of Texas Law School.
George P. Bush Net Worth and Career
Though George came from a well-known political family, he had the roadmap that he should first establish his name, get settled, and eventually step into the world of politics. From 1998 onwards, George became a teacher at a public school in Florida where he taught social studies to students.
Later on, he would become the Tarrant County chairman for Uplift Education. He also worked for the U.S. District Judge in the Northern District in Texas for Sidney Fitzwater till 2004. Later on, he became associated with Akin, Gump, Strauss, Hauer & Feld LLP where he worked until 2007. From there onwards, he became a partner of the Pennybacker Capital which worked in real estate private equity.
George started his investment firm in 2012 called St. Augustine Partners that was focused on energy and technology. Before this, he even had an 8-month stint in Afghanistan with the U.S. Navy. He had training as an intelligence officer there along with being commissioned by the Navy Reserve. He left his association with them in 2017 leaving as a lieutenant.
In 2012, he also announced that he ran for state office in Texas. He later ran for the Texas Land Commissioner as well where he would win in 2014 and has been serving since then in this position with his assuming office since the start of 2015. George is also a supporter of Trump though his family is not Trump's biggest supporter. He mentioned how Trump was the only person standing between America and socialism. Trump has even mentioned George as "My Bush". George announced on June 2, 2021, that he would be running for the Texas attorney general in 2022.
Personal Life
George is married to Amanda L. Williams who was his classmate in law school. The two married on August 7, 2004, and have two sons together. Williams works at the Jackson Walker LLP as a media law attorney.
George P Bush Net Worth
As of 2022, George P Bush has an estimated net worth of $5 million. The Bush Family overall is estimated to have a net worth of $400 million considering their history while his father Jeb Bush is estimated to have a net worth of $40 million.
Ceorge P Bush News
Is Ken Paxton a crook or a patsy? That's up to the Texas Senate to decide  KERA News

Paxton's trial defense includes claims of plot to remove him  Spectrum News

George P. Bush shares family lessons while coaching son's baseball team  USA TODAY