Frances Haugen Net Worth: How Rich is Facebook Whistleblower?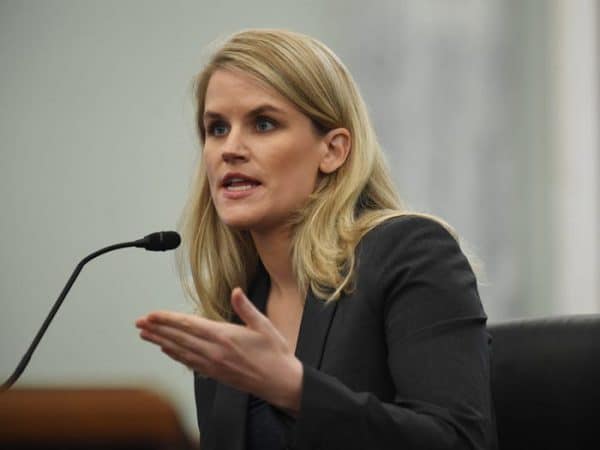 Frances Haugen is an American data scientist, who is better known as a whistleblower and former Facebook employee. She revealed herself as the information leaker of Facebook's internal documents on CBS News' show "60 Minutes" on Sunday, October 3, 2021. As of 2022, Frances Haugen net worth is estimated to be around $1 million.
Frances arrived to testify before a Senate Committee on Tuesday, October 5, 2021, claiming that Facebook prioritizes profits over public safety.
| | |
| --- | --- |
| Full Name | Frances Haugen |
| Age | 38 |
| Birth Place | United States |
| Profession | Former Facebook product manager |
| Relationship Status | N/A |
| Net Worth | $1 million |
Early life
Frances Haugen was born in the United States. She is reported to be 38 years of age. Nothing much is available in her early life and parents. As per the reports, it is revealed that she is originally from Iowa. She has studied at Olin College, and she was a member of the college's first graduating class in 2006.
Frances then joined Harvard University from where she completed her Master's degree in Business. Following graduation, she has worked for big companies like Google and Pinterest.
Frances Haugen Net Worth & Career
Frances joined Facebook as a product manager in 2019. According to her website, she was working in the Facebook civic integrity department to deal with the issues related to democracy and misinformation.
Haugen left her job as a production manager at Facebook in May 2021, and before quitting, she has gathered all the internal documents to reveal the real truth of the tech giant which they have been hiding from the people. Haugen then went on to disclose thousands of internal documents of Facebook to the Securities and Exchange Commission. Likewise, she revealed the internal documents to Wall Street Journal.
Frances revealed her identity as the information leaker of Facebook's Internal document on CBS News' show "60 Minutes" on October 3, 2021. In the show, she admitted that she was the one who filed complaints with federal law enforcement. She also revealed Facebook's own research that presented the true fact about the platform which shows how the social media platform is amplifying hate, misinformation, and increasing political polarization.
After appearing on the 60 Minutes show, she delivered the congressional testimony against Facebook before the Senate Committee on October 5. Before the Senate, she accused Facebook of putting profits over public safety. In her opening remarks, she said, "Facebook consistently resolves conflicts in favor of its own profits. The result has been more division, more harm, more lies, more threats, and more combat."
Personal Life
Frances Haugen's present relationship status is unknown. She seems to be a married woman. However, we have not got any detail on her husband yet. Frances is quite concerned about young people especially young girls and women who are affecting their mental health due to Facebook and Instagram.
Haugen even raised her concern on young girls' and women's health when Facebook shut down for more than five hours on Tuesday, October 5. She said, "She doesn't know why the services went down. But I know that for more than five hours, Facebook wasn't used to deepen divides destabilize democracies, and make young girls and women feel bad about their bodies."
Frances Haugen Net Worth
As of 2022, Frances Haugen's personal wealth is estimated to be around $1 million. She must have earned the hefty sum from working in big companies like Google, Pinterest, and Facebook.
Frances Haugen News
Inside a Six-Month Espionage Campaign at Facebook  Rolling Stone

I blew the whistle on Facebook. Two years later, Big Tech hasn't changed  The Hill

Frances Haugen, Facebook whistleblower: 'In 10 years we will wonder why we didn't regulate social networks sooner'  EL PAÍS USA