Dietrich Mateschitz Net Worth: How Rich was Red Bull Co-owner?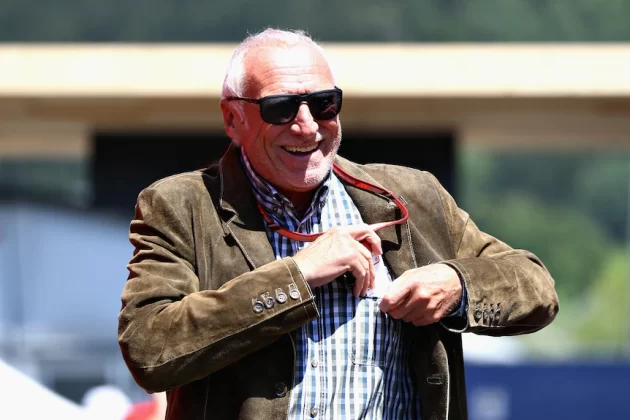 Dietrich Mateschitz was an Austrian billionaire businessman. He was best known as the co-founder of the Austrian-Thai private company, Red Bull GmbH. Dietrich was 49% owner of the company and had turned the energy drink into a market leader through a range of extreme sports. Mateschitz died at 78 years of age on October 22 after battling a long-term illness. Dietrich Mateschitz net worth at the time of his death is roughly around $27.4 billion.
| | |
| --- | --- |
| Full Name | Dietrich Mateschitz |
| Date of Birth | May 20, 1944 |
| Birthplace | Austria |
| Profession | Businessman |
| Relationship Status | Unmarried |
| Net Worth | $27.4 billion |
| Death | October 22, 2022 |
Early Life
Dietrich Mateschitz was born on May 20, 1944 in aknt Marien im Murztal, Styria, Austria. He belongs to Croatian ancestry where his dad is from Maribor and his mom is from Syria. Both his parents worked as primary school teachers. Mateschitz was still a young kid when his parents separated.
Mateschitz graduated from the Hochschule fur Welthandel with a marketing degree in 1972. Following graduation, he began working in marketing detergents at Unilever. Subsequently, after that, he started working in a German cosmetics company, Blendax. There, he worked on the marketing of Blendax toothpaste among other various things.
Dietrich Mateschitz Net Worth & Career
Dietrich discovered the energy drink, Krating Daeng while he was traveling for Blendax. The energy drink later becomes Red Bull. Then, he founded Red Bull GmbH along with Chaleo Yoovidhya in 1984. The two launched the brand in Austria after three years in 1987. Afterward, they expanded the brand into a world market and ultimately became a world market leader among energy drinks.
Mateschit's energy drink brand, Red Bull previously owned 60% of the Sauber Formula One motor racing team. They were also the team's main sponsor. Nevertheless, at the end of 2001, Red Bull terminated its relationship with Sauber. After that, Dietrich purchased the Jaguar Racing Formula in November 2004 and renamed it Red Bull Racing. Then he joined forces with former Formula One Driver, Gerhard Berger in September 2005 to buy the Italian-registered team, Minardi. The team was later renamed Scuderia Toro Rosso.
Red Bull Racing became the winner of the Formula One World Constructors' Championship with Sebastian Vettel in 2010. They subsequently won the Driver's Championship for three years in 2011, 2012, and 2013. Besides that, Dietrich also owned Team Red Bull from 2006 to 2011. Team Red Bull later competed in the K&N Pro Series East and the NASCAR Spring Cup Series. After that, Mateschitz purchased the A1-Ring racing circuit in late 2004. The circuit was re-opened in May 2011 and hosted a round of the 2011 Deutsche Tourenwagen Masters season.
Dietrich also purchased the Austrian football club, SV Austria in April 2005. Then, he purchased the American club MetroStars in March 2006. After a year, Red Bull founded a football team, Red Bull Brasil in 2007. In 2014, the football team was promoted to the first division of the Sao Paulo championship which was the most competitive state championship of the country. Apart from that, he owned Austria's top society magazine, Seitenblicke.
Personal Life
Dietrich Mateschitz was never married, however, he had a son named Marc Gerhardter. His son was born in 1992 while he was in a relationship with a former ski instructor, Anita. Dietrich and Anita were in a relationship for two years. Mateschitz was lately dating his girlfriend, Marion Feichtner with whom he ride on a scooter during the qualifying season of Austria in August 2019.
Mateschitz received backlash along with his Bundesliga club, RB Leipzig in 2017 over the comments he made in a Kleine Zeitung interview. During the interview, he expressed his support for Donald Trump and other populist positions and suggested that Austria should better close its borders to refugees.
Dietrich was battling a long-term illness for a long time and eventually lost his life at the age of 78 on October 22. Dietrich's demise was announced to Red Bull employees just ahead of qualifying for Sunday's U. S. Grand Prix at the Circuit of Americas in Austin.
Dietrich Mateschitz Net Worth
Dietrich Mateschitz's net worth is estimated to be around $27.4 billion before he died on October 22. He has amassed his immense fortune from Red Bull. Dietrich has helped the energy drink become famous all around the world and built up sports, real estate, media, and a huge empire around the brand.