Dan Sur Net Worth: How Rich is the Rapper Actually in 2022?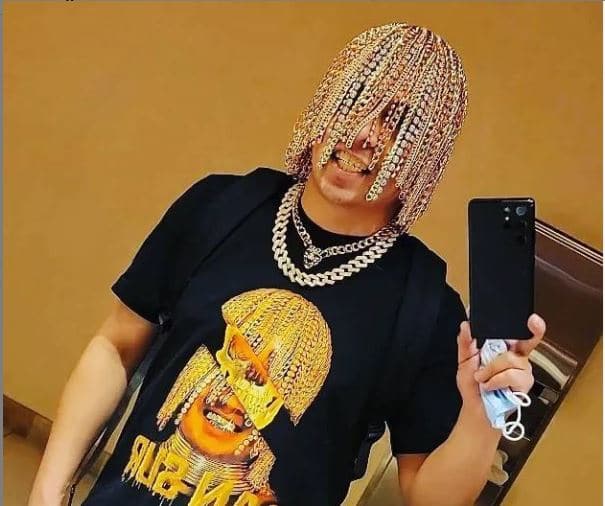 Dan Sur El Anunnaki, simply known as Dan Sur is a Mexican rapper and TikTok star, who has gone viral after he implanted gold chains into his head. He has sang the songs "Sigo", "Vivimos En El Infierno", "Se Siente Sola", and "Oro". As of 2022, Dan Sur net worth is reported to be around $10 million.
| | |
| --- | --- |
| Full Name | Dan Sur El Anunnaki |
| Age | 24 |
| Birth Place | Mexico |
| Profession | Rapper |
| Relationship Status | N/A |
| Net Worth | $10 million |
| Height | 5 feet 10 inches or 178 cm tall |
Early life
Dan Sur was born in Mexico. There is not much information about his early life, parents, and academic background. His real date of birth is still missing. However, through sources, it is revealed that his real age is 24.
Dan Sur Net Worth & Career
View this post on Instagram
Dan has been reportedly making a lot of buzz with his new look. He was first spotted with his new hairstyle in April. Dan wanted to look something different that made him implanted gold chains directly into his skull.
In April, he talked about his new hairstyle through a video clip, where he said "I have it as a hook that is implanted in my head and that hook has hooks and they are all hooked in my skull, under my skin." Dan also mentioned himself to be the first rapper in human history to have gold hair implanted.
Sur even made it clear that his chains are real, not made of plastic. He made a TikTok video proving the doubters by dipping his hair in a glass of water. His chains didn't float in a glass of water that would have cleared all doubts of his haters. In one of his TikTok videos, Dan claimed that he removes the gold chains before going to sleep.
Dan has become quite popular on TikTok nowadays. He currently has 1.9 million followers on TikTok. Dan has also made a video with his golden teeth. On July 26, he made a TikTok Video with golden teeth and hair, which has garnered 809.2K views. Recently, he is making a lot of videos with his gold chain hair. He has most recently been taught how to brush grills with toothpaste. In just a day, the video has received 1.8 million views.
Sur is likewise receiving love and fame on YouTube. He joined YouTube on August 8, 2016. and uploaded his first video titled 'Atrapados" on March 18, 2020. At the recent time, Dan has been quite actively uploading his new singles on his YouTube channel.
His most viewed video on his YouTube channel was uploaded on June 14, 2021, which was an official video of his song titled "Se Siente Sola". To date, the video has garnered over 135K views. He has most recently uploaded an official video of his new song titled "Oro" on September 6, 2021.
Dan Sur Personal Life
Dan Sur has not specified his present relationship status yet. He has not yet been linked with anyone. Dan has neither given any hint of dating someone through his Instagram posts. He is currently followed by 40.5K people on his official Instagram account, dansuriq.
Dan Sur Net Worth
As of 2022, Dan Sur's personal wealth is estimated to be around $10 million. He must be surely a rich guy who could afford to implant expensive gold chains on his scalp. Though, he has not mentioned his source of wealth yet, but, we have assumed that his major source of income comes from social media platforms like YouTube and TikTok.