Cris Collinsworth Net Worth: How Rich is the Sports Broadcaster?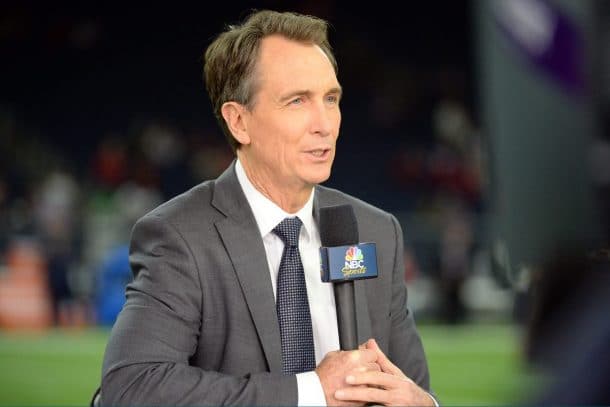 Cris Collinsworth is a 63 years old American sports broadcaster, and a retired professional football player. He has played in the National Football League (NFL) for 8 seasons with the professional football franchise, Cincinnati Bengals. As of 2022, Cris Collinsworth net worth is estimated to be around $20 million.
| | |
| --- | --- |
| Full Name | Cris Collinsworth |
| Birth Date | January 27, 1959 |
| Birth Place | Dayton, Ohio, U. S. |
| Profession | Sports broadcaster, Former wide receiver |
| Wife | Holly Collinsworth |
| Net Worth | $20 million |
Early life
Cris Collinsworth was born on the 27th of January, 1959 in Dayton, Ohio, United States. He was born to his parents, Abraham Lincoln "Abe", and Donetta Browning Collinsworth. Both of his parents were teachers. He has a younger brother named Greg. Along with brother Greg, he studied at the Astronaut High School, where their father was serving as the principal.
Cris was active in multiple sports while studying in high school. He was an essential member of the Astronaut War Eagles. In 1976, Cris grabbed the Florida High School Athletic Association (FHSAA) Class 3A 100-yard-dash state championship. Along with that, he was listed as a high school All-American quarterback.
Collinsworth later attended the University of Florida where he received an athletic scholarship from the University's coach, Doug Dickey. He was made a wide receiver after Florida's team struggled to score in the freshman season of 1977. Cris performed really well in his new role. For three years 1978, 1979, and 1980, Cris was named in the first-team All-Southeastern Conference (SEC) selection.
Cris had a great game during the time he played for Florida. He caught 120 passes for 1937 yards and 14 touchdowns. Likewise, he returned 30 kickoffs for 726 yards with an average of 24.2 yards per return. In 1981, he became a graduate from the University of Florida where he majored in accounting.
Cris Collinsworth Net Worth & Career
Collinsworth started off his professional career after he was drafted in the second round of the 1981 NFL Draft. He was picked by the Cincinnati Bengals. Cris became the team's leading receiver in his first season with the Bengals, where he made a record of the most receptions for the Bengals.
He made a total of 67 receptions as a rookie which was the most by any NFL rookie wide receiver. Cris was later signed by the Tampa Bay Bandits in 1985. However, his contract was voided after he failed the physical requirement due to a bad ankle.
Cris later went back to the Bengals and played for the team throughout the end of the 1988 season. He caught 3 passes for 40 yards in the final game of his career, which he played in Super Bowl XXIII. During his NFL career, he played in 107 games and made 417 receptions for 36 touchdowns and 6698 yards.
After he retired as an NFL player, Collinsworth took a new step toward his broadcasting career. He became a sports radio show host on the commercial News/Talk radio station, WLW. He started working for the NBC Network's NFL broadcasts in 1990 and joined the NBC pregame show in the year 1996. Collinsworth was the host of the news magazine TV show "Inside the Vault", and the color commentator for Super Bowl LII.
Cris Collinsworth Personal Life
Cris Collinsworth is married to an attorney, Holly (Bankemper) Collinsworth. The pair shares four kids together. One of his sons named Austin is a former football player, who led the University of Notre Dame as a team captain. Likewise, his other son named Jac serves as a reporter for ESPN's "Sunday NFL Countdown". As of now, Cris is spending a happy moment with his family residing in Fort Thomas, Kentucky.
Cris Collinsworth Net Worth
As of 2022, Cris Collinsworth has an estimated net worth of around $20 million. As per the reports, his annual salary is around $4 million. Cris and his wife, Holly paid the hefty sum of $100,000 for the 5-acre undeveloped property based in Fort Thomas, Kentucky in 2000.
Cris Collinsworth News
An error has occurred, which probably means the feed is down. Try again later.