Conrad Thompson Net Worth: How Rich is the Podcaster Actually?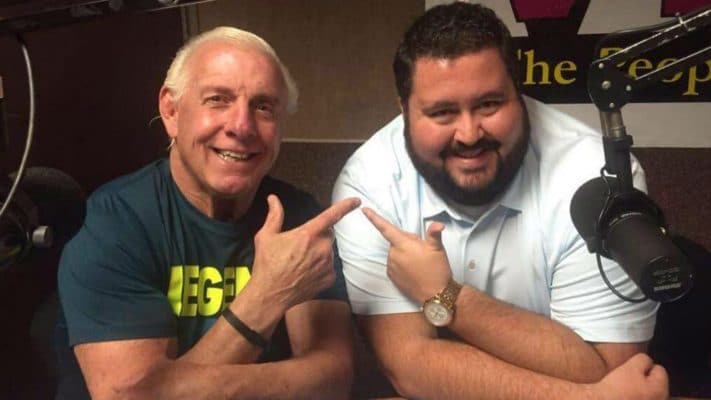 Conrad Thompson is an American mortgage broker and wrestling podcast host. Though Thompson runs his mortgage business full-time, he has been able to establish his name with several podcasts including Something to Wrestle with Bruce Prichard which has around 3 million downloads every month. As of 2022, Conrad Thompson net worth is estimated to be around $1 million.
| | |
| --- | --- |
| Full Name | Conrad Thompson |
| Birth Date | 1981 |
| Birth Place | Huntsville, Alabama |
| Profession | Mortgage Broker and Wrestling Podcast Host |
| Relationship Status | Married |
| Net Worth | $1 million |
Early Life
As a kid, Thompson first got introduced to wrestling in Wrestlemania 4. But it would be in the days of WCW watching the likes of Hulk Hogan that pulled Thompson into wrestling. Furthermore, he also grew into a big fan of ECW.
Conrad Thompson Net Worth and Career
Thompson has been working as a mortgage broker for around two decades and says that he is passionate about the business. Yet, most people recognize him through his involvement in the different podcasts related to wrestling. Though Thompson had stopped watching wrestling since 2006, he would again be pulled back through CM Punk and his pipe bomb promo.
The start of the story for his podcast journey would be in 2012 when he and his friends were raising money on Kickstarter for an ECW documentary. They would then invite ECW wrestler Shane Douglas to sit down and have a chat. The conversation turned out very well and Thompson felt at that moment that it was such types of conversations that fans would want to hear and the wrestlers would be interested in telling as well.
This led to them than talking with Jim Cornette who was offered $1500 for the visit. After this, they went on to start doing several interviews. He would then become a co-host with Ric Flair on his podcast called Wooooo! Nation. After the show ran out of steam, Thompson became part of hosting the Something to Wrestle with Bruce Prichard show which became widely popular.
The show was known for its casual conversations with wrestlers which wasn't on offer before and soon brought in millions of listeners. The listeners seemed to enjoy the variety of authentic stories that the wrestlers possessed. The show would even be broadcast on the WWE Network. Since then, he has also worked with other podcasts as well such as 83 Weeks with Eric Bischoff, What Happened When with Tony Schiavone, and & My World with Jeff Jarrett among others.
Personal Life
Conrad Thompson is married to Megan Fliehr who is the daughter of wrestler Ric Flair. Thompson is a big fan of collectibles and has a sports collection that spans items from stars such as Muhammad Ali and Mike Tyson. Yet, his most valuable memorabilia is the robes of Ric Flair that he bought on Ebay.
Conrad Thompson Net Worth
As of 2022, Conrad Thompson has an estimated net worth of $1 million. He has been able to accumulate this net worth through his mortgage business which he says will continue to be his full-time job. Even though Thompson has had huge success hosting different wrestling podcasts, he mentions how it is going to continue to be a side gig.
Conrad Thompson News
Tony Schiavone Says He Loves Working Every AEW Show Even Though He Doesn't Have To  Wrestling Headlines

Starrcast VI the premier pro wrestling convention takes place in Chicago September 1st-3rd, founder Conrad Thompson tells us all about it.  American Military News

How an Alabama podcaster got inducted into a pro wrestling hall of fame  AL.com