Coach K Net Worth: How Rich is Mike Krzyzewski Actually?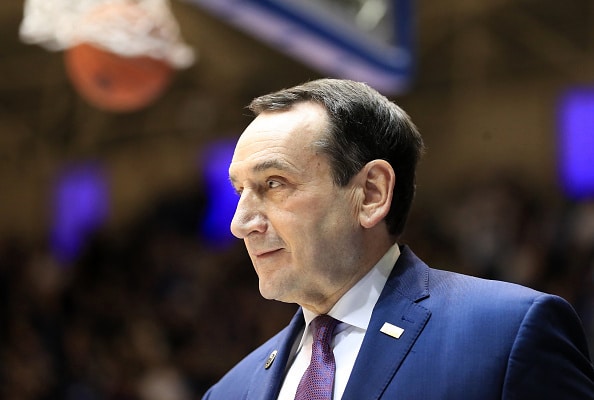 Michael William Krzyzewski, also known as Coach K is an American college basketball coach. Mike is best known as the long-time head coach of Duke Blue Devils. On June 2, 2021, Mike announced that he would be retiring as Duke's head coach after the 2020/2021 season. As of 2022, Coach K net worth is estimated to be around $45 million.
| | |
| --- | --- |
| Full Name | Michael William Krzyzewski |
| Birth Date | February 13, 1947 |
| Birth Place | Chicago, Illinois |
| Profession | Basketball Coach |
| Wife | Mickie Krzyzewski |
| Net Worth | $45 million |
Early life
Mike Krzyzewski was born on 13th February 1947 in Chicago, Illinois, United States. He was born to parents, William and Emily Krzyzewski. For his study, he joined St. Helen Catholic School and Archbishop Weber High School. Later, he attended the United States Military Academy, where he played basketball under the basketball coach, Bob Knight.
Coach K Net Worth & Career
Mike led the team of Army basketball team when he was studying in senior season. He even led his team to get selected at National Invitation Tournament (NIT), where his team finished at 4th place. Mike served as an army officer for the United States from 1969 to 1974. He was involved in the army team for three years directing the service teams. Mike was honored with the West Point's Distinguished Graduate Award in 2005.
Mike was discharged from Army in 1974, where he achieved the rank of captain. After that, he started working as an assistant basketball coach for the Indiana Hoosiers, where Bob Knight was serving as the head coach. He returned back to West Point after one year, and there, he started serving as a head coach of Army Cadets.
After five seasons coaching the Army Cadets, he was selected as the head coach for the Duke University in 1980. Mike has been the most winning active coach for Duke in the men's NCAA Tournament with a record of 97-30. Under his coaching, the Duke team has a .764 winning percentage, and the team has also won 15 ACC Championships. Likewise, the Duke team has won 5 NCAA tournament National Championships.
With Duke teams, Mike won his 1000th game in January 2015, defeating St. John's. With that, he became the first men's coach to get the victory at 1000 NCAA Division I basketball games. The Duke team lifted the trophy of NCAA Champions for the 5th time on April 16, 2015, defeating Wisconsin. Likewise, Krzyzewski became the all-time winningest coach on Mach 19, after the Duke defeated Yale in the 2016 NCAA Tournament.
On February 16, 2019, Mike became the all-time winningest coach in college basketball history, where he surpassed the record held by former college basketball coach, Harry Statham. For the first time in history, Duke Blue Devils failed to get entry at the NCAA Tournament in 2021. On June 2, 2021, Mike called off his long coaching journey and decided to get retired after the 2021-22 season.
Mike Krzyzewski Personal Life
Mike Krzyzewski is married to a lady named Carol "Mickie" Marsh. He tied the knot with Carol on the graduation day of West Point in 1969. Mike shares 3 daughters with his wife, Carol. Likewise, he has nine grandchildren. One of his grandson named Michael Savarino was a part of Duke as a walk-on player for the 2019-20 season.
Along with his better half, Carol, he has been working in various charity work. He has even founded a non-profit organization, Emily Krzyzewski Center in Durham. Likewise, he has been actively working in fundraising for many years to support the Duke Children's Hospital, the V Foundation for Cancer Research, and the Children's Miracle Network.
Coach K Net Worth
As of 2022, Coach K's personal fortune is estimated to be around $45 million. His base salary as the head coach of Duke is around $7 million. Mike turned down the head coaching position for Los Angeles Lakers in 2004, where he was offered $40 million. Likewise, he rejected the offer of $15 million to be the head coach of New Jersey Nets and $12 million for the Minnesota Timberwolves.
Coach K News
Mike Elko Matches Jon Scheyer's Mark, Nearing Coach K  Sports Illustrated

Coach K on current state of college basketball: NIL is 'pretty much pay for play right now'  CBS Sports

Mike Krzyzewski named special adviser to NBA basketball operations  NBA.com