Bobby Kotick Net Worth: How Rich is the CEO of Activision Blizzard?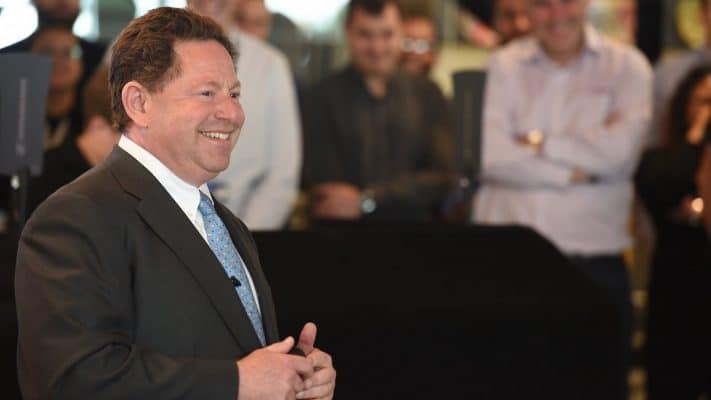 Bobby Kotick is a 59 years old American businessman. He is currently serving as the CEO of an American video game holding company, Activision Blizzard. Kotick became the CEO of Activision in 2008, and after the merger with Blizzard, he became CEO of Activision Blizzard in 2008. As of 2022, Bobby Kotick's personal wealth is estimated to be around $650 million.
| | |
| --- | --- |
| Full Name | Robert A. Kotick |
| Birth Date | 1963 |
| Birth Place | United States |
| Profession | Businessman |
| Ex-wife | Nina Kotick |
| Net Worth | $650 million |
Early life
Robert A. Kotick was born in 1963 in the United States of America. He spent his childhood days growing up in New York. Bobby showed his interest in business at a young age. While studying in high school, he had his own business cards, and he was running a business by renting Manhattan clubs on off nights.
Regarding his education, he attended the University of Michigan to study art history in the early 1980s. In 1983, while studying at the University of Michigan, he initiated a technology company, Arktronics along with his friend, Howard Marks. They worked in their dorm room and developed the software for the Apple II. Later on, they happened to meet with the real estate developer, Steve Wynn, who invested $300,000 in their company.
Bobby Kotick Net Worth & Career
Bobby and his friend, Howard decided to drop out of the University to focus on their software business. The two young businessmen took the big decision after meeting with Steve Jobs, who advised them to drop out of college. In 1987, after failing to persuade Commodore International's then-chairman, Irvin Gould, to sell the control of the company to him, he bought a controlling stake in Leisure Concepts.
Kotick purchased a 25% stake in the almost bankrupt Activision in December 1990. The company was earlier known as Mediagenic, which was changed to Activision later. In February 1991, he became the CEO of Activision, and he acquired 9 development studios from 1997 to 2003. In the year 1995, he released the companies first hit game.
On November of 2006, he initiated a discussion on merging Activision with the games division of Vivendi, including Sierra Entertainment and Blizzard Entertainment. Kotick was successful to engineer the merger which ultimately led to the creation of the new company, Activision Blizzard.
Kotick announced the creation of the company's professional esports league for the video game, Overwatch in October 2016. Before that, the company had acquired the companies, Major League Gaming and King. By the time, Fortune named Bobby as the longest-serving head of any publicly traded technology company.
Personal Life
Bobby Kotick was married to a lady named Nina. He and Nina separated with a divorce in late 2012. Bobby shares three daughters with his ex-wife Nina. His eldest daughter, Grace Kotick is a Brown University graduate. Likewise, his second daughter, Audrey is a graduate of Duke University who is headed to serve in government in Washington D. C. His youngest daughter, Emily is currently studying sports management at the University of Michigan.
Recently, in November 2021, Blizzard employees walked out a second time this year to call for the resignation of CEO Bobby Kotick. The employees went on a protest after a disturbing report of Wall Street Journal, which pointed out Kotick's handling of alleged sexual misconduct at the company.
On Tuesday, November 16, over 150 people came together outside Activision Blizzard's headquarters based in Irvine. The people were holding the signboards with phrases "Unaccountable Corporate Bureaucrats are driving the best employees out of Activision Blizzard" and "No Confidence in Kotick".
Blizzard's employees walk out for the first time in July 2021 after California's Department of Fair Employment and Housing filed a 29-page lawsuit against the company alleging that women didn't receive fair compensation compared to men.
Bobby Kotick Net Worth
As of 2022, Bobby Kotick's personal wealth is estimated to be around $650 million. He is reportedly earning an annual salary of around $30 million being the CEO of Activision Blizzard.
Bobby Kotick News
Kotick to Depart Activision Blizzard  Los Angeles Business Journal

Bobby Kotick Confirms he will be CEO of Activision Blizzard until the end of 2023  CEOWORLD magazine

Activision Blizzard CEO Bobby Kotick Talks Microsoft Deal  Bloomberg