Akshata Murty Net Worth: How Rich is Rishi Sunak's Wife?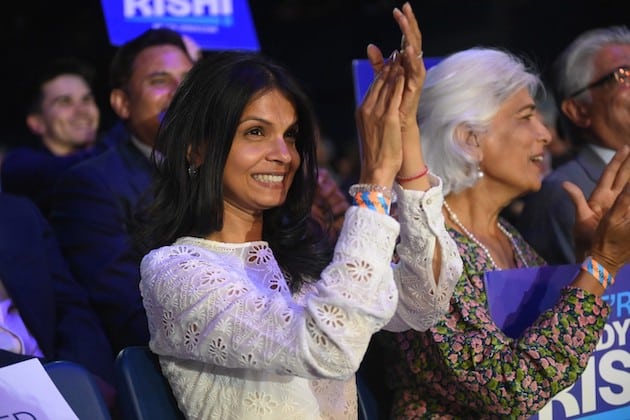 Akshata Murty is a British-Indian businesswoman and former fashion designer. She is best known as the wife of the current British Prime Minister-designate of the United Kingdom, Rishi Sunak. Akshata is the daughter of Infosys' founder, Narayana Murty, and holds a 0.93% stake in the company. Murty and her husband, Sunak are the 22nd richest people in Britain. As of 2022, Akshata Murty net worth is roughly around $1.2 billion.
| | |
| --- | --- |
| Full Name | Akshata Narayan Murty |
| Birthday | April 1980 |
| Birthplace | Hubil, Karnataka |
| Profession | Businesswoman |
| Husband | Rishi Sunak |
| Net Worth | $1.2 billion |
Early Life
Akshata Murty was born in April 1980 in Hubli, Karnataka. She was brought up by her paternal grandparents while her parents, Sudha and N. R. Narayana Murthy were working on launching their Tech company, Infosys. Her mom was an engineer who became the first female to serve for India's then-largest car maker, Tata Motors.
Murty was taken to Mumbai when she was two, where her parents had a son, Rohan Murty. For her study, she joined the Baldwin Girls' High School. Then, she attended Claremont McKenna College where she studied Economics and French. Afterward, she studied at the Fashion Institute of Design & Merchandising and received a diploma in clothes manufacturing. Then, she held her Master's degree in Business Administration from Stanford University.
Akshata and her younger brother, Rohan were brought up strictly by her mother, Sudha. She and Rohan were not allowed to watch TV as their mom didn't facilitate them with television at home. Sudha even insisted the two siblings go to school in an auto-rickshaw like their classmates.
Akshata Murty Net Worth & Career
Murty worked as a marketing director for the Dutch cleantech firm, Tendrils in 2007. She served two years at the company before she left to launch her own fashion firm. However, she closed her fashion label in 2012. After a year, she started working as the director of the venture capital fund, Catamaran Ventures. Then, along with her husband, Rishi Sunak, she founded the London branch of an Indian firm that was owned by her father.
In 2015, she received a certain number of shares from her husband, Rishi Sunak before he was elected as Richmond's Conservative MP. Murty has been holding a 0.93% share of her father's Tech firm, Infosys since 2015. As of April 2022, her shares in the technology firm are valued at around £700 million. In addition to that, she holds shares in Koro Kids and Degme Fitness. She also works as the director of Digne Fitness. Likewise, she is serving as the director of the Sorocco, which was co-founded by her brother, Rohan Murty.
Personal Life
Akshata Murty has been married to a British politician, Rishi Sunak since August 2009. The pair met first time at Stanford University, where she was pursuing her MBA. On the other hand, the Prime Minister-designate of the UK was a Fulbright scholar with a first-class degree from Oxford. Murty's father was quite happy with her daughter's choice as he described Sunak as brilliant, handsome, and most importantly, honest.
Murty and Sunak's wedding was a relatively modest affair that was conducted by following the standards of India's well-heeled tradition. Their wedding reception was attended by around 1,000 guests including industrialists, politicians, and cricketers. Murty and Sunak share two daughters named Anoushka and Krishna. The pair owns a flat on Old Brompton Road in London. Along with that, they also own a mews house in Kensington.
Akshata was reportedly to be a non-domiciled resident of the UK in April 2022. She was entitled to pay no tax on her income outside Britain which was equal to around £30,000. However, she later announced that she would be paying UK tax on her worldwide income voluntarily by retaining her non-domiciled status. Murty's husband, Rishi Sunak is set to become the first Indian-Origin UK Prime Minister on Tuesday. With that, Sunak along with Murty and their two daughters will be the first Hindu family to occupy the prime ministerial home.
Akshata Murty Net Worth
Akshata Murty's net worth is estimated to be around $1.2 billion as of 2022. She is reported to be richer than King Charles III due to her £430 million shares in her father's IT empire. In May 2022, the Sunday Times Rich List shared that Murty and her husband, Rishi Sunak have a combined fortune of £730 million.
Murty and Sunak own a Grade-II Listed mansion, Kirby Sigston manor in Yorkshire. Additionally, they own a penthouse apartment in Santa Monica. She stayed with her hubby, Sunak at 11 Downing Street while he was serving as the Chancellor of the Exchequer.